Get a taste of Germany with Park Bäckerei, a pretzel bakery located in Icon Village! They offer a small but focused menu of authentic German pretzels and pretzel-based goodies, all hand-shaped and fresh-baked. 
Park Bäckerei Menu
The star offering is the Plain Pretzel ($3.90/pc, $10.80/3 pcs), which you can also get in a Cheese version ($4.50/pc, $12.60/3 pcs). Both are available in mini sizes for an easy snack! 
Other pretzel-based goods include Schoko Rolls ($4/pc,$7.60/2 pcs) made with Belgian chocolate spread. The Bread Box ($25) is a good option to try all their signature bakes, including a mix of mini pretzels, Schoko Rolls and two Karamel Ingels. 
They also have pretzel sandwiches with Brie ($14.90) and Tuscan Chicken ($15.90), alongside desserts like Chocolate Mousse ($3.90) and Speculoos Cheese Mousse ($3.90).
There are also bagels made with the same dough, in flavours like Caprese Pesto ($7.90), Speculoos Apple ($7.50) and Hazelnut Double Chocolate ($7.50).
Plain Pretzel
The Plain Pretzel ($3.90/pc, $10.80/3 pcs) is made with a lye dip to help achieve that recognisable caramel brown colour. It looked really dense at first glance, but we were surprised by how fluffy and light it was!
It was fragrant and slightly salty but would do better with a dip. We tried the Frischkäse ($3) dip with sour cream, onions and chives which was just the right combination of herby and tangy.  The mini sizes ($2.50/pc, $20.80/10pcs) are also good for a snack.
Cheese Pretzel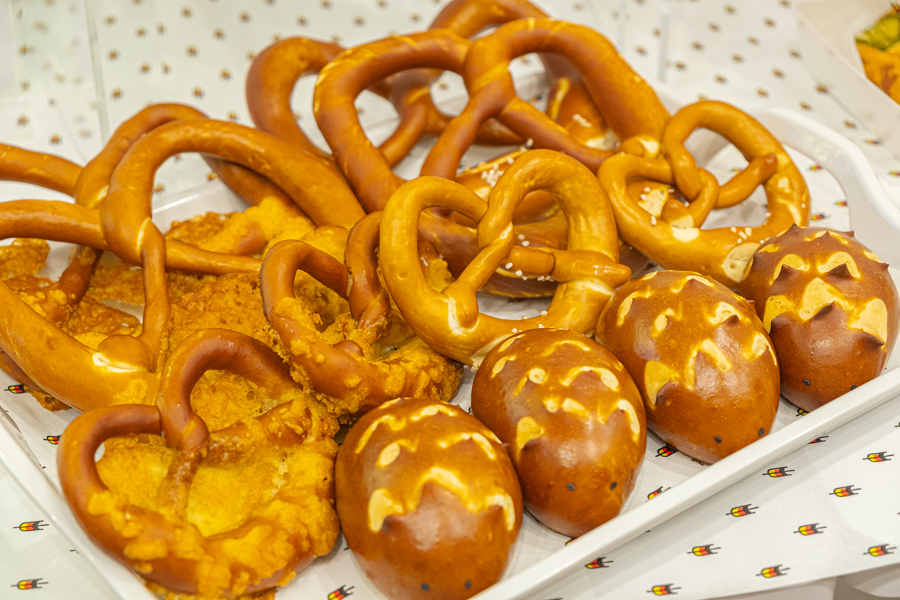 The Cheese Pretzel ($4.50/pc, $12.60/3 pcs) is a nice flavour addition to the plain version, adding an addictive salty topping that makes it easy to eat! This is also available in mini ($4.50/pc, $23.80/10pcs) but we think a full size is worth the buy.
Karamel Ingel
The other star item here is the Karamel Ingel ($4.40/pc,$8.40/2pcs). It's an adorable hedgehog-shaped pretzel bread filled with caramel spread and it tastes as good as it looks. 
The caramel is sweet but with a slightly bitter finish, complementing the soft dough. The little spikes add a nice crunch! This is a must-get from here. 
Bagels
We got to try the Jalapeno Cheddar ($7.90) and Red Velvet Coconut ($7.50) bagels. Just like the pretzel, the dough was fluffy and just the right denseness to provide a pleasant chew. The Jalapeno Cheddar had cheese inside the dough which we really enjoyed. 
Pretzel Sandwiches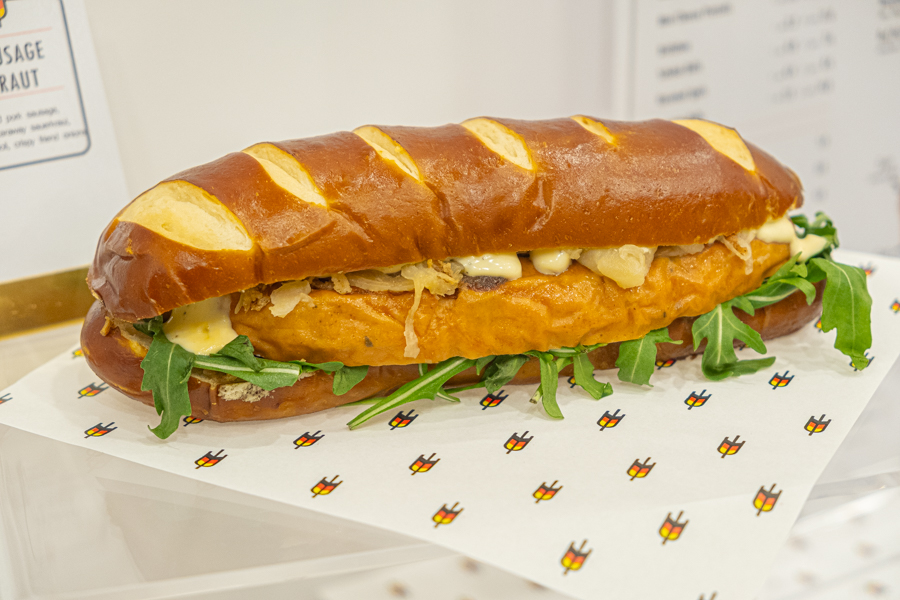 The Sausage Kraut ($15.90) came with a full smoked bratwurst and apple-caraway sauerkraut, providing a nice smokey flavour. The bratwurst had a pleasant snap and all the toppings made the sandwich very substantial! 
For a vegetarian option, try the Portobello ($14.90). It was filled with herb-roasted portobello, tomatoes and a creamy pesto dressing. The mushroom added a pleasant meatiness, paired with the fragrance of basil and salty parmesan. 
German Pretzels In Singapore
The offerings at Park Bäckerei are unique and stand out more than their other mainstream counterparts, providing a satisfying eating experience that we think is worth the purchase. It's also located in Tanjong Pagar surrounded by other good eats!
Park Bäckerei
#01-41/42/52/53, Icon Village, 12 Gopeng Street, Singapore 078877
Mon – Fri: 8am – 7pm
Sat – Sun: 8am – 2pm
*Follow MiddleClass.sg on Facebook, Instagram, and Telegram for more food, travel, and trending stories!