We've been seeing lots of gelato shops opening recently but we're not complaining. Especially with SG's weather, a scoop of gelato might just be the best thing yet. NOM Gelato joins the list of ever growing gelato shops in Singapore, serving unique and exotic flavours right next to where Maxwell MRT is going to be located.
Gelato Shop Near Tanjong Pagar and Chinatown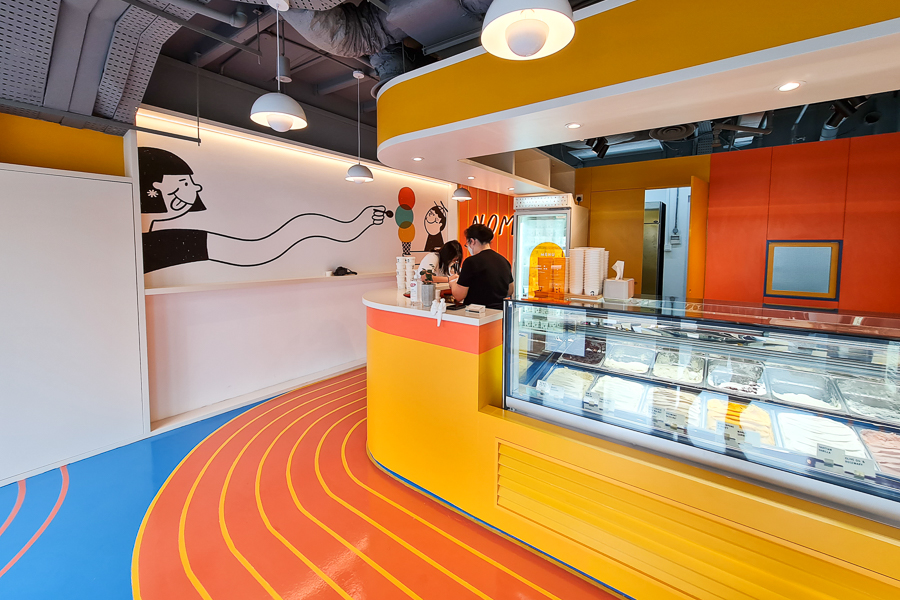 NOM launched online back in June 2021 with pints of different flavoured gelato available for sale. They've recently launched their physical store over at Erskine Road, with La Grigne Patisserie just a few steps away.
Their desire is to create high-quality gelato using the freshest produce available. While you might not be able to buy happiness, you sure can NOM it.
The takeaway gelato shop is decked in bright, vibrant colours of orange, yellow and blue, making it a great photo spot for Instagrammers as well. Sadly, no tables are available for dining in.
NOM Gelato Flavours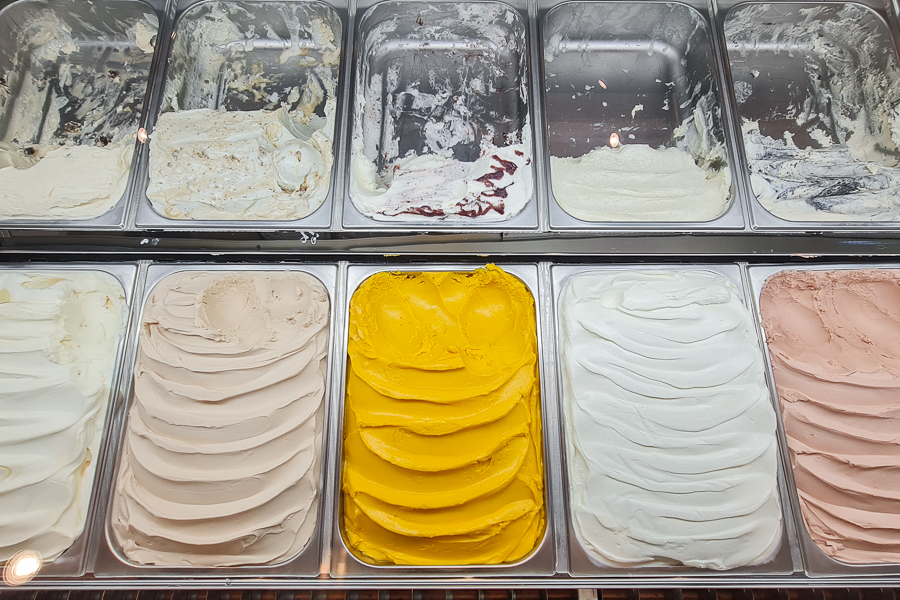 We paid a visit to the gelato shop and there were 15 flavours on display, all of which are made in house.
The classic flavours include Cold Brew Coffee, 72% Dark Chocolate, Mascarpone with Honey Figs, Olive Oil Rosemary, Strawberry Balsamic, Mango Sorbet, Tahitian Vanilla Bean, Pandan with Gula Aren, Piedmont Hazelnut, Roasted Sesame and Cookies and Cream. 
There are a handful of premium flavours as well, namely Bronte Pistachio, Blue Cheese with Walnut Praline, Whisky And Bacon Brittle and Rum & Raisin.
A single scoop, served in their takeaway cups is priced at $5, while a double is priced at $8. For premium flavours, the prices are $6 and $8 respectively.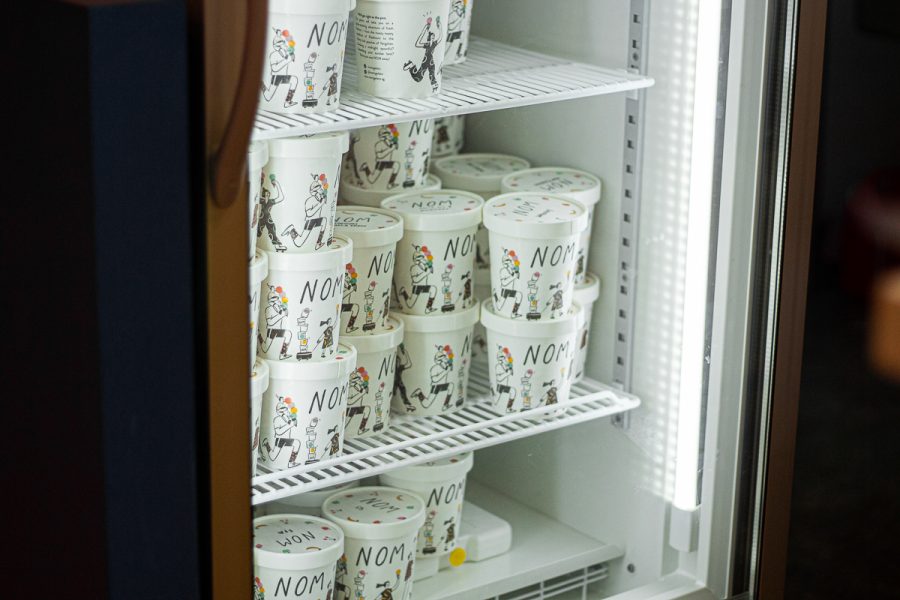 You can also get your desired flavours in pints priced at $17 for classic flavours and $20 for premium ones. 
NOM's unique packaging is sure to catch your eye, and on closer inspection, their groovy illustrations actually match those in-store, which adds to the quirky vibe that this outlet seems to be full of.
NOM's pints are also available for delivery! Head over to their website (nomgelato.sg) to place an order for your flavours of choice, and get it delivered to your doorstep from Wed-Fri between 2-6pm. There is also free delivery for orders above $50!
Blue Cheese and Walnut Praline
We were most intrigued by the Blue Cheese and Walnut Praline flavour, which honestly isn't something you'd see every day. We've heard of Blue Cheese dipping sauce, like the one served with fried wings at Little Rogue Coffee, but ice cream…?
Surprisingly, despite its name, it's actually very well-received according to the staff.
Inside the gelato you can find roasted walnuts mixed with caramel, which added a nice crunchy texture to the gelato. The blue cheese flavour was pretty prominent, but it wasn't that strong to turn us off. We would love to pair this with a glass of rose or prosecco.
Roasted Sesame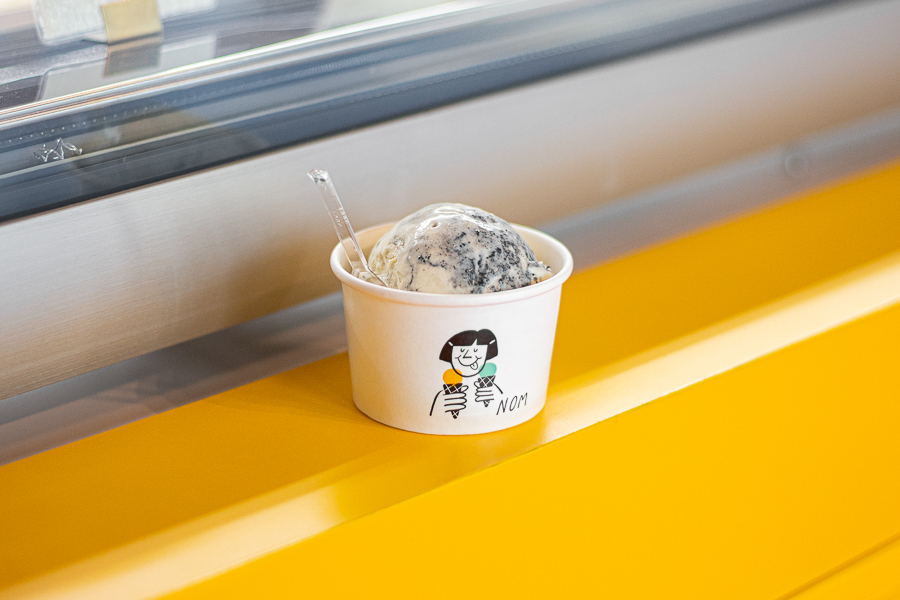 As black sesame fans, we could not leave without trying the roasted sesame flavour. Instead of the usual grey-colored scoops that you see in gelato shops, NOM Gelato's version of the sesame flavour is made using both white sesame and black sesame.
To prevent it from tasting like black sesame paste, the swirl of black sesame gelato paired with the white sesame gelato was an explosion of nutty flavours. This was so good that we finished the scoop within seconds.
The fragrance of the sesame was so addictive and might just be our new go-to place for sesame gelato.
Other unique flavours from NOM Gelato include Strawberries & Vinegar, Whisky with Bacon Brittle, Mascarpone & Honey Figs, and Gula Aren – similar to your Gula Melaka but with a stronger, smokier aftertaste.
Interesting Gelato Flavours in Singapore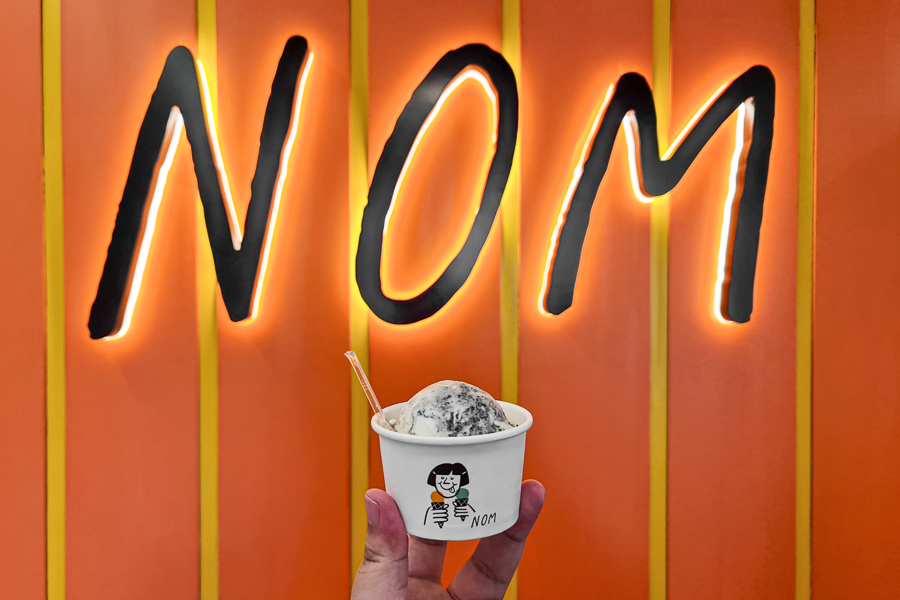 If you're ever nearby the area looking for dessert, NOM Gelato is a good option. You might even want to challenge yourself and your friends to the more unique flavours such as Blue Cheese Gelato instead of the usual ones.
NOM Gelato
33 Erskine Road, #01-08, Singapore 069333
Tues-Sun, 12pm-10:30pm, Closed on Mondays
*This is an independent review by MiddleClass.sg.
*Follow MiddleClass.sg on Facebook, Instagram, and Telegram for more food, travel, and trending stories!