3 months. That's how long we had to reserve in advance for a table at Naeum Restaurant. With such a long wait, our expectations for the food were high. However, a long article cut short, Naeum's food was worth the wait, and might just be one of the best Korean fine dining restaurants in Singapore.
The restaurant has recently attained 1 Michelin Star status for the Michelin Guide Singapore 2022.
Opened by Chef Louis Han
Naeum, which means 'a fragrance that evokes memories', Chef Louis Han's dishes are mainly inspired by his childhood memories. The Korean restaurant has an episodic menu showcasing different stories and ingredients. There's Episode 1, which lasted till Oct 2021, and the one we managed to try is Episode 2, which will be available till Spring 2022.
Despite our many trips to Telok Ayer, Naeum never really caught our eye because its entrance felt pretty elusive. However, once we passed through those doors, the combination of off-white and wooden elements immediately gave off warm, welcoming vibes.
Seating-wise, the restaurant has a total of 28 seats in various arrangements. There are also seats near the drinks counter, which can accommodate solo diners.
Naeum Episode 3: Seaside Dreams
After an unforgettable meal at Nae:um, we found ourselves back at the newly minted 1 Michelin Star restaurant in Telok Ayer for Episode 3, a menu reminiscent of seaside dreams. (You can scroll below for the review of Nae:um Episode 2)
The Episode 3 menu will last till end-summer.
As always, we started the meal with snacks, this time beautifully displayed and plated with corals and crabs to reflect the seaside. It consisted of 'Honghab', which is a black mussel atop a squid ink chip paired beautifully with yuzu chung; 'Songeo', which is an ocean trout with apple caviar and citrus jelly; 'Saewoo Kkang', a deep-fried baby shrimp which we assume is an inspiration from the popular Korean snack; and 'Al-jjim', which we thought was a creamier version of the usual chawanmushi.
Gyeojache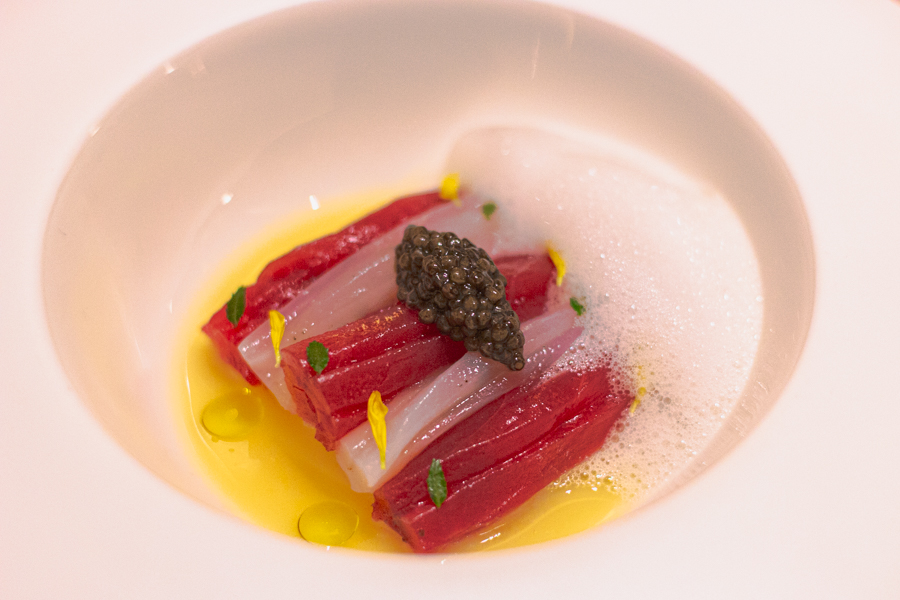 'Gyeojache' is a beautifully assembled dish featuring tuna loin and cuttlefish sashimi on top of a bed of avocado cream and crispy vegetables. The addition of the acidic lemon foam made the dish even more appetizing. We loved the blend of textures (imagine creamy avocado with bouncy sashimi and crispy vegetables) and was a great starter to what's ahead.
Somyeon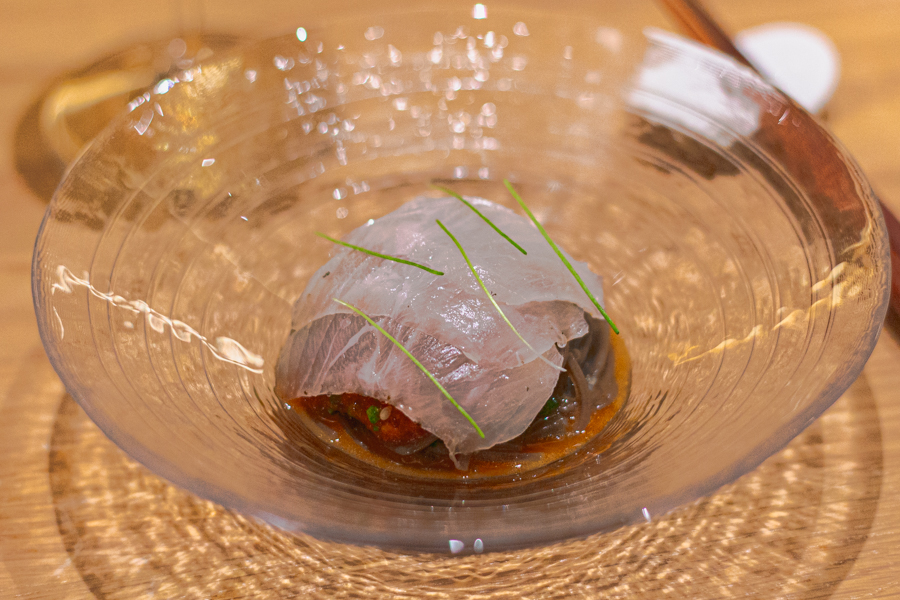 We opted for the Supplementary 'Somyeon' again this time, after what could only be described as savoury heaven in Episode 2. However, this time, the Somyeon takes on a different look, topped with striped jack sashimi instead of caviar. Loved how it was still savoury, slightly spicy with a tinge of sourness.
Greens Beomuri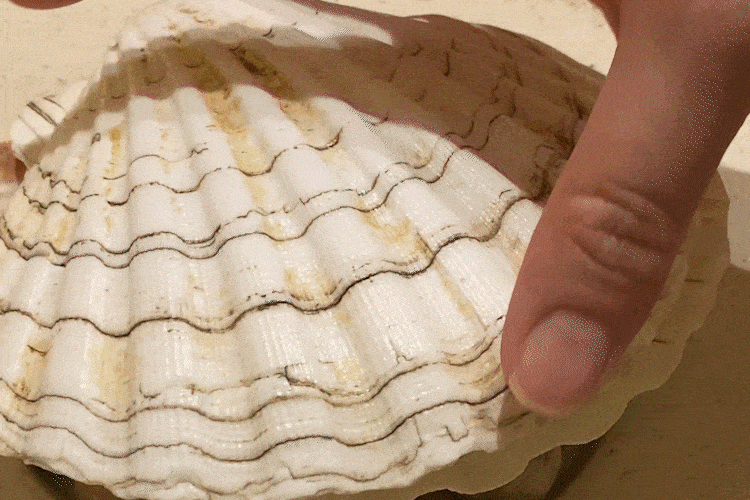 Served on a scallop shell was the 'Greens Beomuri'. To be perfectly honest, the overwhelming shade of green wasn't exactly the most appealing thing we hoped for. However, taste-wise, this was a breath of fresh air with the succulent scallops paired with decadent yet seemingly down-to-earth greens mixed with fermented beans and mirin dressing. Inside the scallops, you'll also find a type of Korean seaweed known as 'gamtae', which we thought was amazing attention to detail.
Gui
'Gui' is the Korean term for grilling, and 'Saengson-gui', which refers to grilled fish, is a common term seen in restaurant menus serving the dish. Here at Naeum, their take on 'Gui' featured a coral trout served together with parsnip puree, grilled broccolini and leek.
Samhab
One of the highlights of Episode 3 was undoubtedly the 'Samhab', which was a combination of three different elements: Kimchi, Seafood & Protein. The seafood came in the form of a perfectly grilled octopus while the protein was a bincho-grilled Iberico pluma with galbi sauce. The kimchi element was presented via a mille-feuille of white kimchi and potato.
Jeonbuk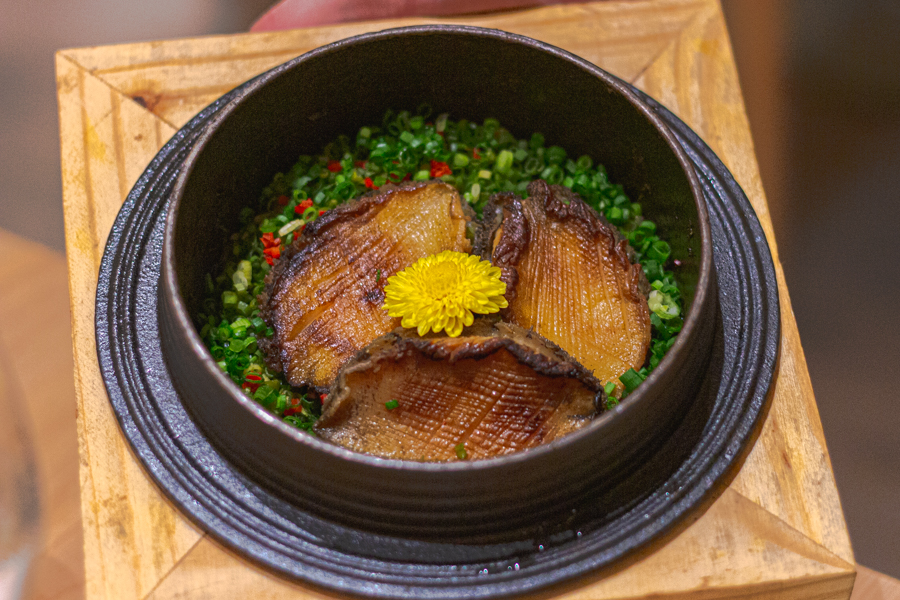 Taking it up a notch, 'Jeonbuk' featured elements like Abalone, King Oyster Mushroom and Lily Bulb. The abalone was cooked perfectly, with no trace of rubbery textures.
Subak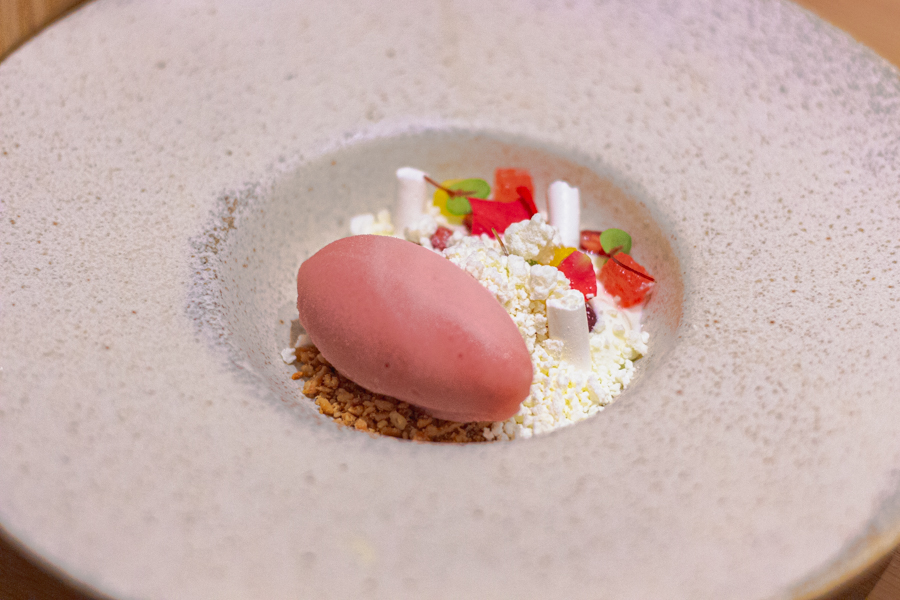 For dessert, Chef Louis takes inspiration from the iconic summer fruit, 'Subak', which means watermelon in Korean. The watermelon sorbet was paired with pickled watermelon, pomegranate, and olive oil snow.
We ended the meal with Korean-styled petit fours, which consisted of the fermented rice cake and a glutinous rice doughnut coated with syrup. This was washed down with a Korean-inspired digestif which had kombucha in it, with quite heavy notes of cinnamon.
Nae:um proved itself to be worthy of a Michelin star, with impeccable service and amazing dishes highlighting the ingredients used. With its new accomplishment, the waiting time to get a seat at the highly coveted restaurant might just exceed 3 months. But – the experience is still worth the wait.
Naeum Episode 2: Mountain Lodge
Episode 2 is priced at $168 for a 6-course meal, with options to add on items like Somyeon or a Charcoal Jujube dessert. You can choose to pair your meal with a wine pairing ($88 for half, $138 for full) or go for a non-alcoholic pairing ($78).
This particular menu is inspired by ingredients and foods from the mountains of Korea, where visitors often find respite at lodges during their journey in the mountains.
Kkotge, Nurungji, Duckgalbi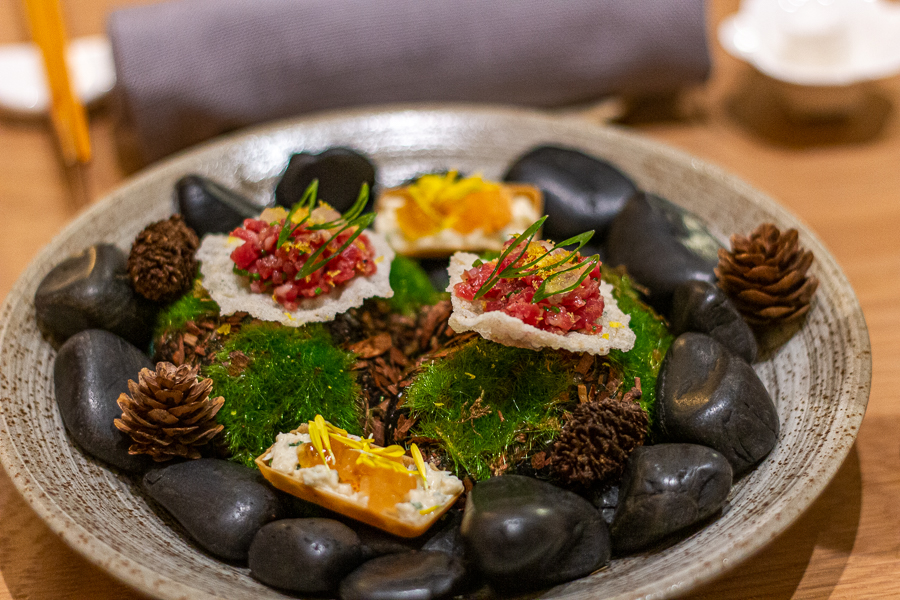 We begin Episode 2 with a trio of snacks. Kkotge was a flavourful combination of flower crab meat with some sort of citrusy jelly on top of a filo pastry. Nurungji makes use of a puffed rice cracker and was topped with beef tartare, cured egg yolk shavings and spring onions to provide subtle umami flavours.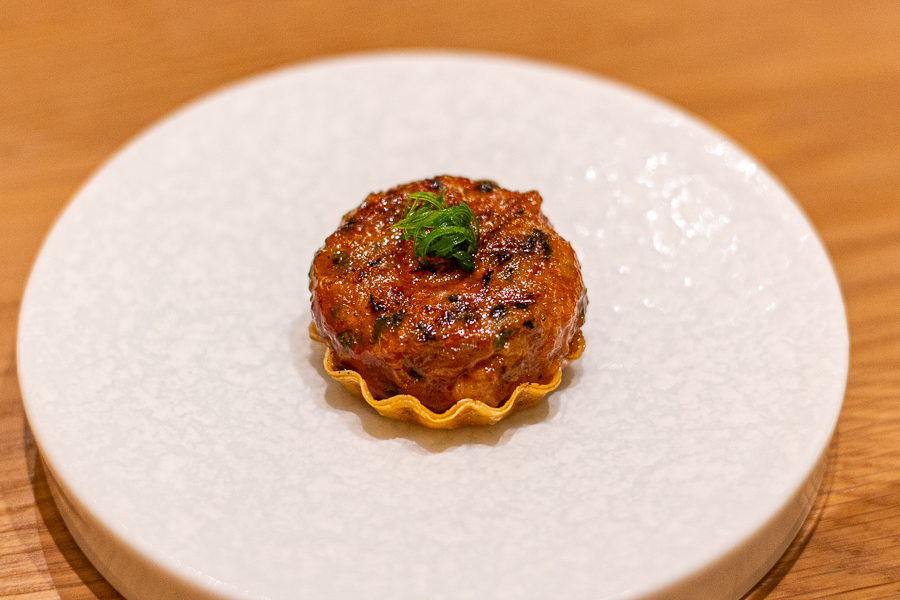 Lastly, the Duckgalbi, their version of the tteokgalbi, was made using duck meat. There was a piece of rice cake in the middle, which added a chewy texture to the overall snack. We loved the savoury, smoky flavours in this.
Domi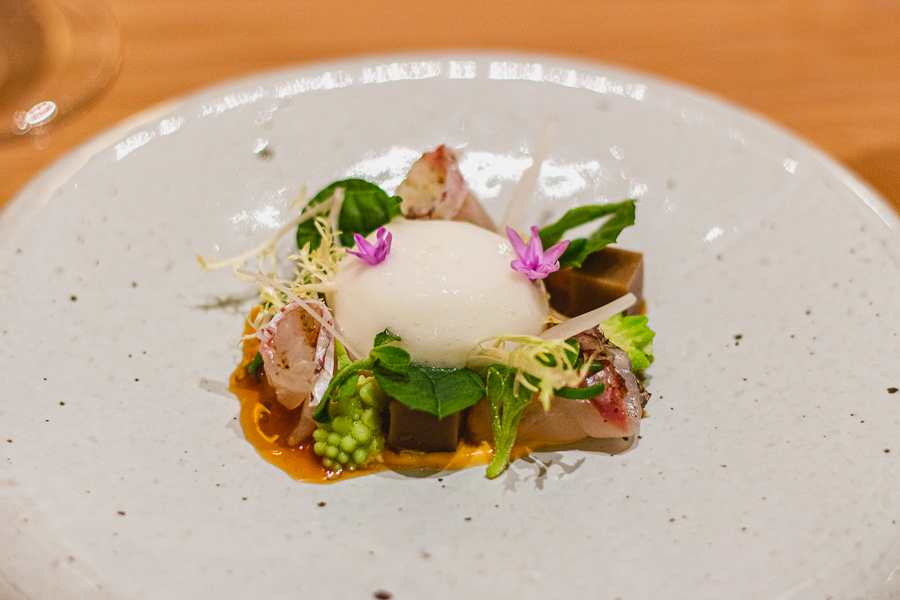 The first course of the meal was Domi, a dish inspired by the acorn jelly salad dish and Naeum hopes to energize their guests with this.
There's a dollop of cucumber foam on top, that mimics the snow on top of a mountain. Surrounding it are slices of sea bream, acorn jelly, edible flowers and more.
We felt that the flavours complimented each other. The foam itself really tasted just like cucumber, but when paired with the other ingredients on the plate, it was refreshing and complex.
Somyeon
We opted for the Somyeon ($38) which was a supplementary item. This dish was inspired by Chef Louis Han's family lunches, and he decided to make his own version of cold kimchi noodles.
A burst of savoury and nutty flavours from the first bite, without being too overpowering. The noodles were tossed in perilla oil and sesame and topped with fresh scallops and Kristal caviar. One of our favourite dishes of the night.
Naengchae
While Naengchae typically refers to a cold dish in Korean, the one here at Naeum isn't. It's served with French chicken, steamed at low heat for 2-3 hours with Jeju abalone, a Doenjang caramel glazed baby carrot, puffed millets, Korean herbs chimichurri and a soybean sesame sauce.
Chef Louis Han used puffed millets as he wanted to connect the whole dish together (chickens eat millets to grow).
The texture from each component of the dish was amazing, nothing too dry or rubbery, with delicious, pronounced flavours from each component.
Samchi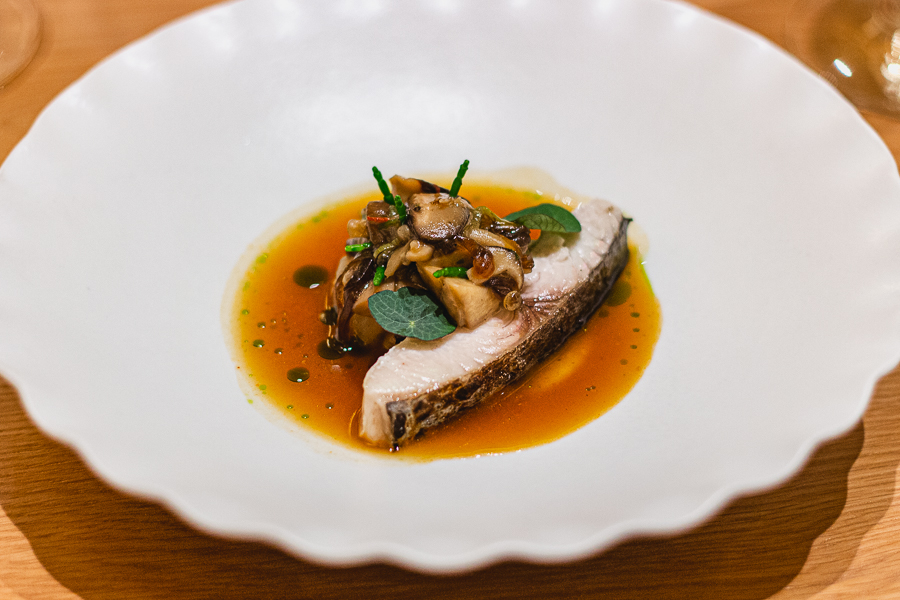 Samchi is a Japanese Spanish mackerel dish served alongside slow-cooked daikon, an onion puree at the bottom with some chive oil and an array of winter mushrooms. The service staff will pour in some spicy mushroom broth at the table.
Texture-wise, it almost felt un-mackerel-like, tender and almost bouncy. The onion puree hidden at the bottom of the dish packed a creamy punch and took us by surprise.
Iberico Tenderloin
The Iberico Tenderloin was grilled using binchotan and had a galbi glaze. Going with the meat's smokiness was a potato puree and pickled burdock, with the pickled burdock's acidity helping to cut through the heaviness of the dish.
Sanchae Sotbap
Reminding us of the Korean dish, Bibimbap, Naeum's Sanchae Sotbap is made with nuruk-aged wagyu, mushroom, kale and cured egg yolk mixed in X.O Makjang.
On the side, you have banchan such as white kimchi and pickled sweet potato leaves.
Mandarin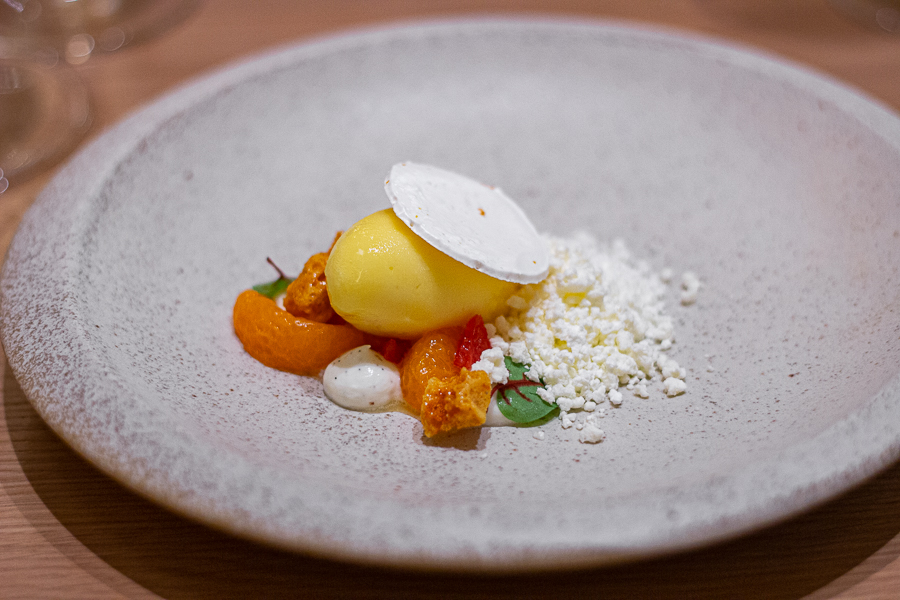 During Chef Louis Han's childhood, he remembered peeling lots of oranges during winter. Mandarin is a Mandarin Mint Sorbet served with vanilla yoghurt cream, grapefruit, mandarin oranges, a dehydrated Mandarin zest meringue with ginger snow.
You'll also find some pieces of dalgona candy which provided a nice crunch and an additional boost of sweetness among the zesty, refreshing flavours.
Charcoal Jujube
For an additional $12, you can get the Charcoal Jujube as a supplementary dessert. Hidden beneath the charcoal tuilles is a scoop of jujube ice cream on top of puffed multigrains.
We loved the blend of medicinal and sweet flavours from the ice cream, which went well with the textures of the dessert.
Fermented Rice Cake & Yakgwa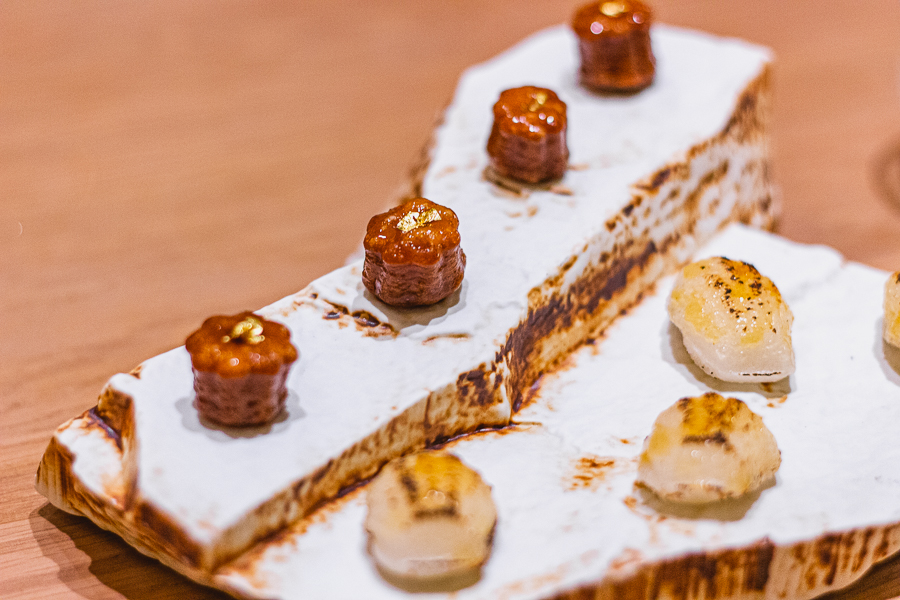 The meal ended with a fermented rice cake and some yakgwa.
Non-Alcoholic Pairing
While we enjoyed the half wine pairing, we really wanted to give a shoutout to the Non-alcoholic pairing menu at Naeum. Drinks included a lemon & ginger chung fizz and plum & lime chung fizz that's made in-house, which were really refreshing and delicious.
Korean Fine Dining in Singapore
There aren't many options for Korean fine dining in Singapore, but Naeum definitely opened our eyes to the world of modern Korean cuisine. The experience did remind us slightly of our time at Mingles in Seoul, albeit in a smaller space.
If you're wondering if the 3 months wait to dine at Naeum is worth it, just go ahead and reserve a slot and thank yourself later.
*This is an independent review by MiddleClass.sg.
*Follow MiddleClass.sg on Facebook and Instagram for more food, travel, and trending stories!