There seems to be a boom in the number of places selling Korean corndogs in Singapore as of late. The latest place is Myeongdong District, a hidden store in Fortune Centre selling corndogs & Korean items such as kimchi pancake.
Korean Street Food in Singapore
While we found the name Myeongdong District suiting for a place that sells trendy Korean food such as corndogs, the irony is you probably can't find stalls in Myeongdong selling this now. The last time we visited, it was filled with dalgona candy stores and most of our street food stalls wasn't present. Hopefully, the situation is different now!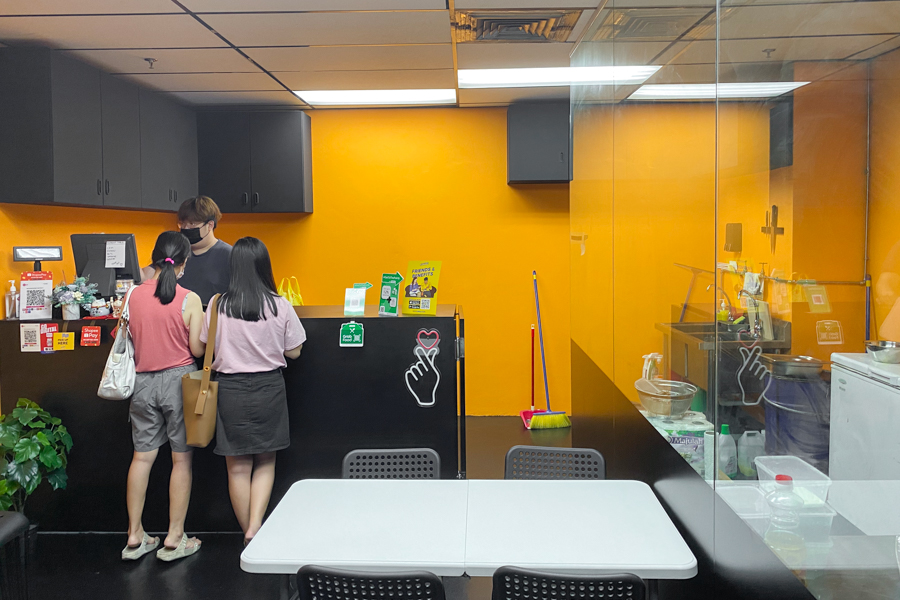 The food stall is located on the 2nd floor of Fortune Centre, surrounded by lots of units selling Korean fare, surprisingly.
Inside, you'll find 2 tables that can sit up to 8, and 2 tables outside that can sit up to 4. All of their items are served in takeaway boxes so you can always have it to go.
Menu at Myeongdong District Fortune Centre
Over at Myeongdong District, you can find a range of corndogs, from Classic ($5.50), Mozza ($6) to Gamja ($6). They also have fried chicken tenders ($5.50 for 5 pcs, $10 for 10pcs), fries and Kimchi pancake ($8).
Sometimes, you can also spot sets such as their Soy Garlic Chicken Tenders Rice Set ($7) that comes with a canned drink – a fuss-free option for lunch.
Apart from canned drinks, quench your thirst with their Homemade drinks such as Green Tea ($2.50), Korean Barley Tea ($2.50) and Citron Tea ($3.50).
Cheddar Corndog
We opted for the Cheddar Corndog ($6), which was half cheddar and half hotdog. You can pick up to 2 toppings for your corndog, and we opted for the classic ketchup and mustard combo.
If you want something with more cheese pull, definitely opt for the mozzarella one. Due to cheddar cheese being of higher fat content, the inside of the corndog was slightly oilier than we liked. The size of the corndog was larger than we expected, and the dough was chewy and crispy on the outside.
Gamja Corndog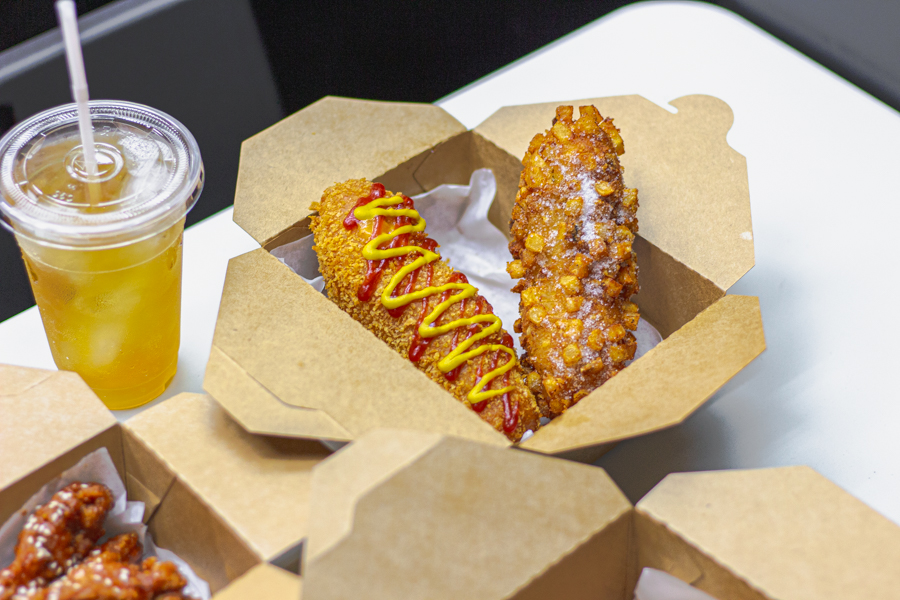 For the Gamja Corndog ($6), we opted for a layer of sugar, which resulted in a sweet-savoury combination. The fries added a nice texture to the corndog as well.
Kimchi Pancake
Unlike the crispy kimchi pancakes, the one served at Myeongdong District is more on the chewy side. Thank God they didn't use a frozen ready-to-eat kimchi pancake, we would've flipped.
You'll find bits and pieces of kimchi in between, and they were generous with the bulgogi mayo drizzle, which cost an additional $1.50.
Fried Chicken Tenders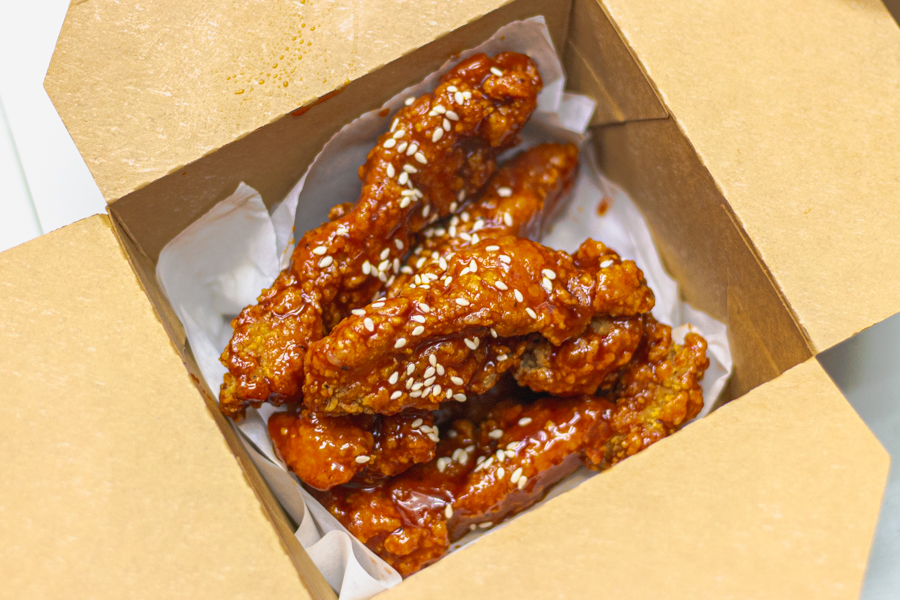 Opt for either Yangnyeom or Soy Garlic sauce for your Fried Chicken Tenders, which true to its name, was tender and not overly dry. The yangnyeom sauce had a nice balance of sweet & spicy flavours, but we did hope for it to be slightly spicier.
If you go for 10pcs, you can try both flavours at once.
Korean Corndogs Near Bugis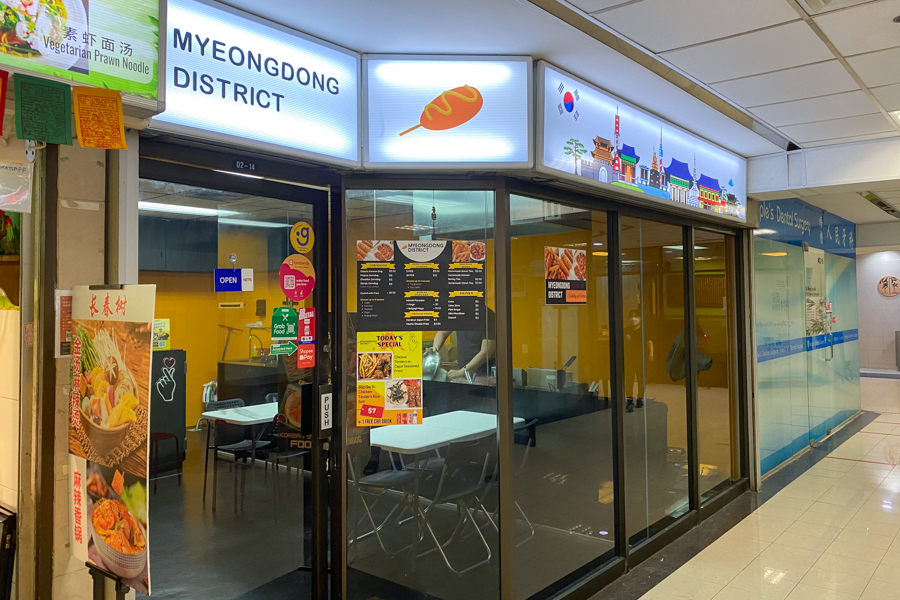 While Myeongdong District might exactly be the kind of place we would visit for meals, it sure makes a great place for a midday snack. However, with their set meals and side dishes like the kimchi pancake, we can see it being a once-in-a-while lunch option for those working nearby.
Hopefully we'll get to see more street food items like tteokbokki or eomuk in the future!
Myeongdong District
190 Middle Rd, #02-14, Fortune Centre, Singapore 188979
Mon-Sun, 11am-9:30pm
*This is an independent review by MiddleClass.sg
*Follow MiddleClass.sg on Facebook, Instagram, and Telegram for more food, travel, and trending stories!