When we think of wine, we often think of the breweries from places like Italy and France, there's a genre of wine that's usually overlooked – Spanish wines. Magnum Opus Wines aims to showcase the best of Spanish wines from the region Castilla y León, which you can enjoy at home or with a selection of tapas, Spanish bar snacks at their sister restaurant Tapas,24.
Spanish Wine Selection From Magnum Opus
Magnum Opus Wines is an online purveyor of over 200 wine labels from Europe, Australia and more, stored in world class facilities for the best quality wine possible. They are also part of the L'Angélus Group with other restaurants like Les Bouchons Robertson Quay, Tapas,24 and L'Angélus, all offering a tantalising selection of curated wines.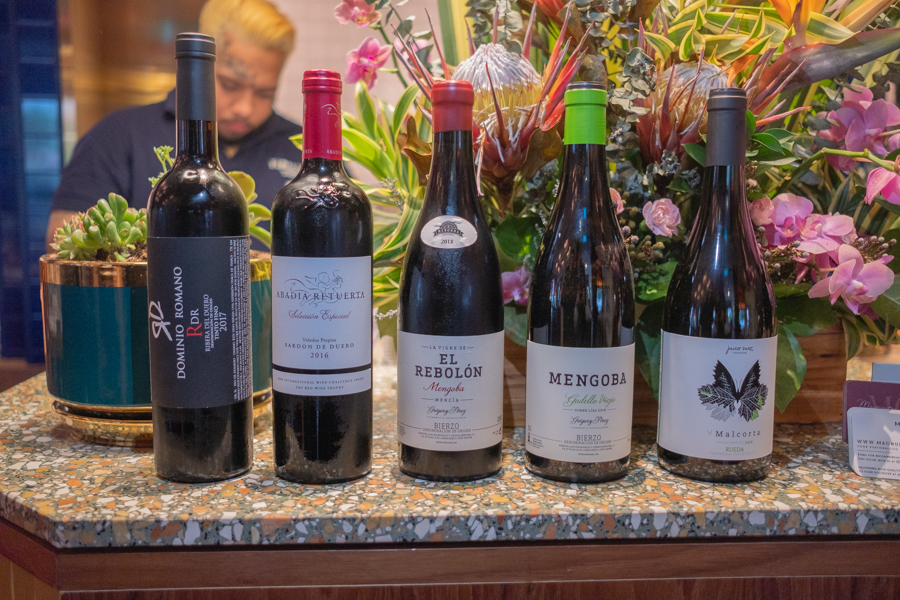 We got to sample five Spanish wines from Magnum Opus's offerings at Tapas,24, from light floral white wines to full-bodied reds. The selection we tried is Rueda V Malcorta 2018, Bierzo Godello Sobre Lias 2019, Bierzo "El Rebolon" 2018, Seleccion Especial 2016, Ribera del Duero RDR 2017 – each from small-scale, organic wineries at different altitudes, environments and grapes. 
Wine Pairing Menu At Tapas,24
The tasting menu with Tapas,24 started with the Ensaladilla Rusa with Olives ($15) to go with the floral white wine Rueda V Malcorta 2018 by Javier Sanz. The Ensalada is a cold tuna salad with potatoes and olives, a savoury but refreshing starter to complement the subtle fruity notes from the Malcorta. This wine is a good option for those who prefer lighter wines without the punchiness or acidity. 
The Huevos Estrellados with Thick Cut Chips  ($22) is a plate of fries with fried egg and crispy ham that pairs well with the Bierzo Godello Sobre Lias 2019 by Bodegas Mengoba. A Godello wine is similar to a Chardonnay that has more complexity and pairs well with greasy foods, like the fried chips. It's a white wine, but had a deeper flavour of apple and plums, which balanced the saltiness from the ham. 
The red wine Bierzo "El Rebolon" 2018 is also by Bodegas Mengoba, and has a notably spicy finish with notes of cranberry and figs. Despite its darker red colour, it still has a pleasant lightness to its flavour, cutting through the salt of the "Tapas 24" Bikini Sandwich ($18) that features black truffle, iberico ham and buffalo mozzarella.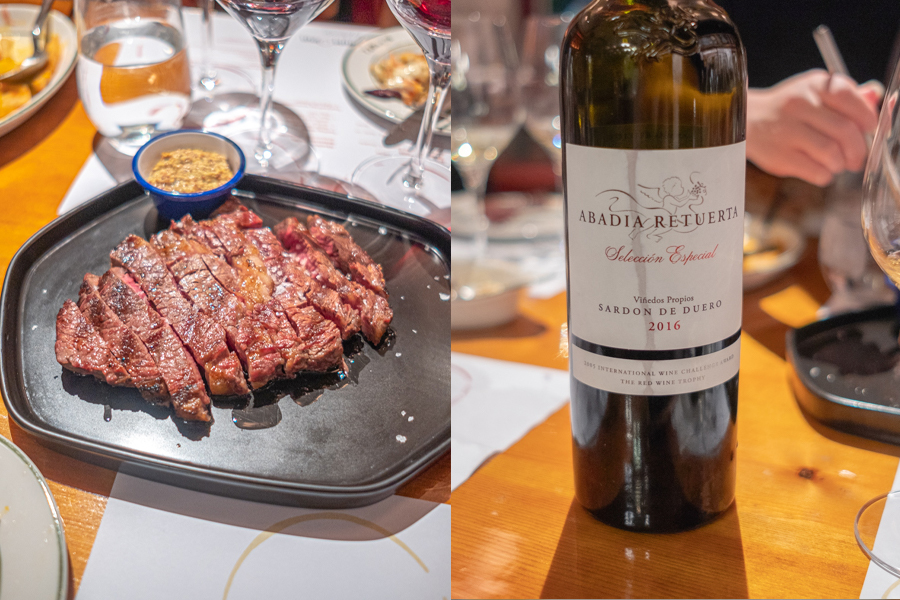 Seleccion Especial 2016 from Abadia Retuerta is another red wine that has a deeper flavour of blackberries, figs and vanilla, a wine that brings out the flavour of the Filete de "Ribeye" ($54), a 300g ribeye grilled on a Josper grill. The meat was grilled to a medium rare and tasted more robust when eaten with the wine. 
The selection concluded with the Ribera del Duero RDR 2017  from Dominio Romano, the most full-bodied wine with the most acidity of the five due to its grapes being grown at a higher altitude, giving a thicker skin. As a result of this, the wine has the heaviest flavour that best pairs with fatty proteins, like the Jamón Ibérico de Bellota ($24), a quality Spanish aged ham. The saltiness from the ham paired well with the complexity of the wine, amplifying each other's flavours.
Order Quality Wines Online From Magnum Opus
These are only five of the over 50 Spanish wines breweries that Magnum Opus Wines stocks, and you can enjoy a selection of these wines at any of the L'Angélus Group restaurants, or simply order online from Magnum Opus Wine's website at fair prices. Whether you're a newly pledged wine enthusiast or long-time wine fan, Magnum Opus Wines has the selection for you. 
Tapas,24
#01-04 The Quayside, 60 Robertson Quay, Singapore 238252
Open Tues-Sun, 12pm-12am
*Follow MiddleClass.sg on Facebook, Instagram, and Telegram for more food, travel, and trending stories