Sojus, makgeolli, and Korean beers make great mixers and the possibilities are endless with those drinks! From the classic watermelon soju to the lesser-known Kojingamrae, a beer with a shot of cola and soju. 
Here are a few easy Korean cocktail recipes you can try to replicate at home for your next gathering (or even for your own enjoyment) thanks to FairPrice Xtra's Japan & Korean Fair happening from 2 to 15 Sep 2021!
Korean-Inspired Cocktail Recipes
Ssul Mudshake (술 머드쉐이크)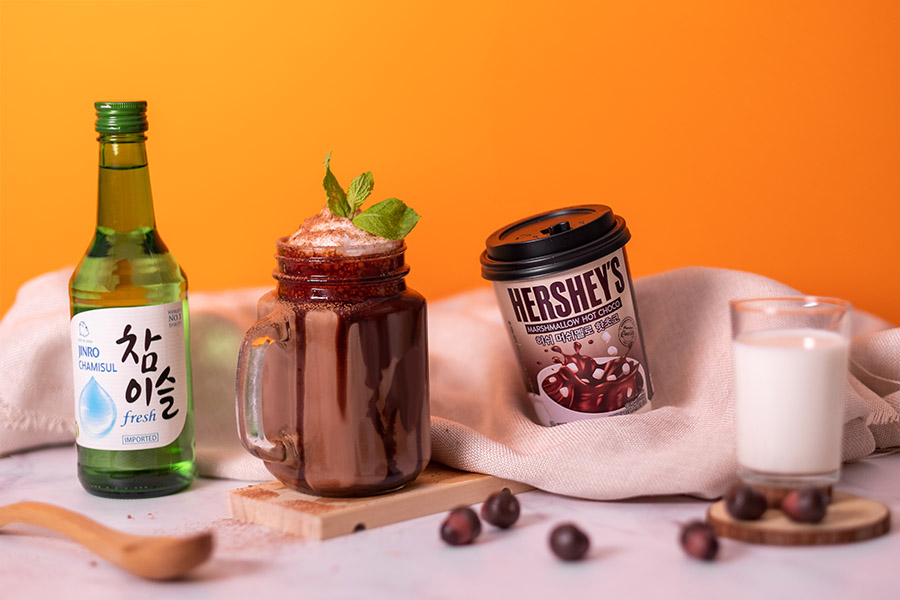 Enjoy a creamy treat with an alcoholic twist using Hershey's Hot Chocolate and some soju of your choice! We'd recommend using non-flavoured soju as flavoured soju won't pair well with this drink!
Recipe:
Drizzle the rims of the mug with a generous amount of Hershey's Chocolate Sauce

Add ice, pour in Hershey's Hot Chocolate Drink followed by 2 shots (100ml) of Jinro Chamisul (Fresh)

Add milk foam, sprinkle cocoa powder on top and garnish with a mint leaf  
Subak Makgeolli Punch (수박막걸리펀치)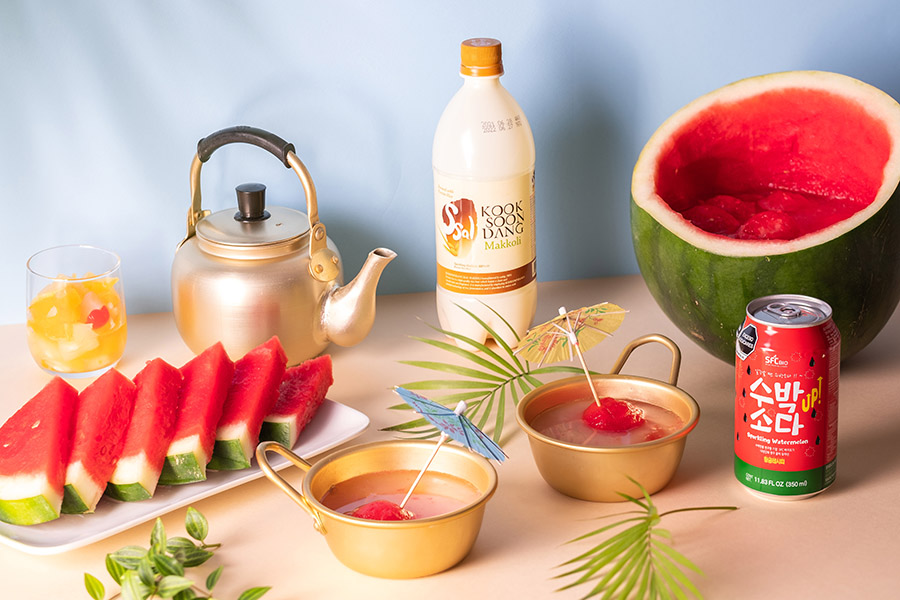 Inspired by the iconic watermelon soju and the Korean summer treat, Hwachae, we've combined those two together to make a Subak Makgeolli Punch. This is a perfect afternoon treat that's both refreshing and sweet! 
Recipe:
Use an ice-cream scoop to scoop out the flesh of a watermelon

Add in your watermelon balls and top up using a 2:1 ratio of Kook Soon Dang Original Makgeolli to SFC Watermelon Soda

Add in some fruit cocktail (if desired) 

Mix and serve with ice for a refreshing treat
Strawberry Sake Bomb (딸기사케폭탄주)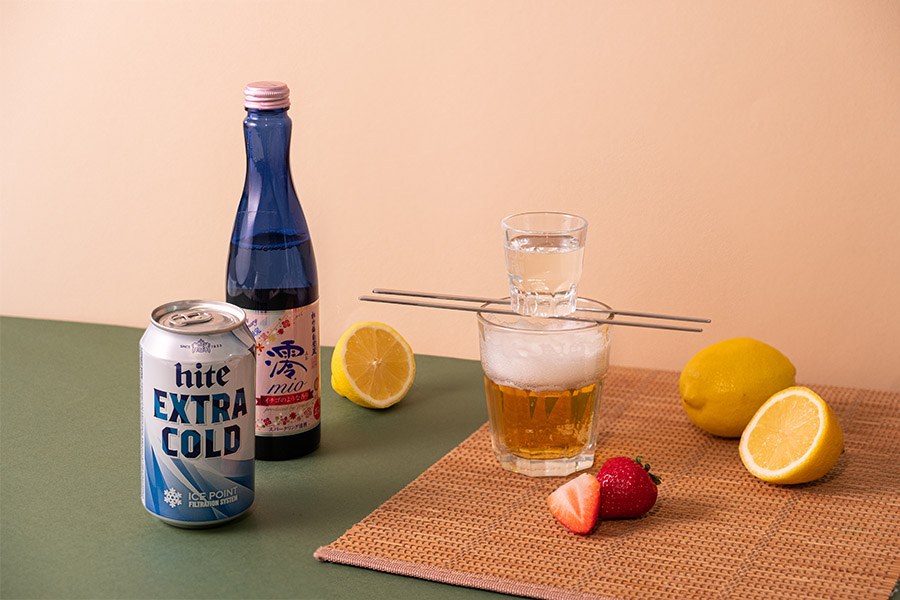 For those who can't take the strong alcoholic content of soju, you can opt for the Takara ShoChikuBai Mio Sparkling Sake instead! For an extra zesty punch, we added a pinch of lemon to the beer. Also, it makes a great Instagrammable moment among your friends!
Recipe:
Fill a small glass (around 100 to 150ml) with Hite Korean Beer (Extra Cold) and add a splash of lemon juice

Balance 1 soju glass shot (50ml) filled with Strawberry Sake in between the chopsticks

Remove the chopsticks and drink immediately 
Korean Snacks at FairPrice Xtra's Japan & Korean Fair
Here are some snacks you can pair along with your cocktails!
ORION Potato Chip Truffle Salt Flavor 60g
Now $2.50 (U.P. $2.95)
These truffle salt potato chips are known for their 0.8mm thickness, which ironically are really thin. Once you open the packaging, you can immediately experience the aromatic truffle scent. The chips taste great on its own, but even better as a drinking snack with your cocktails or simply with some ice-cold beer. 
COSMOS Tteokbokki Snack 160g
Now $2.15* (U.P. $2.50) *Promotion valid from now till 8 Sep
This tteokbokki snack has a great crunch and just the right balance of sweet and spicy flavours. Just a word of caution, they are super addictive! They come in a tube shape, mimicking the actual rice cakes. 
HERSHEY'S Hot Chocolate – Original/Marshmallow 30g
Now $2.50 (U.P. $2.90)
Besides mixing these chocolate drinks with soju, they also taste great on their own! The Hershey's Hot Chocolate drink comes in 2 flavours – original and marshmallow. 
The marshmallow one has tiny little marshmallows that expand when you pour in hot water! For a more creamy chocolatey experience, you can use warm milk instead. 
SFC Sparkling Soda – Calamansi/Watermelon/Melon 350ML
Now 2 for $3.50 (U.P 2 for $4)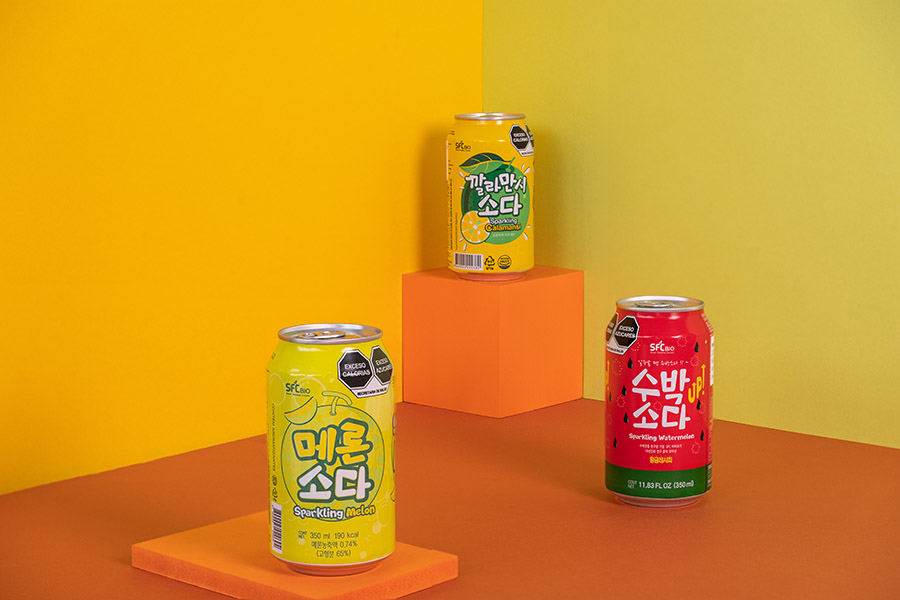 10 million of these carbonated sodas have been sold since its launch. They taste great on their own and go great with flavoured sojus/beers. They have 40% less calories and 45% less sugar than usual sodas. 
Takara ShoChikuBai Mio Sparkling Sake 10th Yr Ichigo Kaori 300ML
Now $11.90 (U.P $15.90)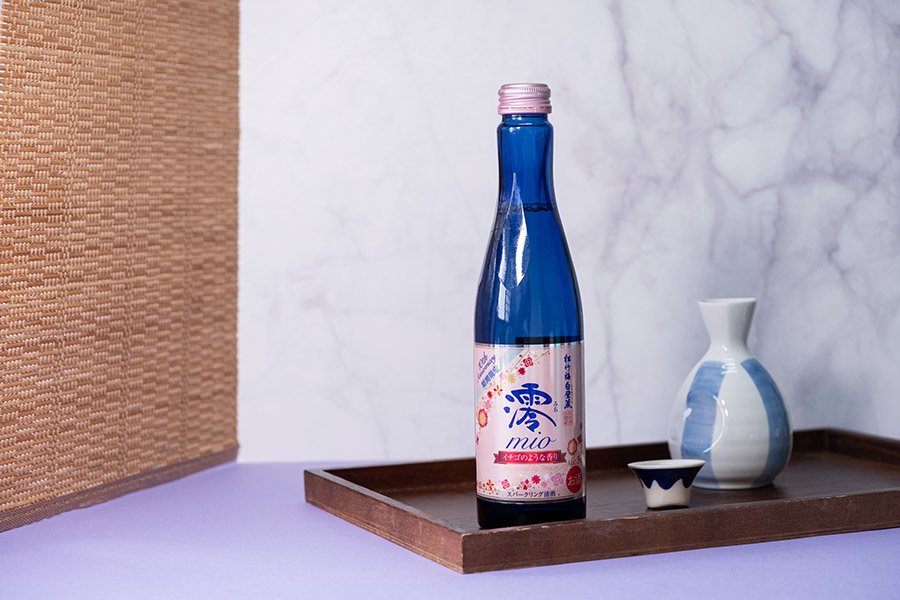 A special 10th year anniversary limited edition MIO. This bottle is brewed from rice and has an aroma that hints of strawberry generated by yeast brewing techniques. It has an elegant sweetness and tartness that's perfect for drinking on its own as well.
FairPrice Xtra Japan & Korean Fair 2021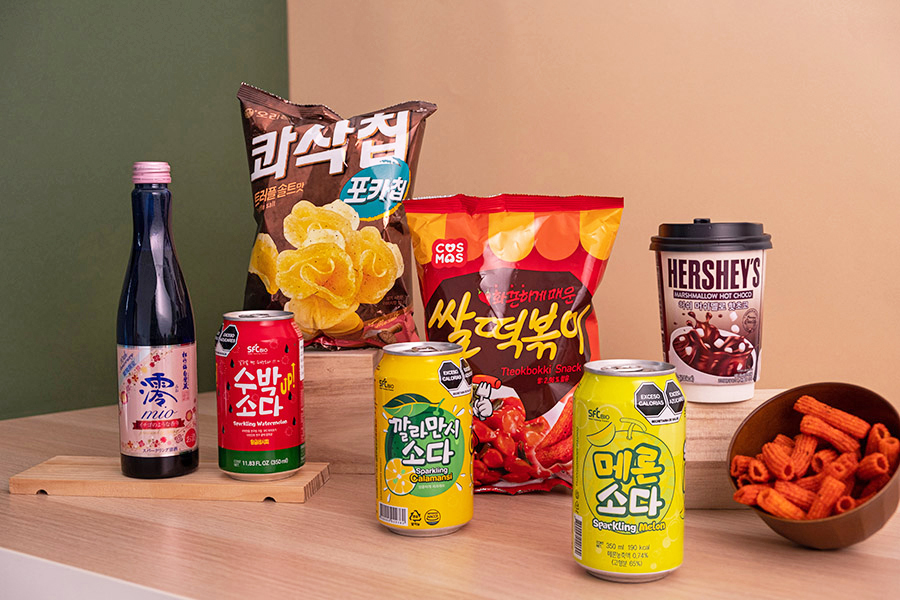 Can't travel? Don't worry! From 2 to 15 Sep 2021, FairPrice Xtra is having a Japan & Korean Fair so that you can bring a piece of Japan & Korea back home with you. You can expect Japanese and Korean snacks and drinks which you can enjoy in the comfort of your home!
The ingredients for the recipes can all be found at FairPrice Xtra stores as well so make sure to grab everything in one go! 
Here's where you can find FairPrice Xtra Outlets:

Jurong Point (JP2)

JEM

Hougang 1

VivoCity

Parkway Parade

Kallang Wave

Changi Business Park

nex

AMK Hub
*This article is brought to you in partnership with FairPrice Xtra
*Follow MiddleClass.sg on Facebook, Instagram, and Telegram for more food, travel, and trending stories!