Immerse yourself into the world of Jurassic Park at the Jurassic Nest Food Hall at Gardens By The Bay! The food hall boasts over 18 life-like dinosaur replicas, three of which are animatronic – including a Tyrannosaurus rex (T.rex) and a 5-meter tall Brachiosaurus. 
There's also a selection of seven food stalls with five Michelin-starred restaurants, including Hawker Chan and Tsuta for your choosing. 
Jurassic Park Themed Interior 
The entire food hall has been transformed into a space right out of Jurassic Park, with lush greenery, rock boulders and dark wood seating. There's plenty of indoor and outdoor seating, including a circular seating area surrounding the star attraction T.rex replica!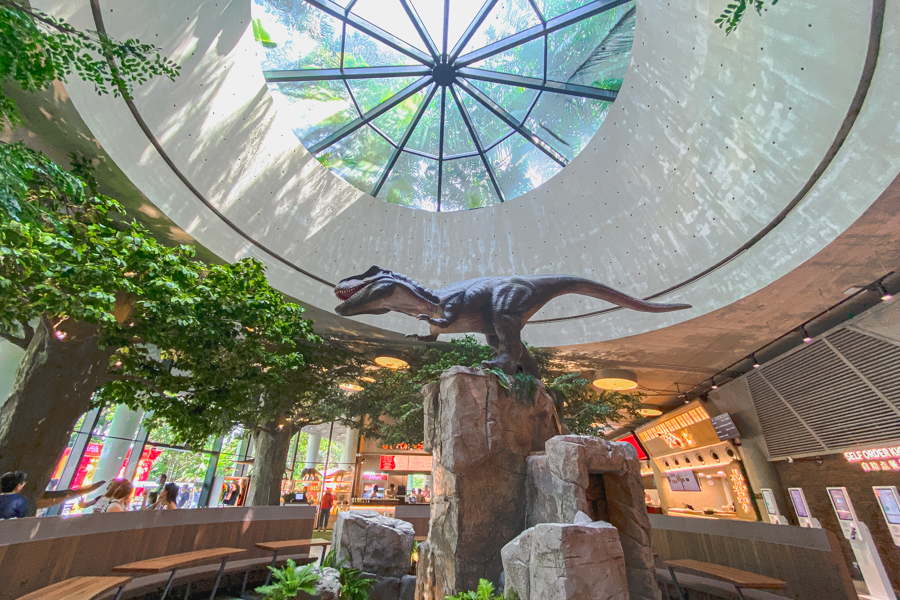 The three animatronic dinosaurs come alive nine times a day, following different schedules. The T.rex and Brachiosaurus roar to life every hour from 12 pm to 8 pm, while the Oviraptor outdoors awakens every hour from 11.30 am to 7 pm.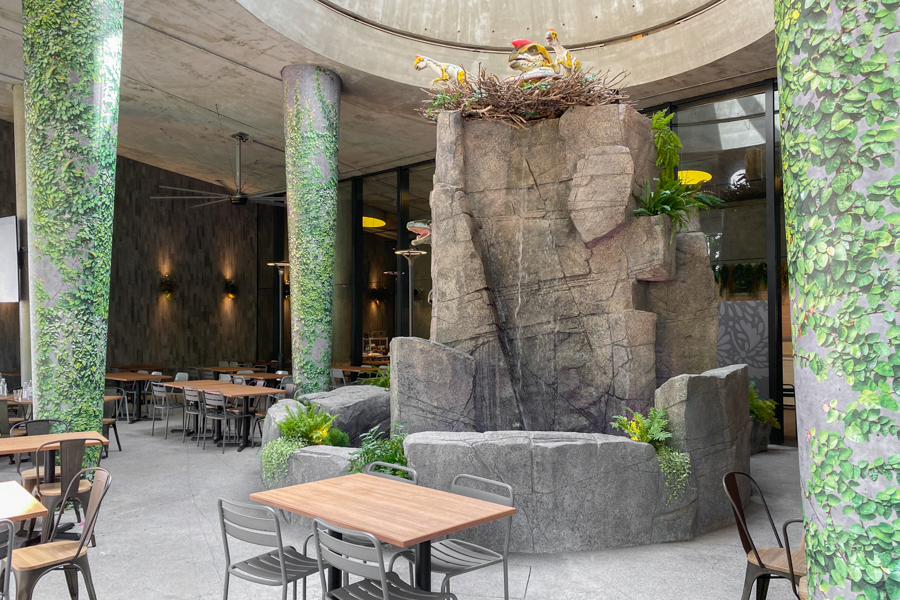 The movements and gestures of the animatronic are almost life-like and super detailed, down to their eyes blinking! Each show lasts 3 minutes, giving you plenty of time to capture the moments on camera.  If you look hard enough, you can also spot some static dinosaurs hidden on top of the verandas. There are Velociraptors, Dilong Paradoxus and Parasaurolophus – perfect for dinosaur lovers to spend their time identifying their favourite dinosaurs. 
Michelin-Star Food Stalls 
The lineup of food stalls is equally stellar, with seven stalls for you to choose from. You place your order via self-checkout kiosks at the front of the Food Hall. 
Try the Michelin-rated offerings in the likes of Hawker Chan and Tsuta, serving up a delectable soy sauce chicken rice and tonkatsu ramen. There's also Thai food by Took Lae Dee and Ma Ma By Putien Group that's due to open soon – something for everyone's tastes!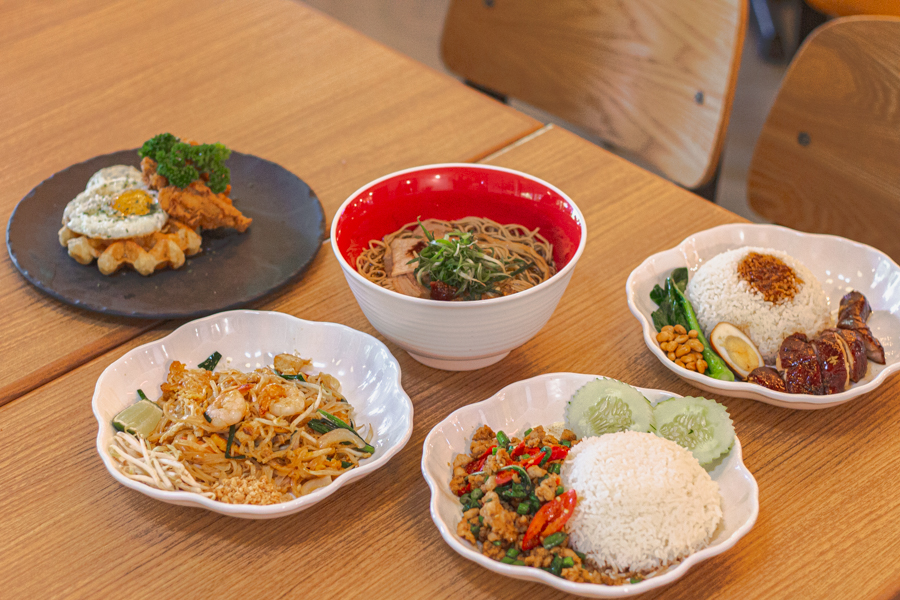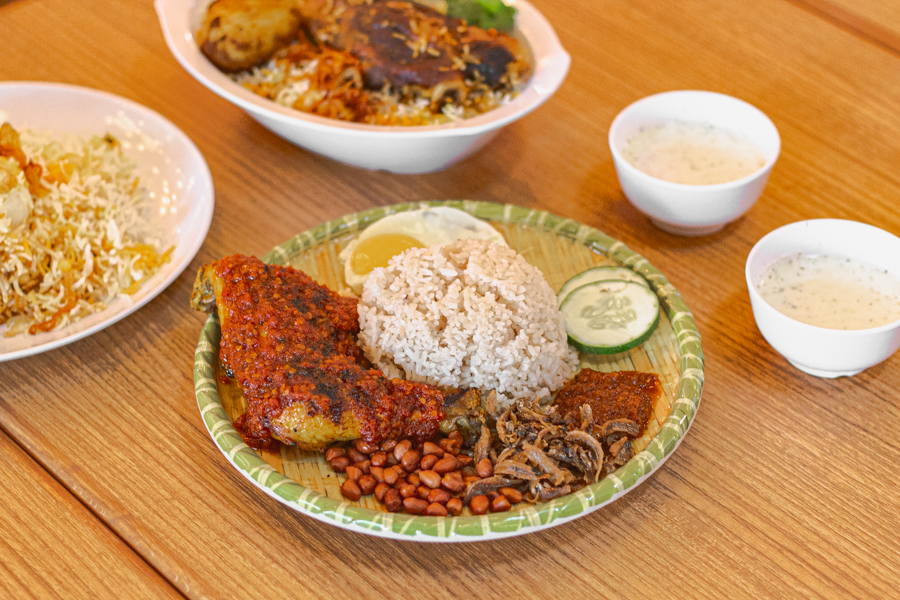 There's also Bismillah Briyani and Nasi Lemak Ayam Taliwang, serving up spicy and fragrant dishes that pair perfectly with rice. The chicken from Ayam Taliwang was crispy and juicy, pairing perfectly with the sweet and punchy sambal sauce, while the biriyani was packed with delicious saffron rice and tender meat! 
Win A $1,888 Cash Prize
You read that right – you can stand a chance to win a grand cash prize! Jurassic Nest is holding a Tiktok contest from now till 18 December 2022, open to participants aged 18 years and below only. Great creative with your video ideas as the video with the highest views will stand a chance to win $1,888! 
Do note the following terms and conditions: 
Tag @jurassicnest and include the following hashtags: #jurassicnestsg #jurassicnest

 The post must comprise content/shots done in Jurassic Nest at Gardens by the Bay only.

All imagery contained in the post is to be shot on-site in Jurassic Nest at Gardens by the Bay.
Jurassic Nest Food Hall Is Now Open 
With an attractive selection of food and a close-to-real-life experience of dinosaurs, the Jurassic Nest Food Hall is perfect for all ages! 
Jurassic Nest Food Hall
Supertree Grove at Gardens by the Bay, 18 Marina Gardens Dr, Singapore 018953
Open daily, 8.30am-9.30pm (JN Cafe), 11am-9.30pm (Jurassic Nest Food Hall)
*Follow MiddleClass.sg on Facebook, Instagram, and Telegram for more food, travel, and trending stories