Tanjong Pagar is an area populated with Korean and Japanese restaurants and finding a simple non-Korean/Japanese meal for lunch can be challenging. But now there's a new eatery to consider – Great Nanyang! It offers familiar Malaysian dishes alongside a full menu of toast, coffee and tea. 
Retro Interior With Memobrilia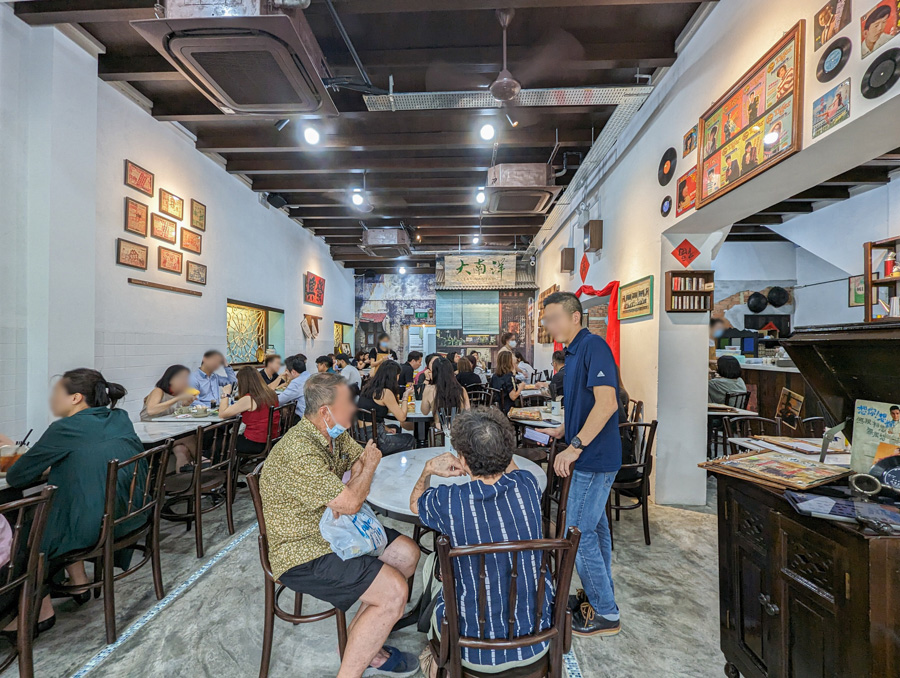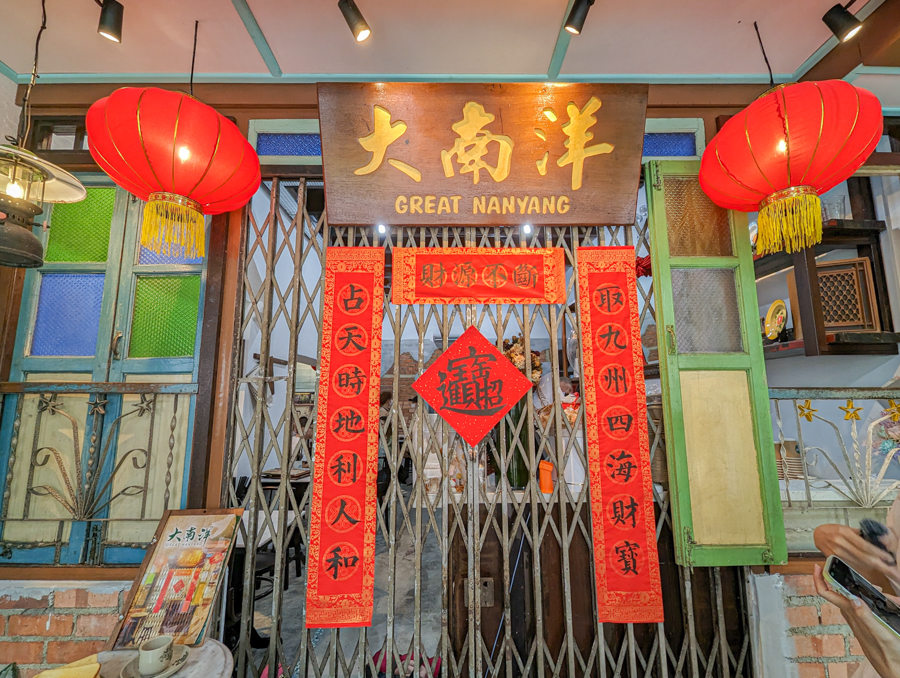 The whole space is designed to replicate an old-school eatery in Malaysia, complete with a metal gate, gramophone and classic marble tables. There's even a photo spot outside complete with fake toast and a coffee cup! 
Great Nanyang Menu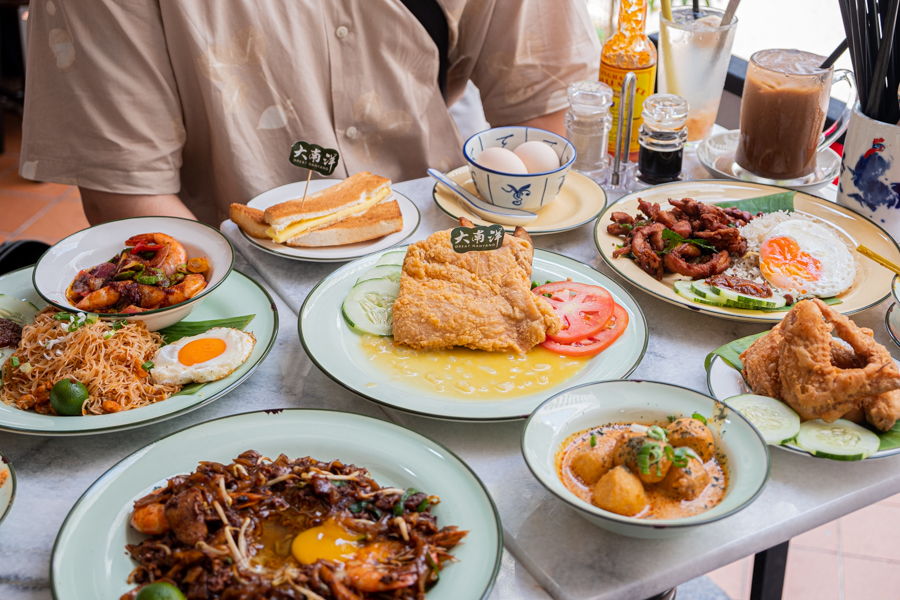 The menu is large, ranging from traditional Hainanese breakfast to homely zichar options. They have a classic Traditional Kaya Butter Toast (from $2.50) which you can top up $3 to form a set with soft-boiled eggs. 
Other toast items include Tuna Mayo Toast (from $3.80), Bolo Bun ($4.80) and Butter Sugar Toast (from $2.50). You can opt for wholemeal bread or even thick toast!
The savouries include Curry Chicken Nasi Lemak Kukus ($8.90) with sambal and a fried egg; plus Nanyang-classics like Penang Assam Laksa ($8.90) and Hor Fun with Egg ($6.90). 
Like a classic Nanyang coffee house, they have a great selection of coffees. The choices include Kopi O ($1.70), Hainanese Yuan Yang ($2.50) and homemade drinks like Golden Lime 7 Up ($3). 
Signature Hainanese Chicken Cutlet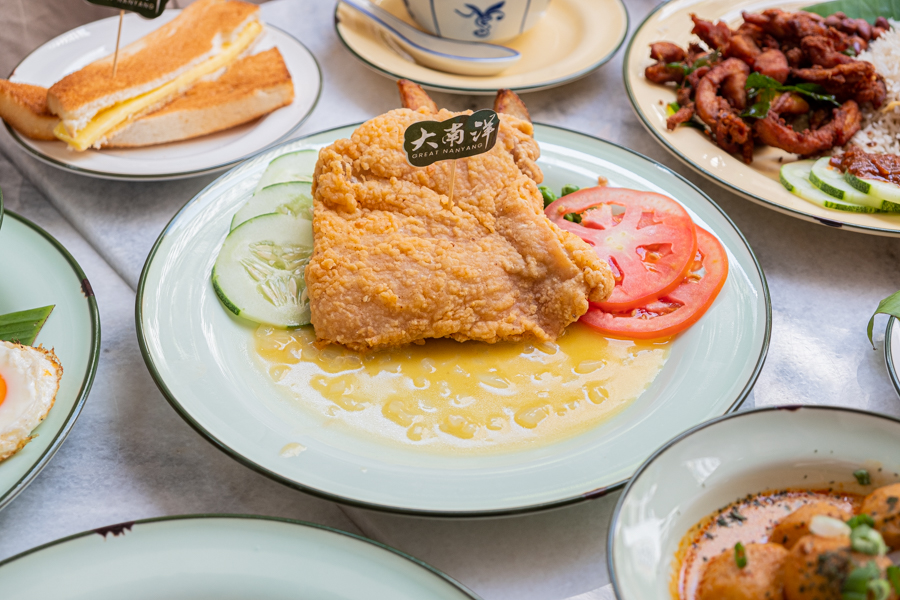 A classic dish is the Signature Hainanese Chicken Cutlet ($15.90) served with potato wedges and gravy. We liked that the chicken was tender but unfortunately, it was underwhelming. The cutlet could have been fried longer for a crisper exterior, and the gravy could have been more robust. 
Moon Light Hor Fun
The Moon Light Hor Fun ($7.90) came with a variety of ingredients including prawns and fish cake. It was well-seasoned with the familiar sweet-savoury sauce, which was complemented by the creamy egg. It could be more impactful with a stronger wokhey!
Chicken Berempah Nasi Kukus
The Chicken Berempah Nasi Kukus ($8.90) came served with strips of fried marinated chicken thigh and a sunny side up. The rice is the highlight of this dish with its fluffy texture, acting as the perfect condiment to the savoury chicken and punchy sambal! 
Dry Mee Sian with Sambal Prawn Petai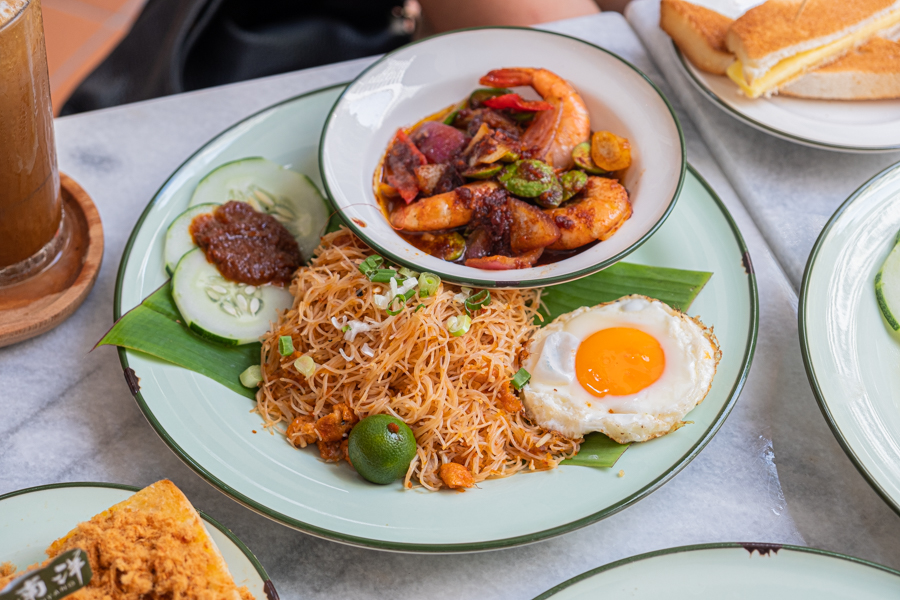 For a noodle dish, the Dry Mee Sian with Sambal Prawn Petai ($10.90) is a good option. The beehoon was well-seasoned and slightly spicy, contrasted with a slight tang. If you're a fan of sambal petai, this iteration is satisfying with the strong sambal. 
Curry Chicken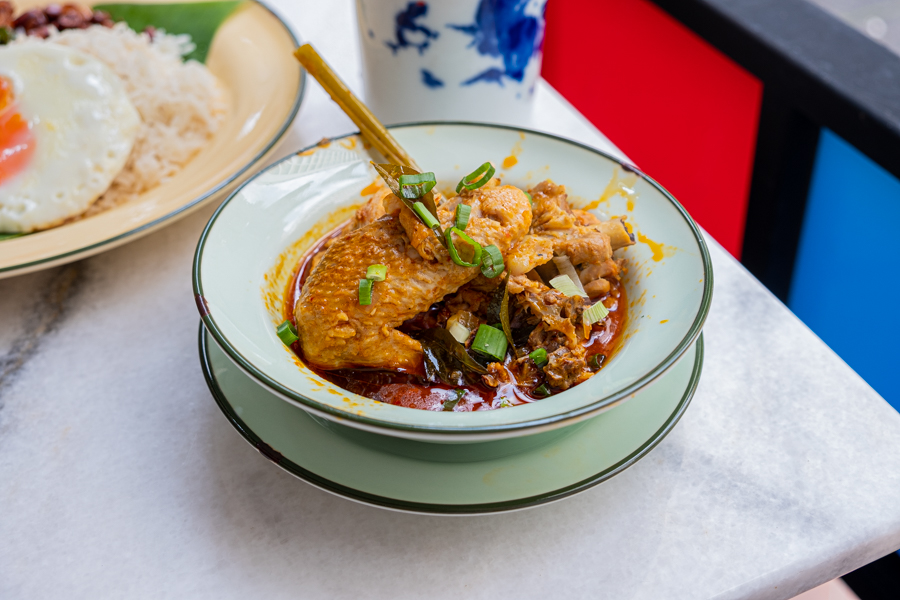 The Curry Chicken ($6.90) is a simple dish for a quick lunch. The gravy is rich and fragrant but on the watery side, which might not be to your taste if you prefer a thick sauce. You can also opt for this with fried rice, dry mee siam or a la carte. 
Toasts 
We got to try a selection of their toast menu, starting with the Traditional Kaya Butter Toast in Traditional Toast ($2.50) and Thick Toast ($2.70). They were generous with the butter and we really liked it!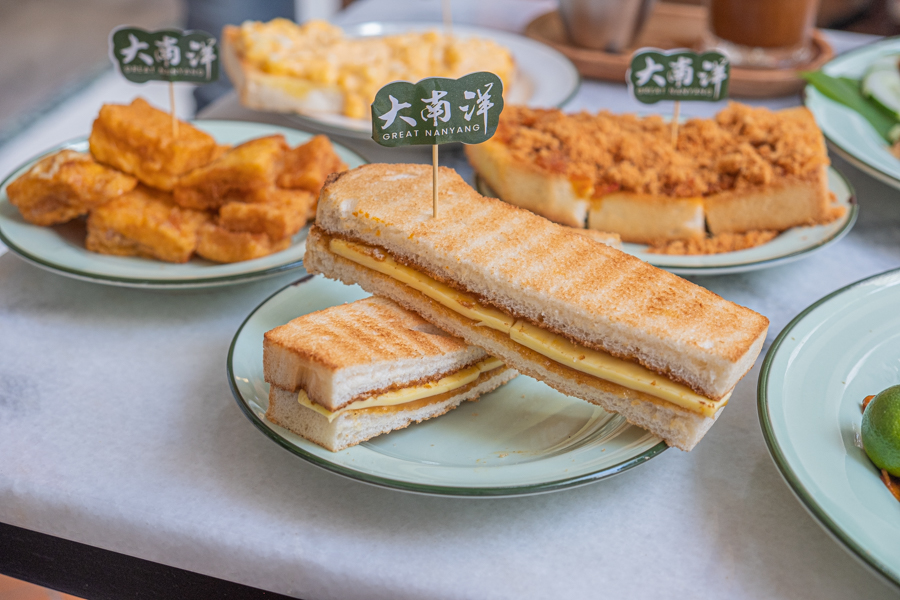 Their kaya was also fragrant and not too sweet; though we preferred the thick toast over regular toast. Overall it's a well-executed kaya toast that's sure to satisfy your cravings. 
You can enjoy it with the Soft Boil Kampung Eggs ($2.50 for 2 eggs), which are delivered fresh from Johor Bahru twice weekly! The eggs are high quality, with their rich orange-coloured yolks and large size – it was creamy with a rich eggy fragrance.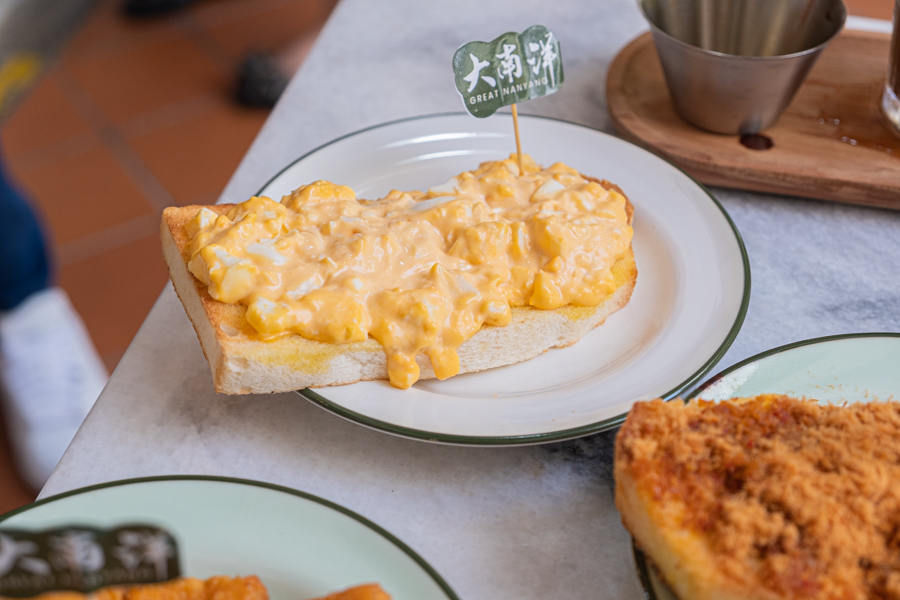 There's also Peanut Butter French Toast ($4.50) cubes which were easy and addictive to eat; and loaded thick toasts in Egg Mayo ($4) and Chicken Floss ($4.80). The Egg Mayo is made with separate whites and yolks, which created an enjoyable creamy texture similar to Japanese-style sandwiches. 
Side Dishes
The Curry Fishballs ($4.80) are good for sharing, doused in a rich gravy that reminded us more of Laksa than curry. For something familiar, try the Prawn Paste Chicken Wings ($6.90 for 4, $8.90 for 6). These were crunchy with a juicy inside and the familiar pungency from the prawn paste!
Hor Ka Sai 
We were quite impressed by the drinks offered, starting with the Hor Ka Sai ($3 for Hot, $5 for Cold). This unique drink is Milo with Nanyang coffee! The sweetness and chocolate from the Milo  mixes perfectly with the robust coffee and is a great pick-me-up. It's reminiscent of a mocha. 
Hainan Food In Tanjong Pagar
With a generous selection of Malaysian-inspired classics, Great Nanyang is a place to try for non-Korean/non-Japanese food in Tanjong Pagar. However, we do feel they could work on the consistency of their food for a better eating experience. It's a good place to grab unique coffees and it's a huge plus that's open from 7.30 am!
Great Nanyang
5 Craig Road, Singapore 089665
Open daily, 7.30am-9pm 
*Follow MiddleClass.sg on Facebook, Instagram, TikTok, and Telegram for more food, travel, and trending stories