There's even more delicious additions to 7-ELEVEN's Ready-To-Eat (RTE) meal line up with their collaboration with Andes By Astons! After a successful launch last year, the crowd favourite halal western restaurant is now offering more gourmet dishes that are ready in minutes in the microwave. It's another exciting add-on to their line of growing 7-SELECT menu options. 
Andes By Astons And 7-ELEVEN Menu
The menu features more of Andes By Astons, including the first and all-new striploin steak dish Andes By Astons Steak Cut with Garlic Herb Butter and Black Pepper Sauce ($13.50). It features a 120g sous vide grass-fed beef striploin steak with melted garlic herb butter, roasted potatoes and topped with Andes by Astons' signature black pepper sauce. The best part – it retains its flavour and texture after microwaving!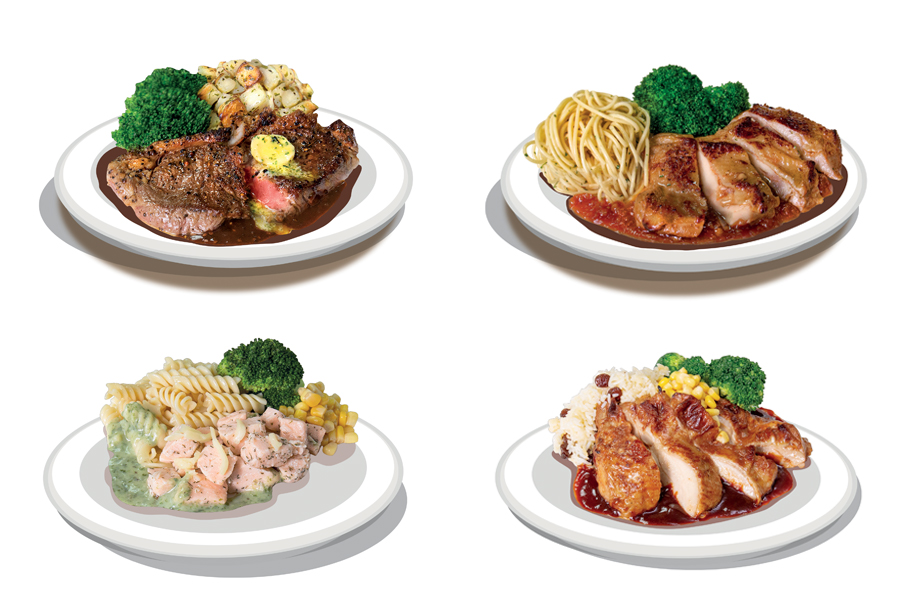 If you don't fancy beef, there are other options available. There's the Andes By Astons Honey Garlic Chicken with Aglio Olio ($6.50) that comes with a Andes By Astons signature juicy baked chicken thigh and a 7-ELEVEN exclusive honey garlic sauce and the Andes by Astons BBQ Chicken with Butter Raisin Rice ($6.50) that comes with a side of sweetcorn and garden vegetables. There's also the Andes By Astons Salmon & Spinach with Cream Fusilli ($7.50) that features salmon chunks in a creamy sauce tossed with fusilli.
You can even end your meal with a sweet treat – enjoy $0.30 off the 7-SELECT Itohkyuemon Uji Matcha (Cream puff or Red bean dorayaki) with any purchase of an Andes by Astons meal from now till 8th November 2022!
That's not all: there are two more cheesy additions to the menu! Try the 7-SELECT Chicken Ham and Corn Lasagne ($3.90) that has a blend of three cheeses: parmesan, mozzarella and cheddar for a rich but comforting meal at any time. There's also the 7-SELECT Croque Monsieur (Ham & Cheddar Cheese) Sandwich ($4.50), their take on the famous French sandwich with béchamel cream sauce, chicken ham and melted cheddar cheese for a decadent treat best eaten warm. 
You can enjoy the new menu selection at all 7-ELEVEN stores now!
*Follow MiddleClass.sg on Facebook, Instagram, and Telegram for more food, travel, and trending stories