If you're an adrenaline junkie looking for things to do in Korea, it's time to venture out of the city and head towards the outskirts of Seoul. Besides conquering mountains, why not try a different point of view and try a few of these adventurous ziplines in Korea? These ziplines are also a great way to admire the Korean landscape.
Must-Visit Ziplines in Korea
Nami Island Skyline Zipwire
Every first-timer in Korea will probably have Nami Island on their to-visit list. The tiny island in Chuncheon is a famous tourist attraction, especially during autumn. Instead of taking the usual route, take the more unconventional route into the island – by zipline.
Imagine zipping down to Nami Island from a 26-story height with a bird's eye view of the island and its surrounding mountains. The price for the zipline includes admission to the island, as well as a ferry ride back.
Requirements: 35-120kg, 140cm-200cm.
Nearest Public Transport: Alight at Gapyeong Station and take Bus 10-4
Price: 44,000won
For ease, interested patrons can book via Klook or KKday.
Jeongseon County Zipwire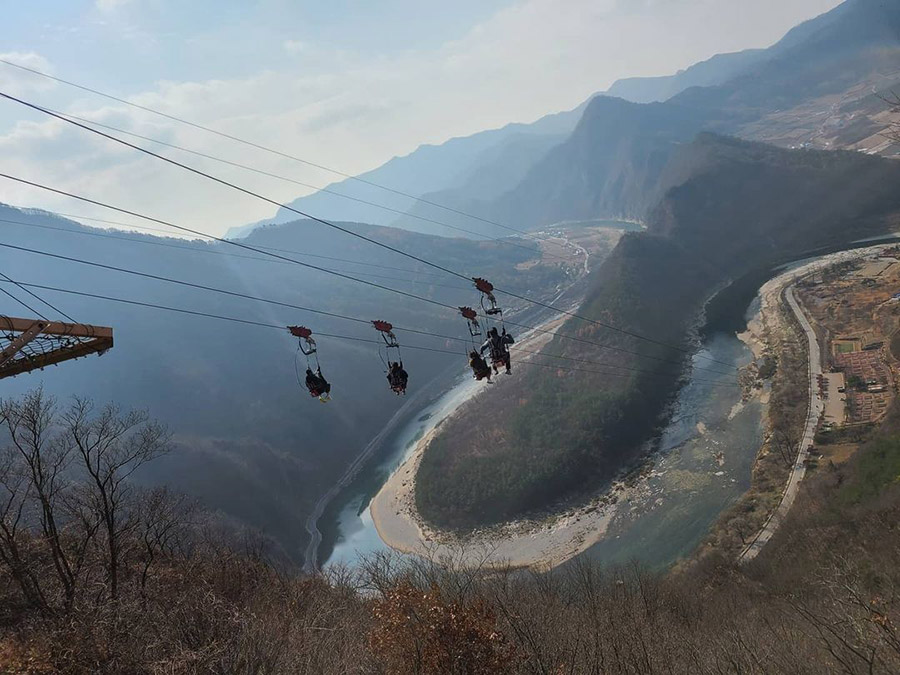 Located in between mountains with an amazing view of a meandering river is the Jeongseon County Zipwire. Descending at nearly 91m (300ft) in the air, you'll embark on a 1.2km (3,900 feet) long zipwire with a top speed of 96km/h (60mph)!
After you finish the 1.2km course, there'll be a shuttle to take you back to the starting point.
Requirements: Above 10 yrs old, 35-120kg, 135cm-195cm
Nearest Public Transport: Jeongseon Intercity Bus Terminal (from Dong Seoul Bus Terminal)
Price: 35,000won
Geumosan Mountain Zipwire
Located near the southern part of the country, the Hadong Zipwire is located at the very top of Geumosan Mountain (Don't worry the ticketing area is at the bottom, and a car will transport you to the starting point) and is said to be the longest zipline in Korea.
At a terrifying altitude of 849m, you can see the entirety of Dadohae National Marine Park.
The Hadong Zipline course is nearly 3.2km and can reach up to 120km/hr speed. On the way down, you'll be greeted by views of Korea's southern coast and the beautiful valleys of the Geumosan Mountain.
This place is more convenient if you're visiting cities in the South like Busan or Gwangju.
Requirements: 35kg-110kg, Above 130cm
Nearest Public Transport: Hadong Station (Driving is highly recommended)
Price: 40,000won (weekdays), 45,000won (weekends)
Rainbow Zipwire (Cheongjeong)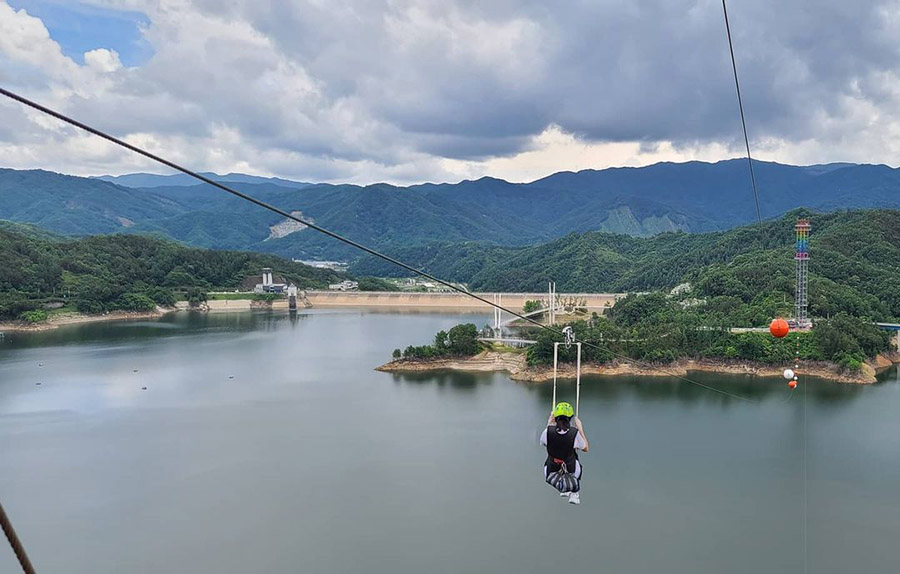 Built on opposite sides of the dam are two towers (93m and 88m each). Usually, for ziplines, you only get to ride it once (from a higher height to lower ground). However, for the Rainbow Zipwire, the ticket includes a round-trip, which means u ride the zipwire twice, totaling a rough distance of 1.7km (one-way is 889m).
The Rainbow Zipwire is not the only attraction, thrill-seekers can also have a go at the SkyWalk. There's no safety fence, so you rely only on the safety harness.
Requirements: 30kg-100kg, 130cm-210cm
Nearest Public Transport: Take the KTX and Alight at Gimcheon Station.
Price: 40,000won (zipline), 80,000won (skywalk).
Aranabi Zipline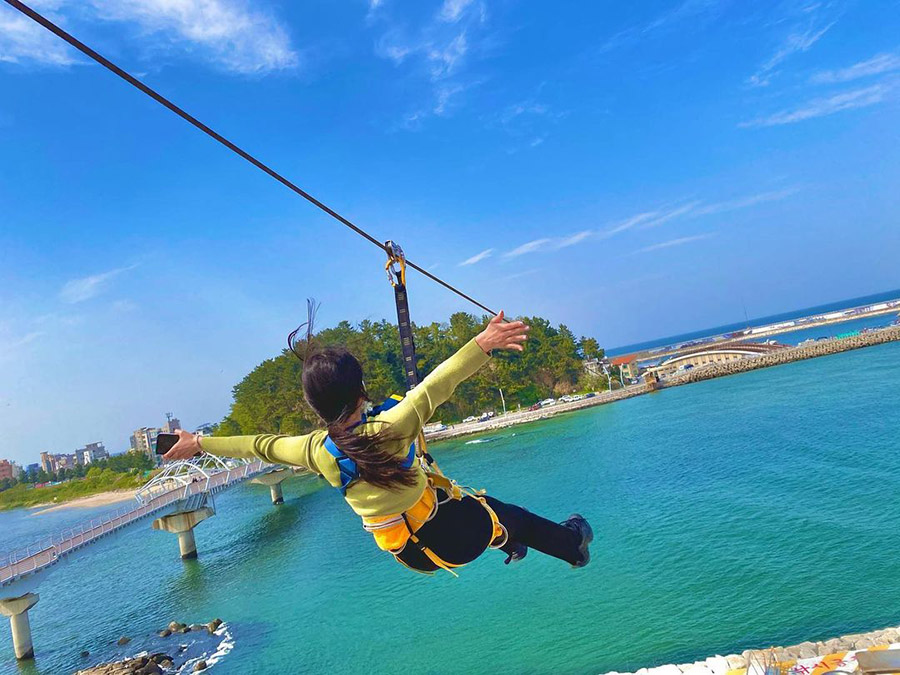 Aranabi is one of the best ziplines in Korea for beginners. As compared to the other ziplines in this article, the length of this is only 600m. It's located in Gangneung, near the beach, which means you get a gorgeous view of the East Sea.
After the ride, you can visit Anmok Beach which is a short walk away. It's home to a whole street of cafes!
Requirements: Above 20mths old (can ride with parents), 20kg-130kg
Nearest Public Transport: Gangneung Bus Terminal/Gangneung Station
Price: 20,000W
Mungyeong Zipline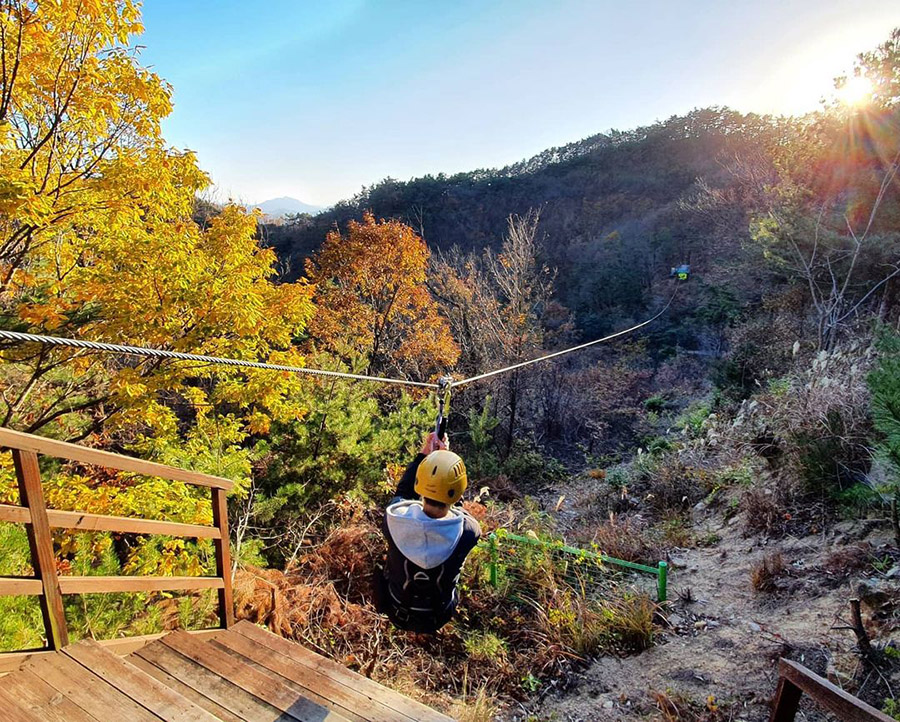 Zipline Mungyeong is located within the Buljeong Recreational Forest in the Gyeongsangbuk-do province. The zipline consists of 9 different courses with different difficulty levels.
You'll find yourself zipping through dense vegetation and above the trees at times. The total course length is around 1.3-1.4km. You'll also get a certificate of completion at the end of the 9 courses!
Requirements: 30kg-100kg
Nearest Public Transport: Jeomchon Bus Terminal (from Dong Seoul Bus Terminal)
Price: 55,000won
Yongin Zipline
Under the same company as Zipline Mungyeong, there's Zipline Yongin, a more accessible option for those who do not want to travel too far from Seoul. Located within Yonginsi Natural Recreation Forest, Yongin Zipline features 6 different courses.
It stretches over 1.2km with courses that zip through dense forests so you get in touch with nature. Apart from the zipline, the facility also has walking trails and children's playgrounds.
Requirements: 30kg-100kg
Nearest Public Transport: Bus 5002B from Gangnam, pass by Everland and transfer to Bus 89
Price: 35,000won
Bohyeonsan Dam Zip Wire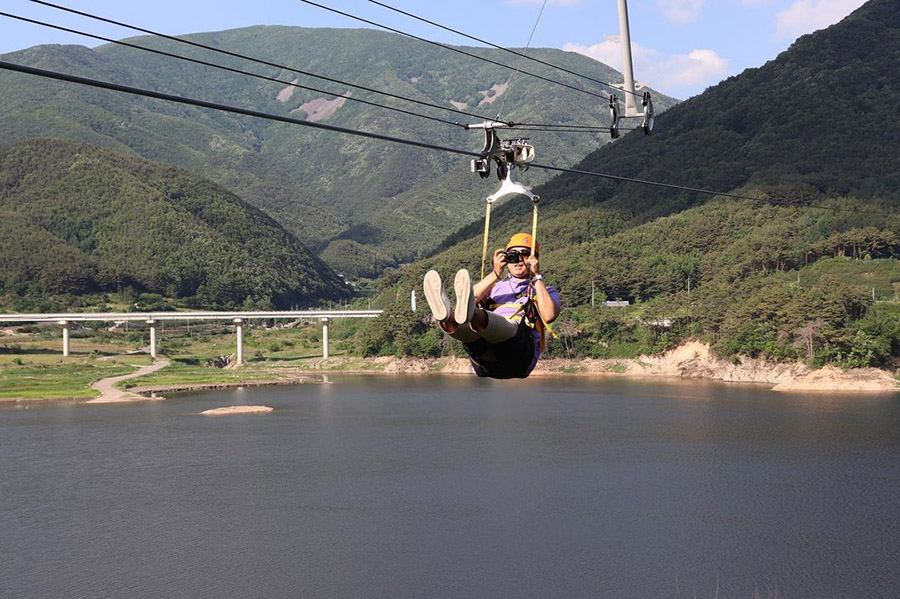 A 10-minute monorail ride takes you to the starting point of the Bohyeonsan Dam Zipwire, where you can enjoy a beautiful view of the surrounding foliage. From there on, it's a 1.4km ride down, passing by trees and going across the dam.
The zipwire is in Yeongcheon, where a 530m suspension bridge is currently in the making (expected to complete in Dec 2022) which would help boost domestic travel.
Requirements: 30kg-125kg, 120cm-210cm
Nearest Public Transport: Yeongcheon Station (transfer at Dongdaegu KTX)
Price: 40,000won
Bridge Zipline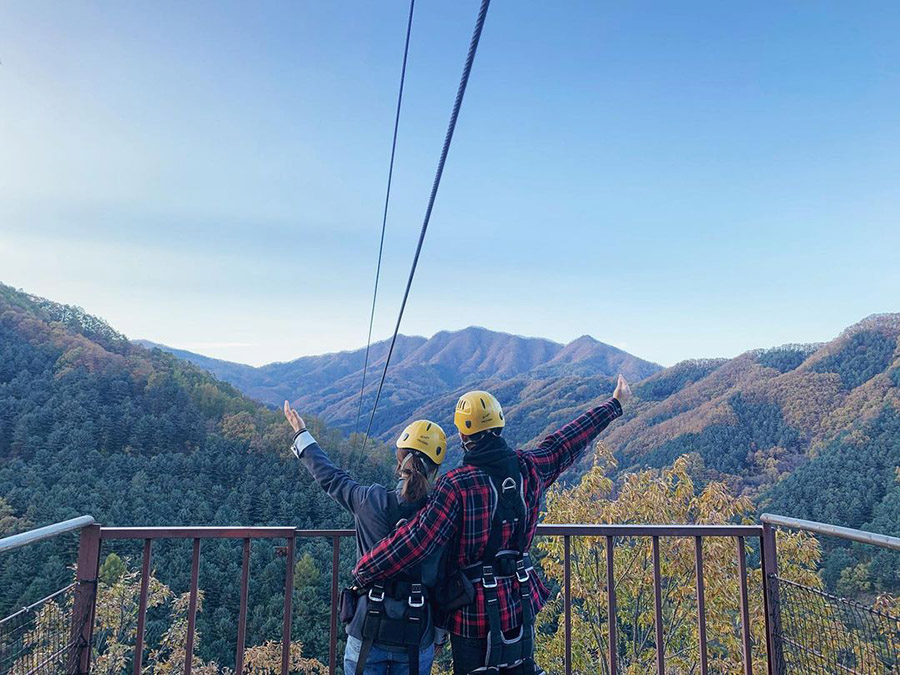 Located in Gapyeong, Bridge Zipline is another potential place to get an adrenaline rush if you do not wish to travel too far from Seoul. The reason it's called Bridge Zipline is that, somewhere within the 8 courses, you will need to cross a suspension bridge. Enjoy a great view thanks to one of the best ziplines in Korea!
Requirements: 30kg-100kg
Nearest Public Transport: Gapyeong Station
Price: 58,000won
Jeju Lafly Zipline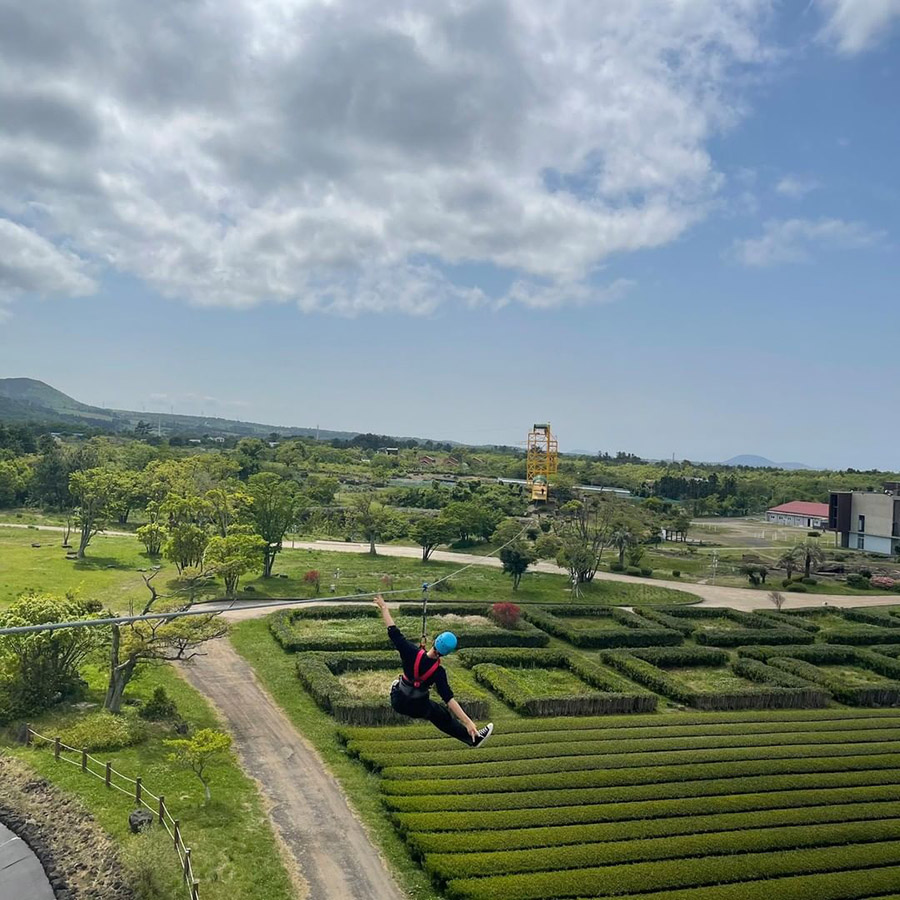 The only zipline in this list that requires you to take an airplane is the LAFLY Zipline in Jeju. Through this zipline course, you'll get to fly across cedar forests and green tea fields with a view of Hallasan.
Requirements: 30kg-110kg, 130cm-190cm
Nearest Public Transport: Driving is recommended in Jeju Island
Price: 35,000won
Thrilling Zipwires in Korea
Whether it's an hour ride away from Seoul or a KTX ride down toward the south, you'll be able to find thrilling activities to do within the mountains and near the beach. These ziplines in Korea are a great way to enjoy autumn foliage and blooming flowers in Spring.
If you're pregnant, have high blood pressure, or any heart conditions, we do not recommend you attempt any of these ziplines. Safety first.
*Prices shown in this article are for adults. While we try to be as accurate with the information in this article, please bear in mind that the prices and operating hours might change depending on the operators.
*Follow MiddleClass.sg on Facebook, Instagram, and Telegram for more food, travel, and trending stories
*FB Cover Photo: @sun__withme, @hansummr and @jejulaf