Travelling to Korea can be daunting, especially if it is your first time doing so. Luckily, there are many apps available that can help make a smoother and less stressful journey!
Whether it be to overcome the language barrier, make payments or navigate more easily, here's our list of 10 must-have apps for Korea:
Naver Maps
When navigating in Korea, Naver Maps will be your best friend! Google Maps can be less reliable especially when trying to find lesser-known places.
Naver Maps is the app of choice for locals and many tourists, as it has the most accurate information on routes, cab fares and so on. It also has reviews and photos for your reference! 
It is recommended to register for a Naver account so you can save important locations as your favourites for easy navigation.
There is also offline navigation so you can download the directions to a specific location beforehand – which is especially useful when heading to more remote areas where the internet connection can be spotty.
The app can also be used in 4 languages: English, Chinese, Korean and Japanese.
Kakao Taxi
Kakao Taxi is an all-in-one ride-hail service and it works just like Grab and Gojek.
Simply input details of your current location and destination, and the app will automatically match the nearest driver to you.
You will need to register for a Kakao ID in order to use this app, which will require a phone number and email address. 
However in order to access the full suite of services (e.g. paying via credit card, and more vehicle options), you need a Korean mobile number and credit card. As a tourist, you likely have to pay cash to the driver or use a T-Money card (Korea's EZ-Link).
This limits the car selection only to a standard taxi as your choice of vehicle, but we haven't faced any issues with this!
Kakao Talk Messenger
Kakao Talk is the quintessential messaging app in Korea. 
It also has many other functions such as sending money, location sharing and more notably, booking appointments.
If you're looking to secure appointments for services like facials or nail art, Kakao Talk will most likely be your main point of communication so it's good to have. 
To register for Kakao Talk, you will need a phone number. Do note that if you use a foreign number instead of a Korean registered number, you will require verification to access all functions of the app, which takes 3-5 days. 
Papago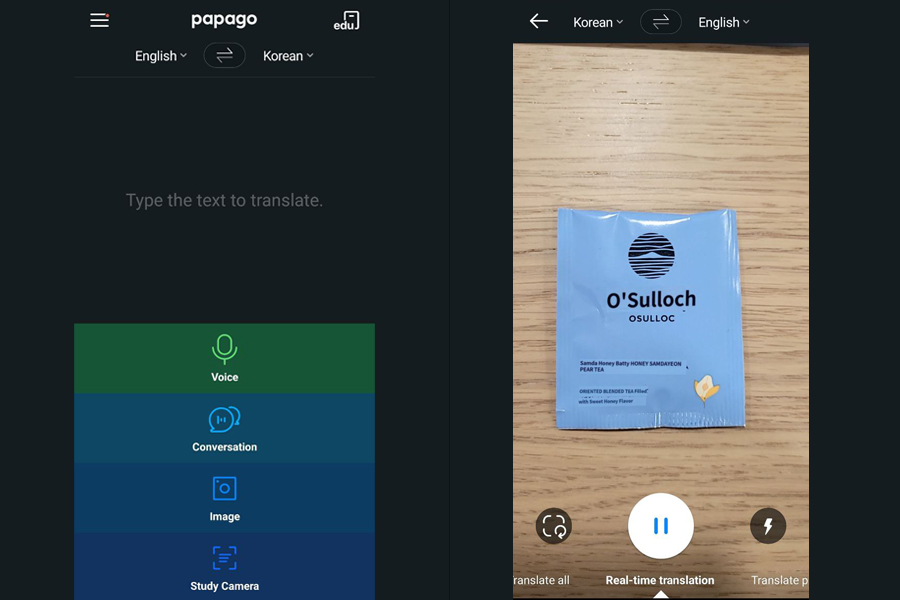 Papago is a translation app that currently supports 13 languages, including Korean. A useful feature is image recognition, which can translate words from an image – great for translating menus or signboards!
Papago can translate websites, and text messages and even has a simultaneous translation function that allows you to have a conversation with another person in a different language.
Offline translation is available as well if you pre-download the language packs. If you are visiting Korea, Papago is a must-have for its accurate and reliable translation!
Seoul Subway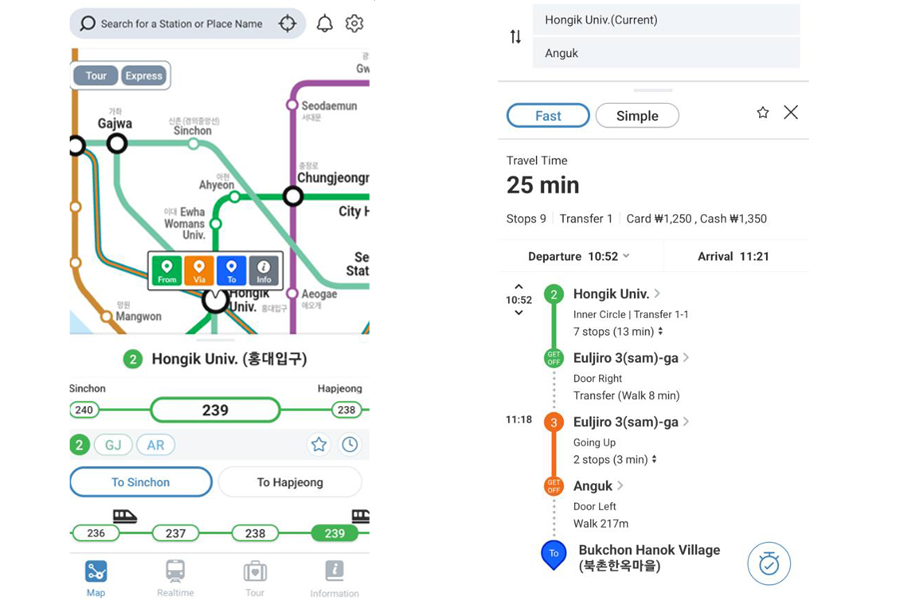 Korea's subway system, known as Seoul Metropolitan Rapid Transit Corporation (SMRT) is one of the best ways to get around the country. However, it can get a little overwhelming if it's your first time on the network.
Seoul Metro, one of the official government bodies overseeing the rail service, has launched a new app designed specifically for tourists! The Seoul Subway app has access to route maps, real-time train information, station guides and recommendations for nearby tourist spots – perfect for planning your journeys.  
It's now available for download on both Google Play Store and Apple Store.
Shuttle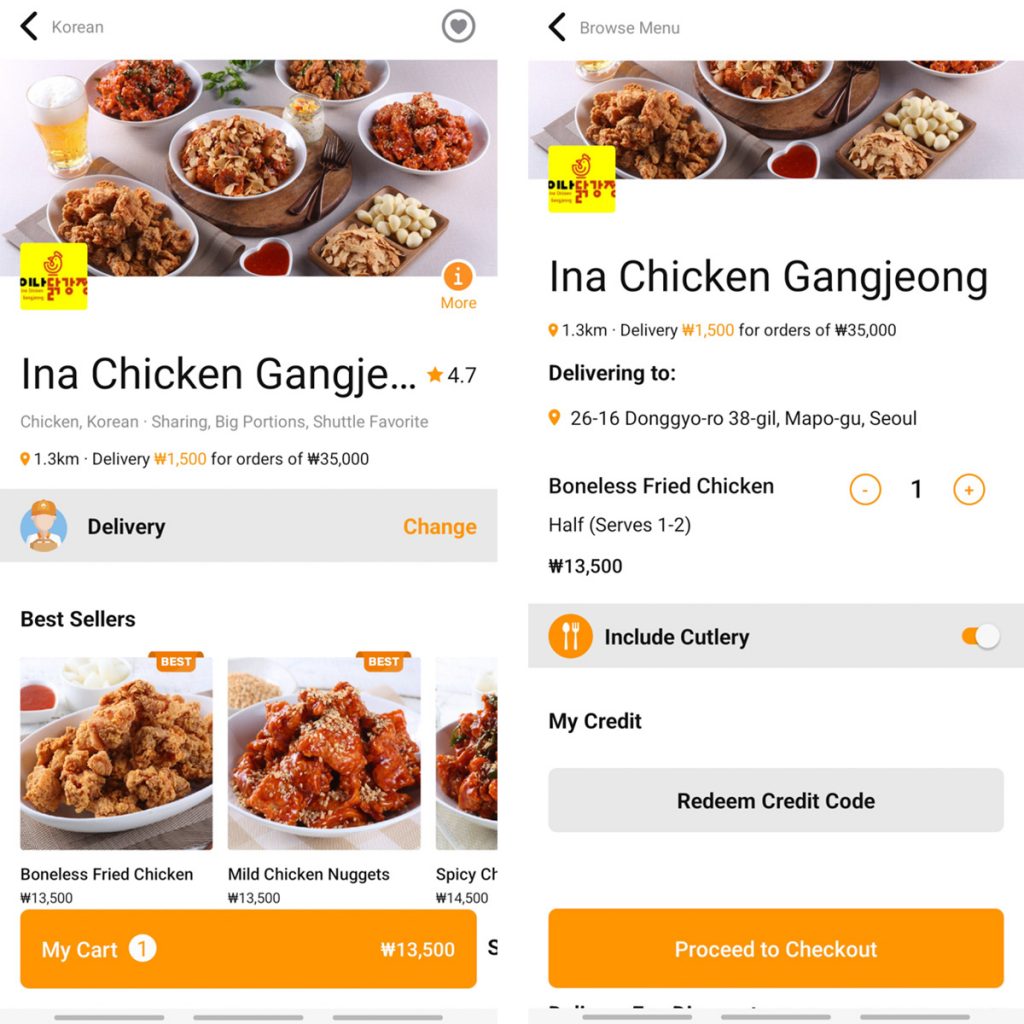 Shuttle is a Korean food delivery app that was designed with foreigners in mind.
Unlike most other apps, Shuttle is fully bilingual, making it easy to place your orders even if you do not understand Korean.
Moreover, Shuttle does not require a credit card or Korean phone number to place an order, which makes it more accessible.
Delivery is available from Monday to Sunday, 11am to 11pm. Payment options include international credit cards, Paypal and Kakaopay.
For a full review of our experience with Shuttle, you can check it out here.
Splitwise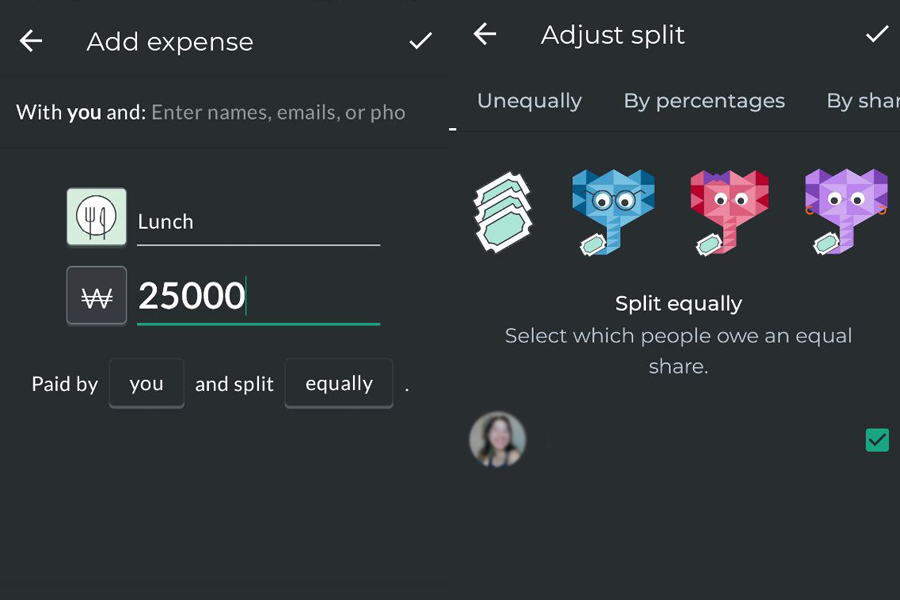 Splitwise is a great app for tracking expenses and splitting bills for those travelling in a group. 
All you have to do is create a group with your travel companions, and you can log all your expenses in the over 100 currencies available.
The best part is you can customise exactly how you want the costs to be split! The options include percentages, specific amounts and even by decimals – so everything is clearly listed out.
 At the end of every trip, the app automatically calculates the amount that each person owes. There are no in-app payment options, so you have to pay the person directly and indicate in the app that you have made the payment. 
Wanderlog
Wanderlog is an itinerary app that integrates all the features that you need to plan your travels into a simple and elegant tool. 
You can input your entire journey with multiple destinations and include details like flights, public transport and tourist destinations! It also links with Google Maps so you can plan routes and travel time.
One of Wanderlog's best features is collaborative planning – the trip can be shared with multiple people who can also edit it together. 
The user interface is rather intuitive to use as well and is available on Android, iOS and web. There is a whole array of other features available, such as adding budgets, notes and much more.
 All in all, Wanderlog is the ultimate travel companion. Those who have used it swear by it and are unable to imagine planning a trip without it!
Mangoplate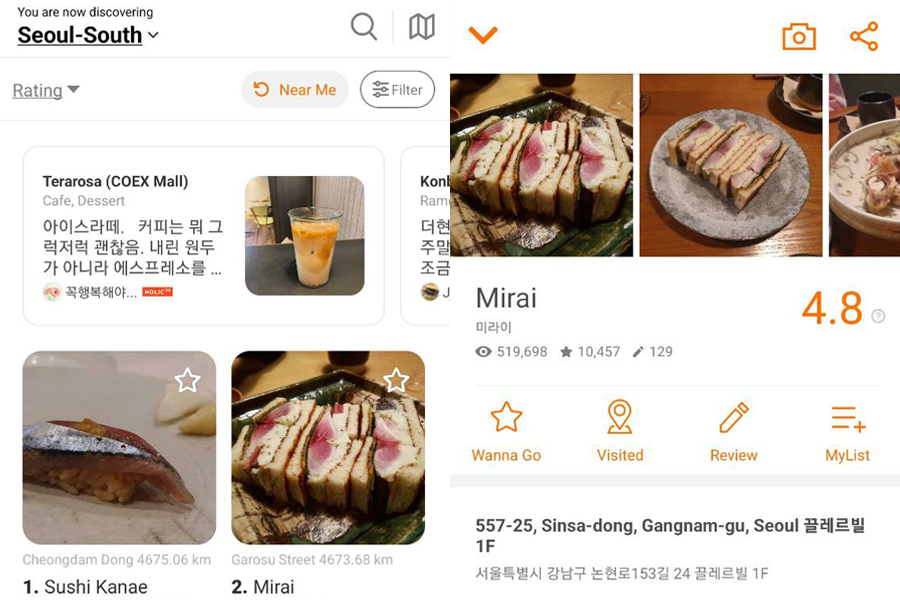 Regarded as the Yelp of South Korea, Mangoplate is a platform for users to discover restaurants. 
To date, there are over 200,000 restaurants on its platform from all over South Korea making it Korea's most popular restaurant and dining app. 
Users can add their reviews, give ratings, find guides to restaurants serving different types of cuisines and much more. The main language used on Mangoplate is English, making it extremely tourist friendly! 
You can use the map function to find restaurants nearby or filter by the type of food, price, rating and location.
Multi-Currency Travel Card
The most popular virtual payment platforms in Korea are NaverPay and KakaoPay, but both require a Korean visa or citizenship to register for them. 
Therefore, for tourists and foreigners, the best alternative for cashless payment options is to use multi-currency cards like Youtrip, Revolut, Instarem and Wise. 
Each service offers both physical and virtual cards that you can use to instantly convert currencies during payment. 
You can also exchange currency in-app while enjoying better exchange rates and lower fees. Other perks of these cards include remitting money to overseas bank accounts without paying high fees, withdrawing cash at local ATMs, enjoying cashback on overseas purchases and more! 
If you do not want to carry large amounts of cash with you on your trip, options like Revolut are a great way to go.
Travelling To South Korea
These apps can come in very handy when journeying around Korea so be sure to download them before your next trip! If you're looking for must-visit sights and sounds, check out our full list of Korean travel here. 
*Follow MiddleClass.sg on Facebook, Instagram, TikTok, and Telegram for more food, travel, and trending stories