It's back and bigger than ever (literally) – Singapore Food Festival 2023 has returned for its 30th run from 19 July to 30 July 2023. The festival will be held at the Bayfront Event Space, hosting over 100 local food establishments! 
The Festival Layout
The festival spans an impressive 7 zones, each themed with different foodie experiences. Here's a map for reference: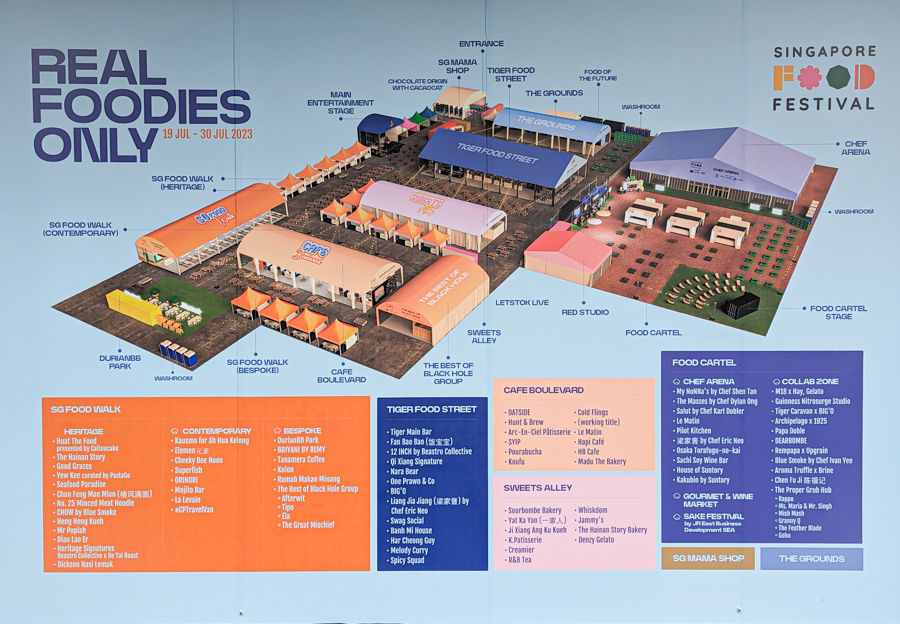 The four main food zones are the SG Food Walk, Cafe Boulevard, The Sweets Alley and Food Cartel. Each segment has plenty of seating space but do note they are unsheltered. 
There are also booths by brands like Tiger, Guinness, SG Mama Shop and Chocolate Origin with Cacao Cat. 
SG Food Walk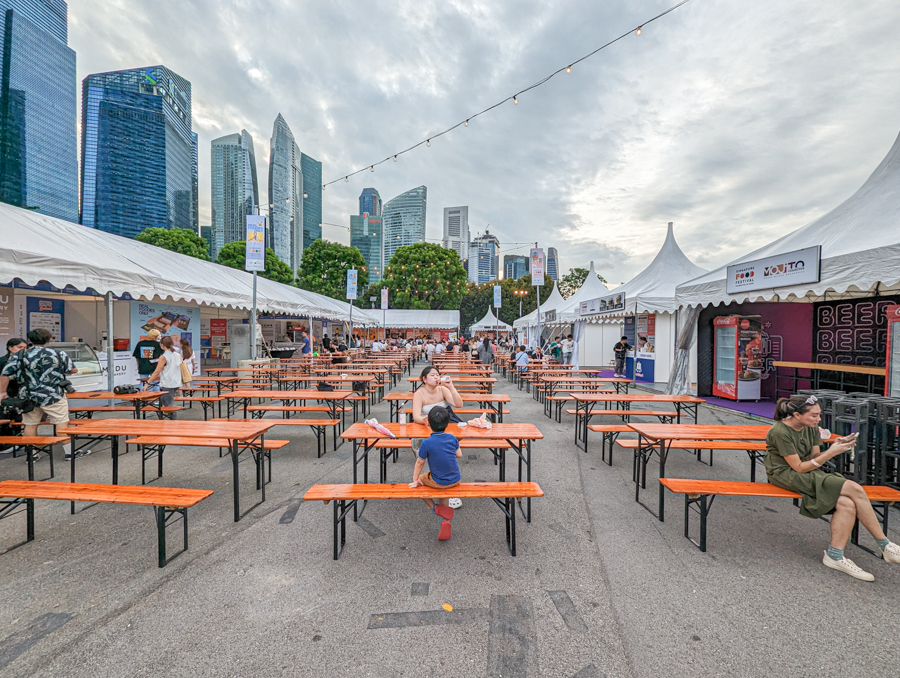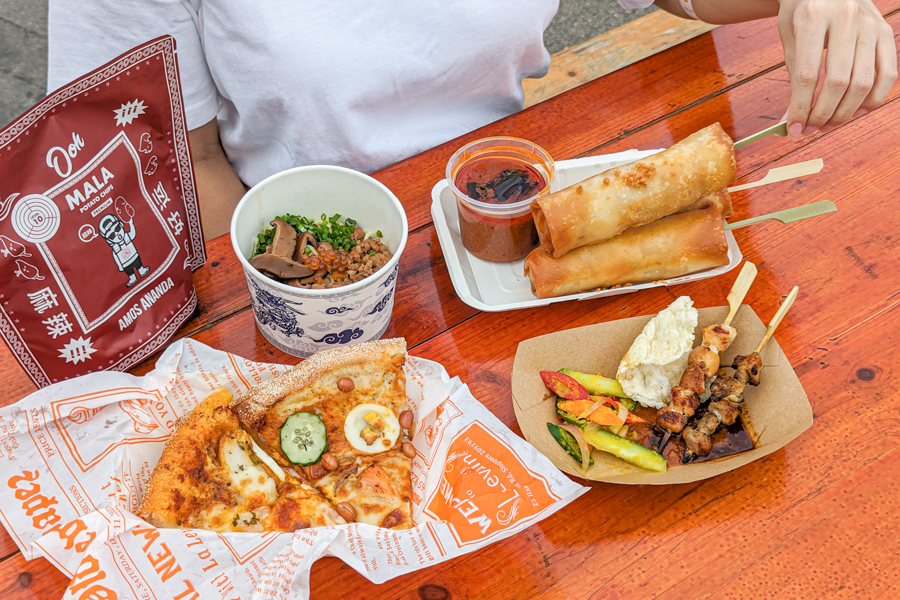 The first zone, SG Food Walk, is split into three sub-zones: Heritage, Contemporary and Bespoke. Heritage brands are long-lasting names in the local foodie scene, with brands like Dickson Nasi Lemak, Yew Kee and Seafood Paradise.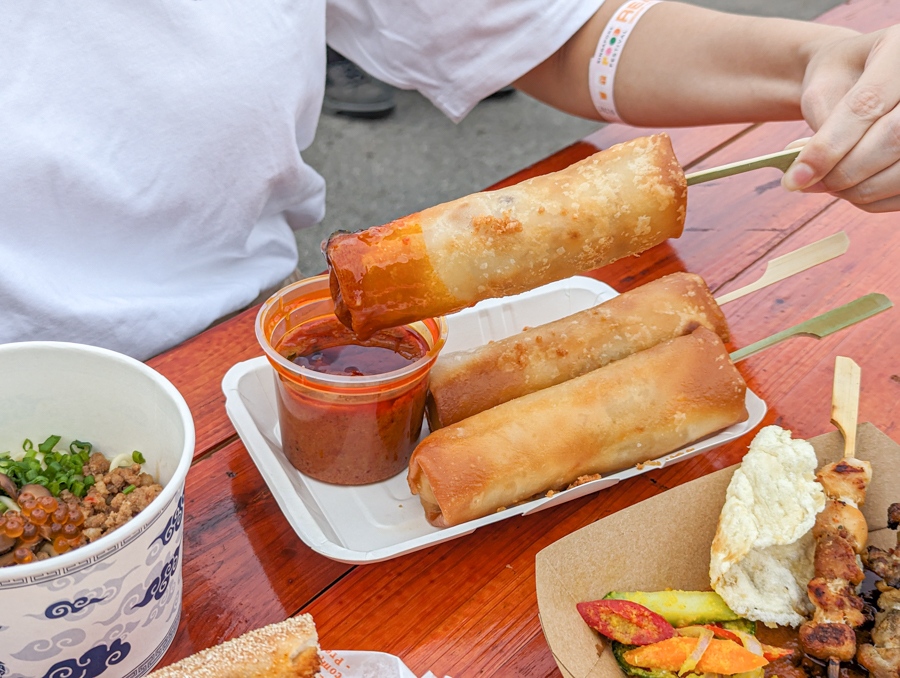 We tried the Curry Chicken Fried Popiah ($12) from Mr. Popiah, with 3 hefty popiahs and a curry dip. These were a guilty pleasure! Each popiah was generously stuffed with onions, cheese and chicken thigh meat, the perfect carrier for the spicy and fragrant curry. 
Our only complaint is that the popiah caught more of the oil than the actual zhap of the curry, but a super satisfying and sinful bite nonetheless.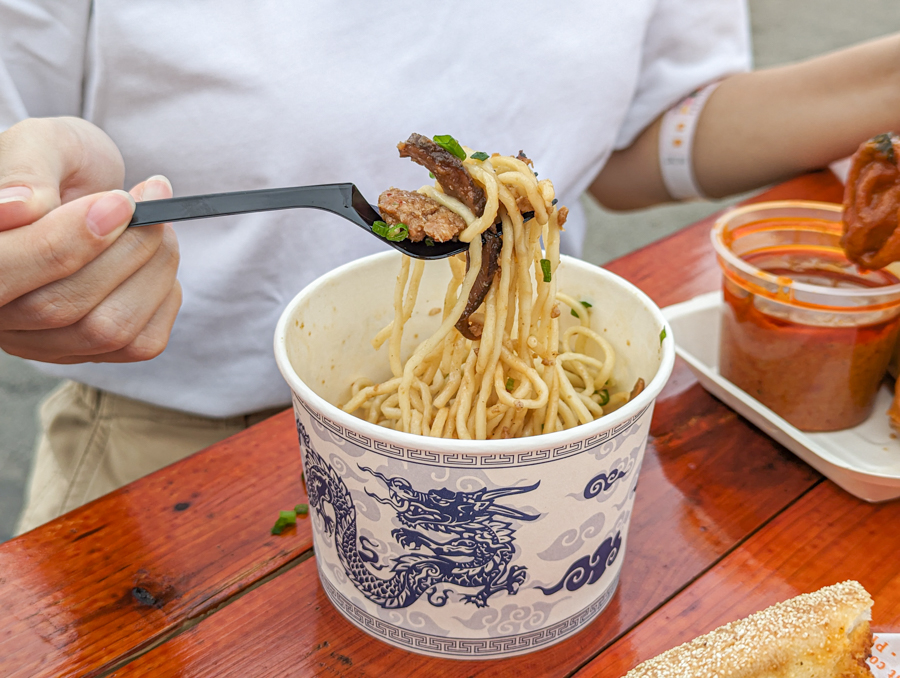 There is also the SFF-exclusive Singapore-Style Mazesoba ($12) by No. 25 Minced Meat Noodle. These also hit the spot, with a base of springy noodles and a savoury meat sauce with good umami. You can top up $3 for Ikura!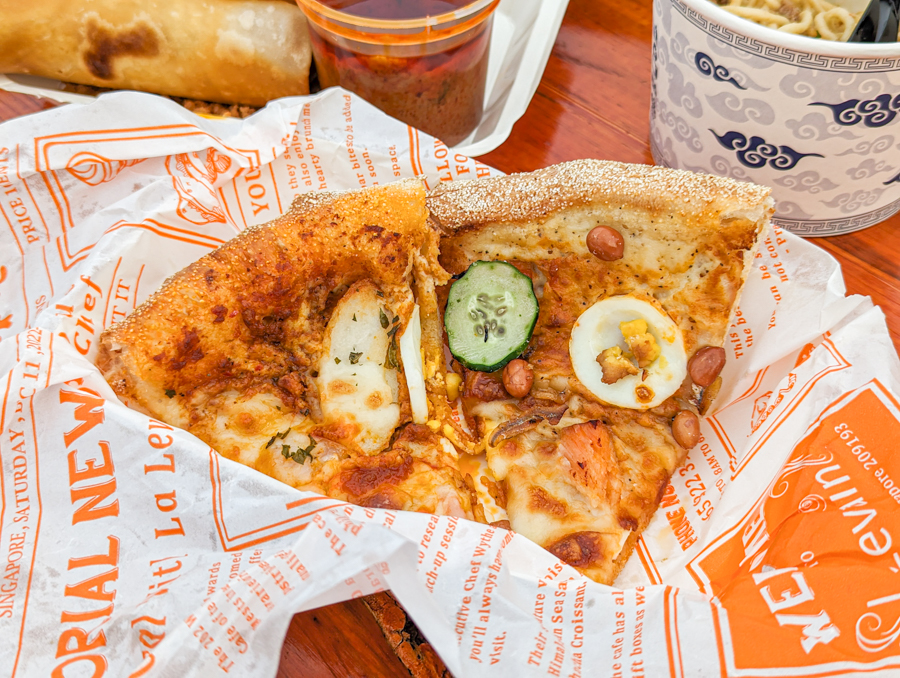 Contemporary brands focus on modern takes on local food. La Levain is offering an SFF-exclusive Nasi Lemak Pizza ($12.80/half, $19.80/whole), topped with ikan bilis and peanuts! 
The crust is fragrant and chewy, but we felt the pizza was overall too salty and overpowered the Nasi Lemak flavours. If pizzas aren't your thing, they also have Orh Nee croissants and cruffles. 
The Bespoke options include speciality brands like Durian BB and Black Hole Group (Tipo, Afterwit, The Great Mischief, ELA). Here, we tried the exclusive Bako-Tori ($12) from Rumah Makan Minang with two meat skewers and a savoury peanut sauce. 
Despite the smaller serving, the meat was well-marinated and perfumed with herbs. The peanut sauce complimented the smokey skewers, alongside a refreshing achar. 
Cafe Boulevard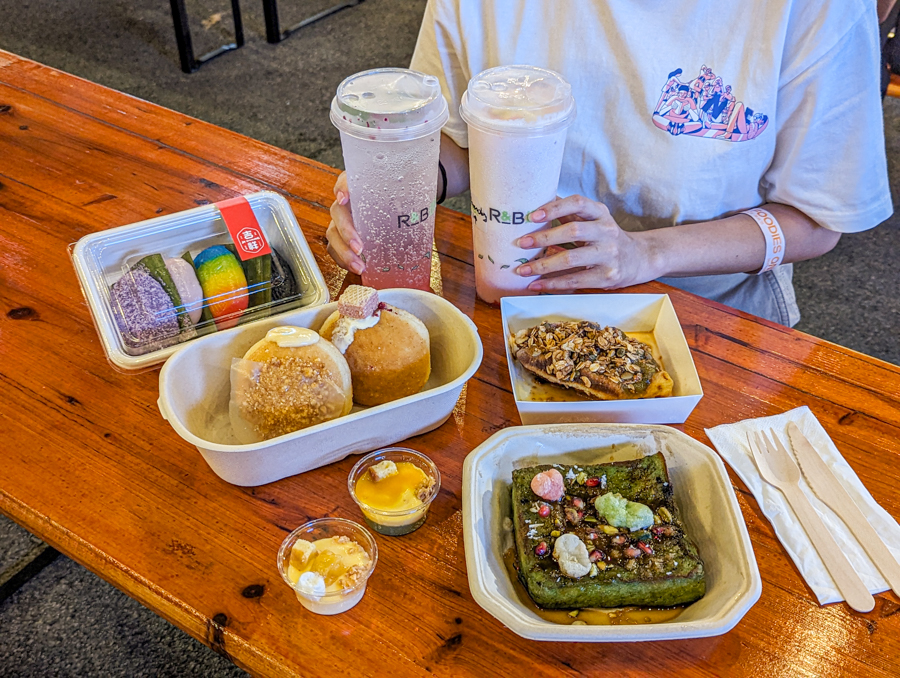 Cafe Boulevard houses Singapore's favourite cafes, with names including Madu The Bakery, Oatside, Le Matin and even Koufu!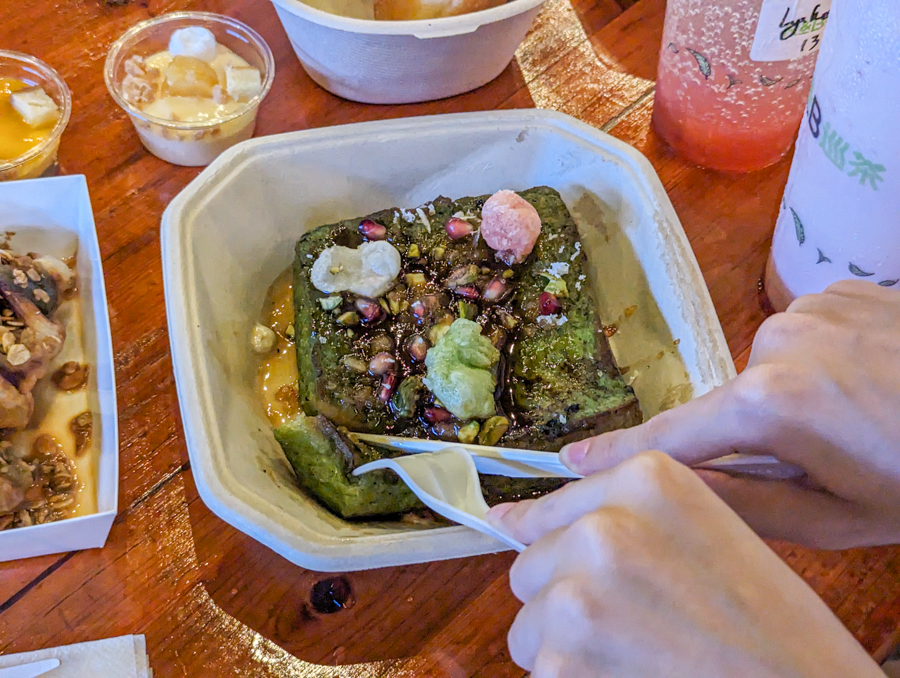 We tried the SYIP Cafe SFF-exclusive Ondeh Ondeh French Toast ($12), garnished with colourful fried mochi and a green toast. The bread was fluffy and slightly crisp on the edges, with a notable pandan fragrance. 
The gula melaka syrup was the cherry on top, providing just the right amount of sweetness! Ondeh Ondeh lovers will enjoy this. 
There's also the Kaya Peanut Butter & Granola Croffle ($10) from Cold Flings. The buttery, flaky croffle was the perfect accompaniment to the kaya and creamy peanut butter. The granola added an extra crunch to everything. 
The Sweet Alley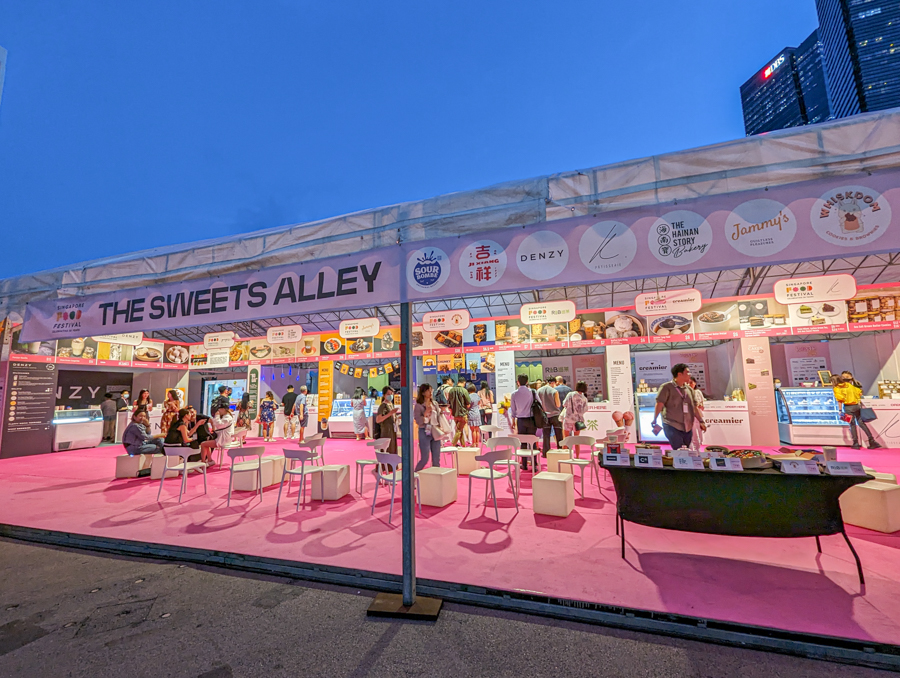 For more sweet treats, visit The Sweet Alley, aptly decorated in an all-pink set up. The brands here all specialise in desserts including Whiskdom, Jammy's and Creamier.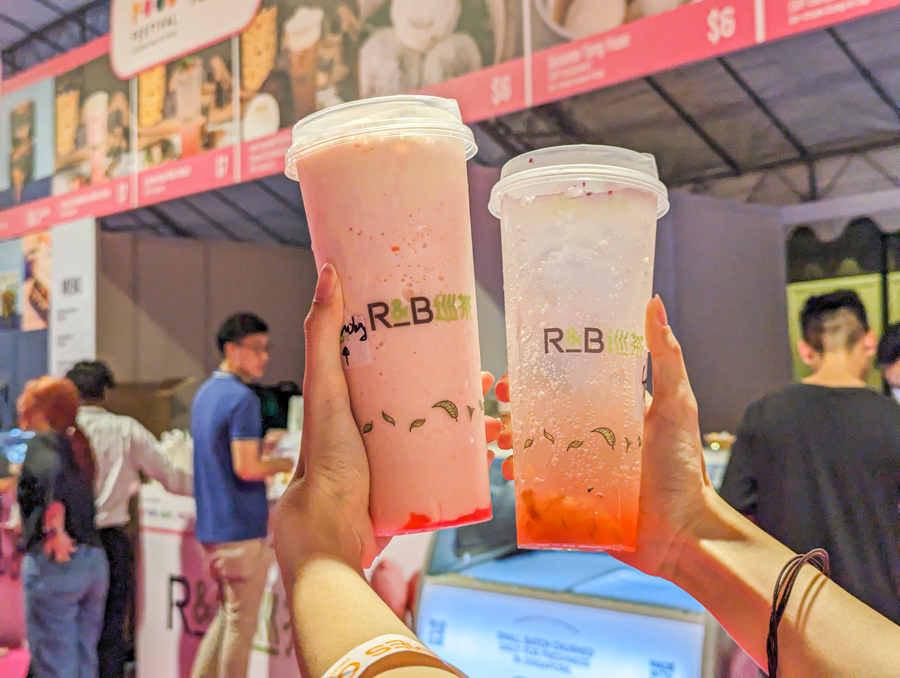 We visited three stalls: R&B Tea, Ji Xiang Ang Ku Kueh and Sourbombe Bakery. The SFF-exclusive drinks from R&B Tea include the Frosty Strawberry with Ice Gem ($8) and Lychee Rose Mint Cooler ($8).  We liked the Lychee Rose Mint Cooler which was refreshing with lychee bits.
It could be just a bit sweeter! The Frosty Strawberry tasted like strawberry milk without being too cloying. 
Ji Xiang Ang Ku Kueh will be offering an SFF-exclusive Hae Bi Hiam Ang Ku Kueh with pretty purple skin. The skin was chewy and soft, with the slight spice and umami from the Hae Bi Hiam adding an addictive flavour!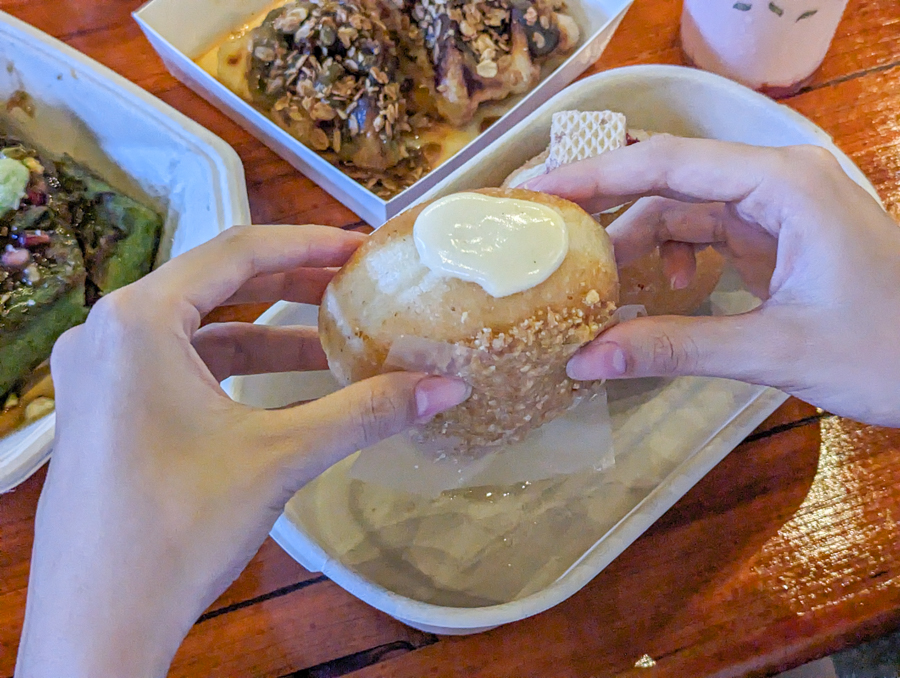 We also tried the White Rabbit ($6) and Raspberry Ripple ($6) bombes from Sourbombe Bakery. The White Rabbit bombe even came with the familiar edible rice paper layer! 
It came filled with White Rabbit flavoured cream which was just the right sweetness, contrasted by the slight saltiness from the peanuts.
Our favourite was the Raspberry Ripple! The balance of the tangy raspberry jam and sweet vanilla cream made it an addictive dessert. 
SG Food Cartel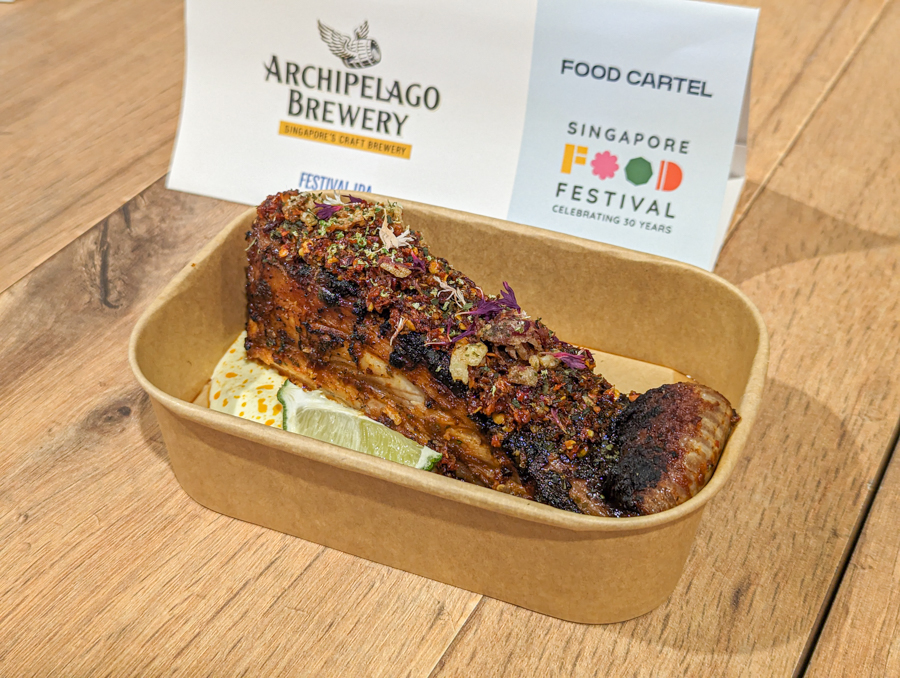 The last main food zone is the Food Cartel which is comprised of indoor and outdoor segments. The outdoor area features food stalls that have unique brand collaborations, including Brine Singapore x Aroma Truffle and Archipelago x 1925. 
Here, you can enjoy items like Smoked & Grilled Stingray Steak ($32) from Blue Smoke By Chef Ivan Yeo and a Kyoho Grape Sangria ($15) from The Blackhole Group. 
The indoor segment is the Chef's Arena, hosting eateries helmed by culinary experts. The lineup includes Pilot Kitchen, The Masses and Le Matin, each offering SFF-exclusive menu items and collaborations.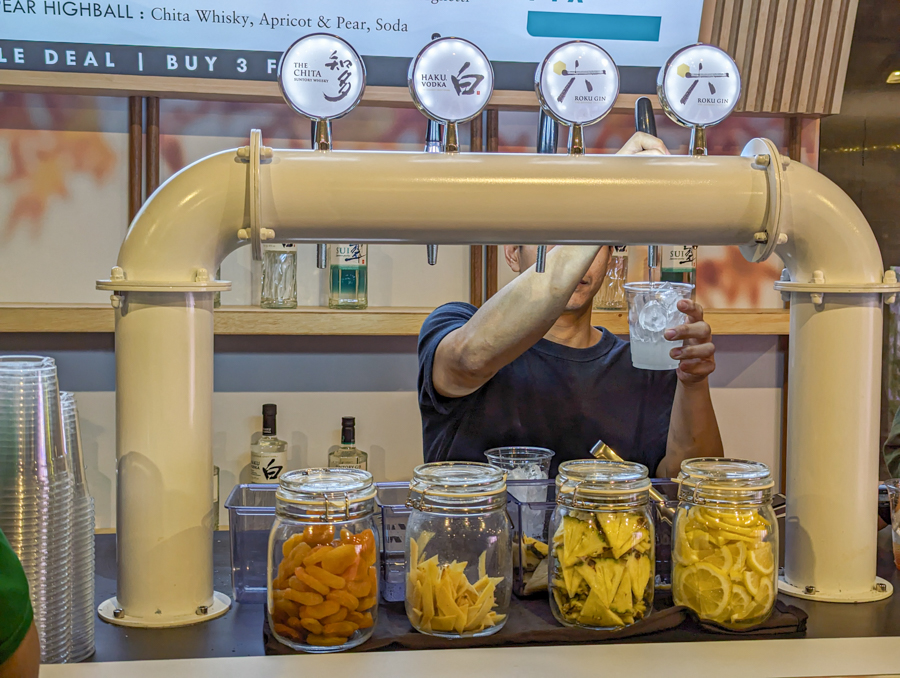 There are also plenty of alcohol booths from Suntory, Sachi's Bar and Japanese Sake where you can enjoy artisanal cocktails and highballs. 
Activities & Food Booths
There are so many other booths to visit like Tiger Food Street, Gourmet Market, live music and more! You can even attend master classes by Tik Tok, Rempapa, Oatside and local chefs to broaden your foodie senses. 
Sign up for the different workshops here!
Singapore Food Festival 2023 
As their festival theme states 'Real Foodies Only', Singapore Food Festival 2023 continues to deliver an exciting variety of foods which showcases the versatility of the local food scene.
This is a ticketed event, with prices starting from $8. For more information, visit the official website and get your tickets here. 
Singapore Food Festival 2023
19 July 2023 – 30 July 2023
12A Bayfront Ave, Singapore 018970, Beside Marina Bay Convention Centre
Mon to Fri: 5.00 pm – 10.30pm
Sat to Sun: 10.30am – 10.30pm
Tickets starting from $8, purchase here
*Follow MiddleClass.sg on Facebook, Instagram, TikTok and Telegram for more food, travel, and trending stories