Local artisanal chocolatier Kakkow has collaborated with local distillery Compendium Spirits to create a one-of-a-kind box of boozy bonbons to kickstart the festive season!
Unique Chocolate Bonbons in Singapore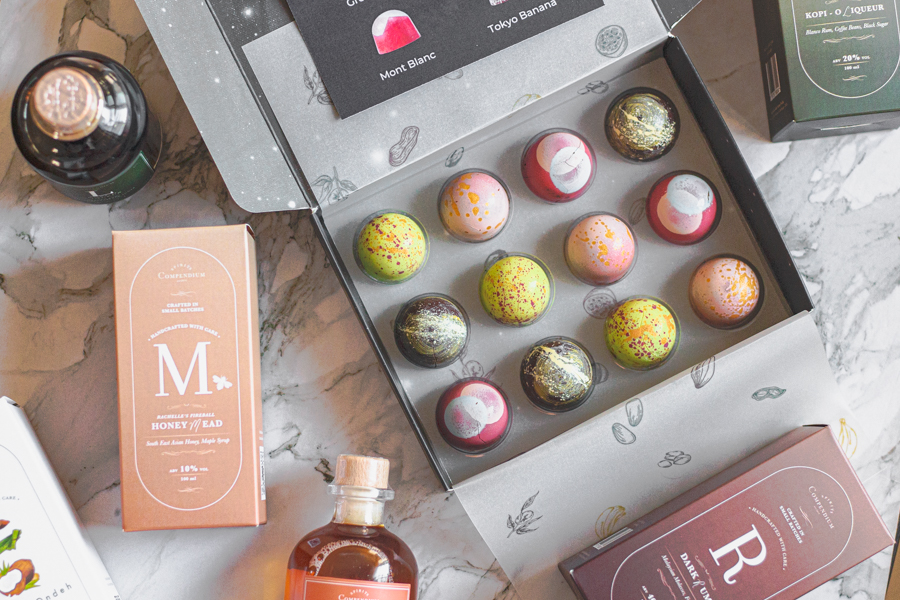 Available for a limited period only, the Kakkow x Compendium Spirits Box ($40) consists of 12 bonbons in 4 different flavours: Green Curry, Mont Blanc, Tokyo Banana and Jerusalem Artichoke. Each flavour comes with an interesting taste profile, elevated by the different liquor offerings from Compendium Spirits.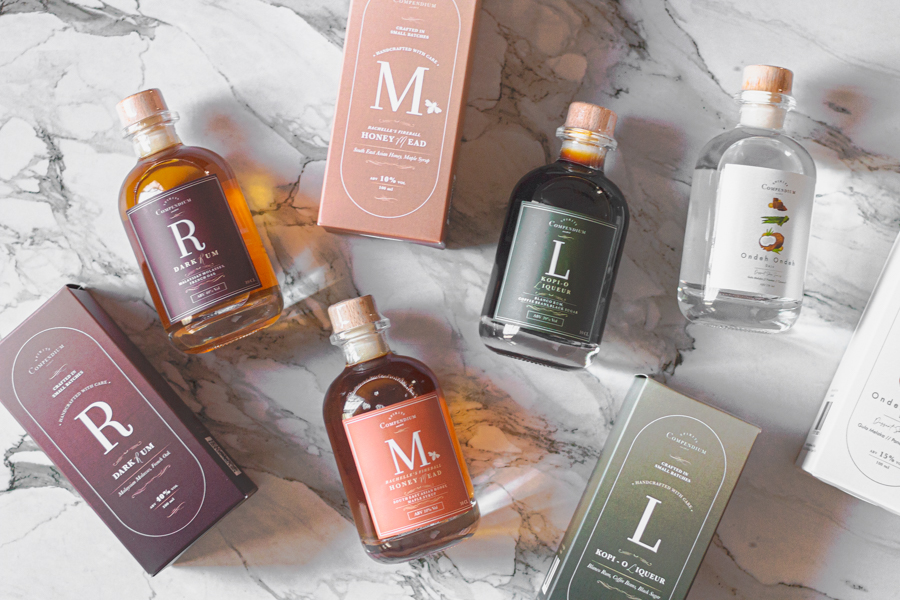 There's also a Kakkow x Compendium Spirits Bonbons Pairing Box ($80) which comes with a box of curated Compendium Spirits (Ondeh Ondeh Soju, Kopi-O Liqueur, Rachelle's Fireball Mead and Dark Rum – 100ml/bottle) alongside the box of 12 bonbons.
Green Curry
While the idea of a Green Curry Bonbon might seem intimidating, this particular flavour is aromatic and interesting. It's paired with Compendium Spirits' Rojak Gin, which brightens the familiar Thai cuisine flavour with citrusy notes and a slight nuttiness of Juniper Berries and Lemon Peel.
Pair this with the Ondeh Ondeh Soju for a delightful and flavourful experience!
Jerusalem Artichoke
If you're a follower of Kakkow, the Jerusalem Artichoke flavour shouldn't be unfamiliar to you. Reinventing the flavour with some Spiced Rum from Compendium Spirits, it adds a tinge of floral spiciness of Kampot Pepper which matches well with the earthy and malty notes from the artichoke.
Best with the Fireball Mead, which has a smooth sweetness and aroma of honey and maple syrup.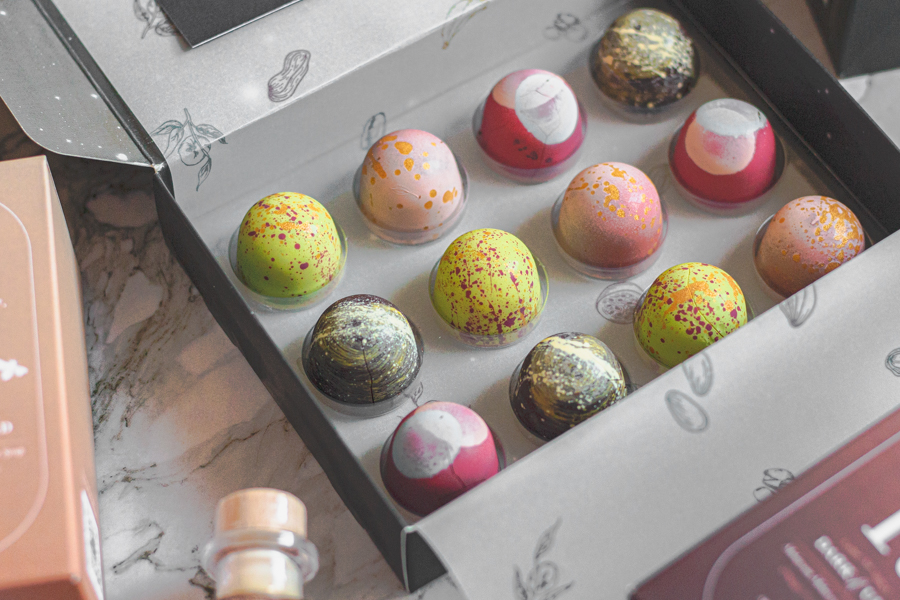 Tokyo Banana
Drawing inspiration from the popular dessert, the Tokyo Banana is a bonbon with layers of Banana Ganache, Kopi O Liqueur Cake and Peanut Ganache. The result is a nutty and aromatic explosion of flavours.
If you want a more gao experience, pair this with the Kopi-O Liquer!
Mont Blanc
Reimagining the classic dessert as a bonbon, the Mont Blanc is filled with roasted pecan caramel and chestnut ganache, infused with Compendium Spirits' Dark Rum for a refined amber finish.
Best paired with Dark Rum.
For these bonbons, we highly recommend leaving them at room temperature for 3 to 5 mins after taking them out of the fridge. You'll be able to enjoy a flowy filling and a crunchy chocolate exterior.
Boozy Christmas Treats
With the bonbons looking as good as they taste, the Kakkow x Compendium Spirits Box is perfect as a gift this Christmas, or even as treat for yourself. It's available for purchase on their website, while stocks last.
*Follow MiddleClass.sg on Facebook, Instagram, and Telegram for more food, travel, and trending stories