Golden Mile Tower is (in)famous for its pubs and karaoke lounges, but also some hidden gem eateries. G Izakaya is one of them, tucked away beside the main entrance. They offer a unique dual omakase-izakaya concept with two restaurants in one! 
Simple But Segregated
The interiors of both are starkly different, separated by a wall.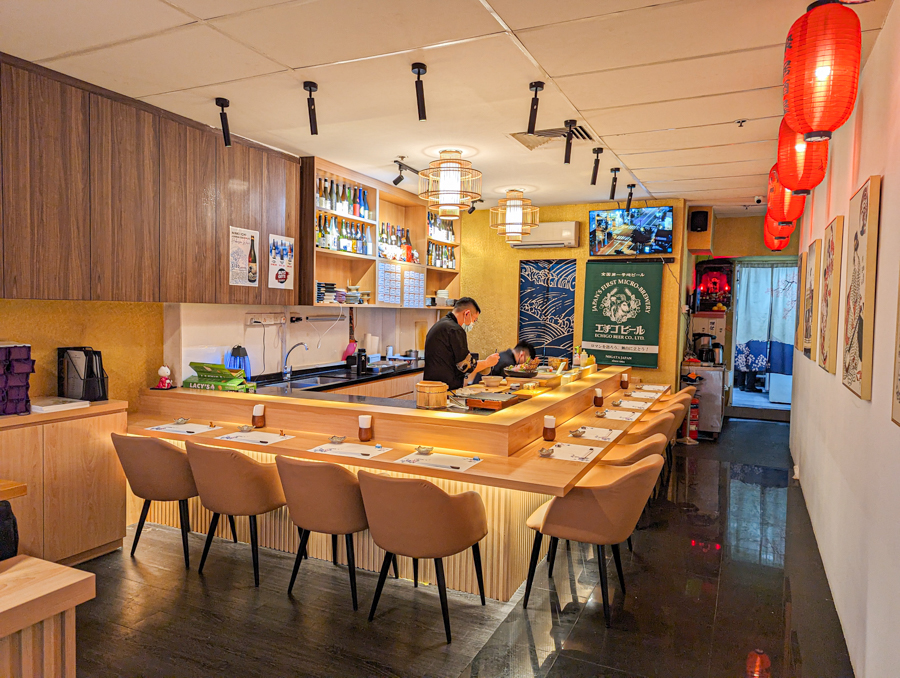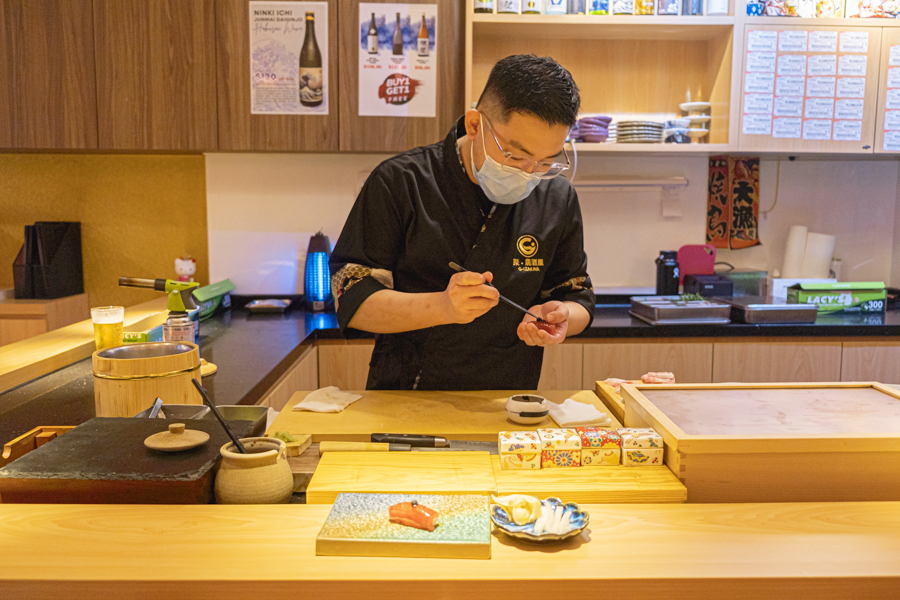 The omakase side is clean and simple with the classic open kitchen layout, complete with low-fi music in the background.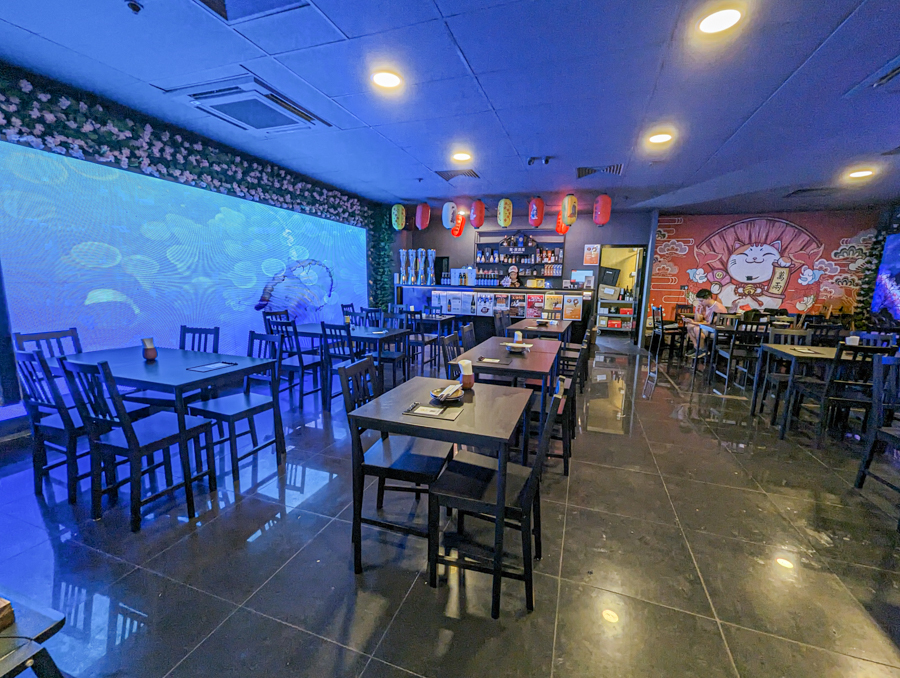 Comparatively, the izakaya boasts a darker design. There's a large LED screen showing an animated cherry blossom, plus more blossom-themed decor. 
G Izakaya Omakase Menu
The menu offers a plethora of Japanese cuisine! You can get everything from donburi to sushi, yakitori and a selection of sake. 
Options include their signature Bara Chirashi Don ($12.80) with tuna, salmon and yellowtail or the Robato Yaki ($16.80) platter with chicken thigh, meatballs and more. There's also Gyu-Don ($12.80) and an attractive Buy-2-Get-1-Free offer on their Oyster Ponzu ($9.90)!
The omakase options range from $108 to $180 per pax, with courses including an appetizer, yakimono (fried items) and dessert. They also offer a regular a la carte menu of handrolls and maki. 
We got to try their $168 1-for-1 omakase promotion! It's running until October 2023, when you can enjoy an 8-course menu at only $84 per person. It also comes with a full serving of house-pour sake or beer.
Zensai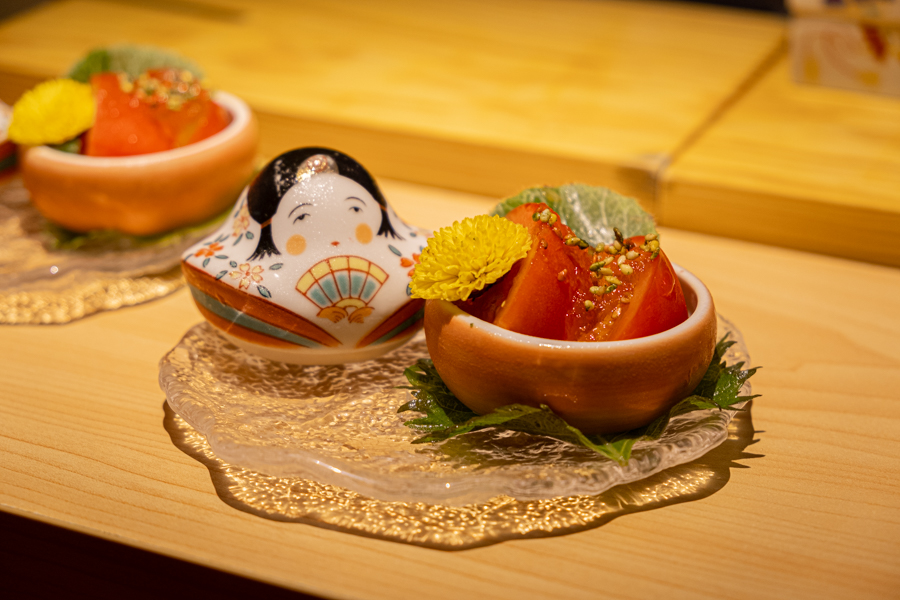 The appetizer is an Amela tomato with ume jelly. This specific breed of tomato has a high sugar content, making it super sweet and almost fruit-like! 
It was juicy and fresh without any grassiness at all, complemented by the slight tang of the housemade ume jelly. 
Mushimono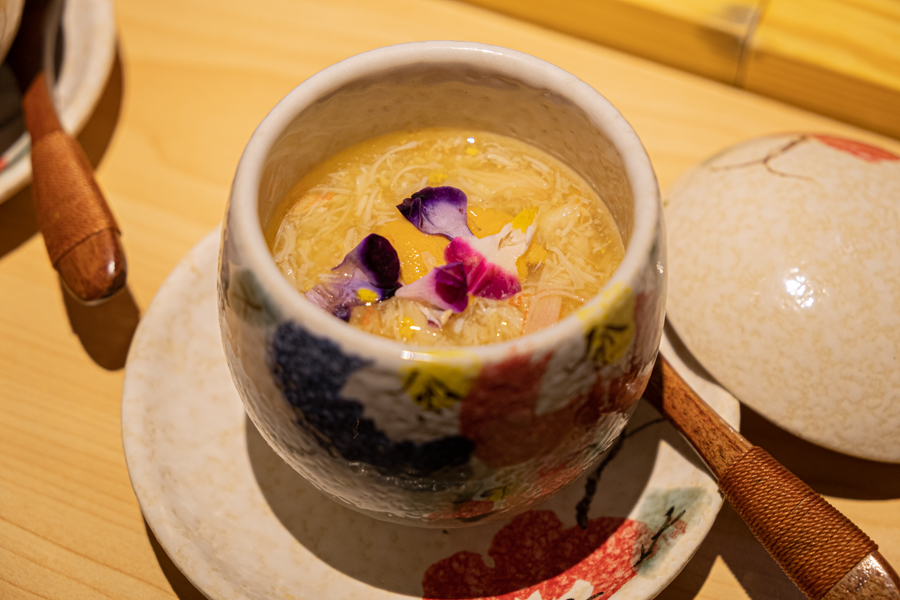 The next course was a Chawanmushi with crab and uni. This was silky with an eggy fragrance, plus the sweetness from the added seafood. It really whet our appetites! 
Seasonal Grilled Fish
The grilled fish was fried this time, in the form of fried Chi Ayu with a pumpkin ball. Chi Ayu are baby Japanese sweet fish that are popular in the summer. 
True to its name, the fish was sweet and easy to eat! It was crisp on the outside with tender meat and a slight bitterness at the head. The provided ponzu sauce removed any oiliness and we liked the citrus fragrance. 
Sunomono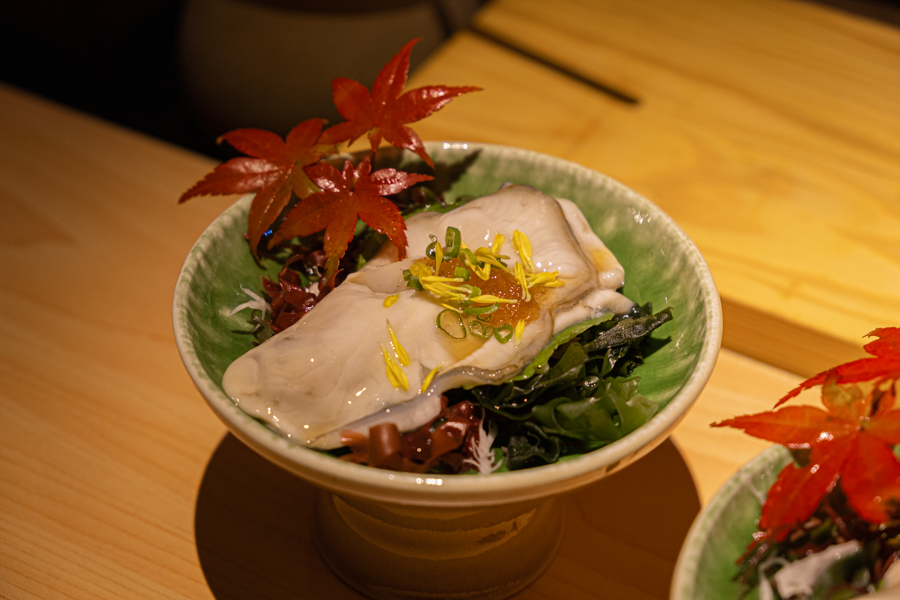 Segwaying into raw items, the Sunomono was a sizeable Irish oyster with a housemade citrus jelly. 
It's best to eat it in one mouthful for the full experience. The brininess comes first before finishing with the slight sweetness from the citrus, alongside the plump texture. 
Sushi
There are 6 sushi on the menu that rotate based on the seasonality. 
It started with Madai (red seabream) with sweet and firm flesh. One of our favourite bites was the Biwa Masu or Biwa Salmon.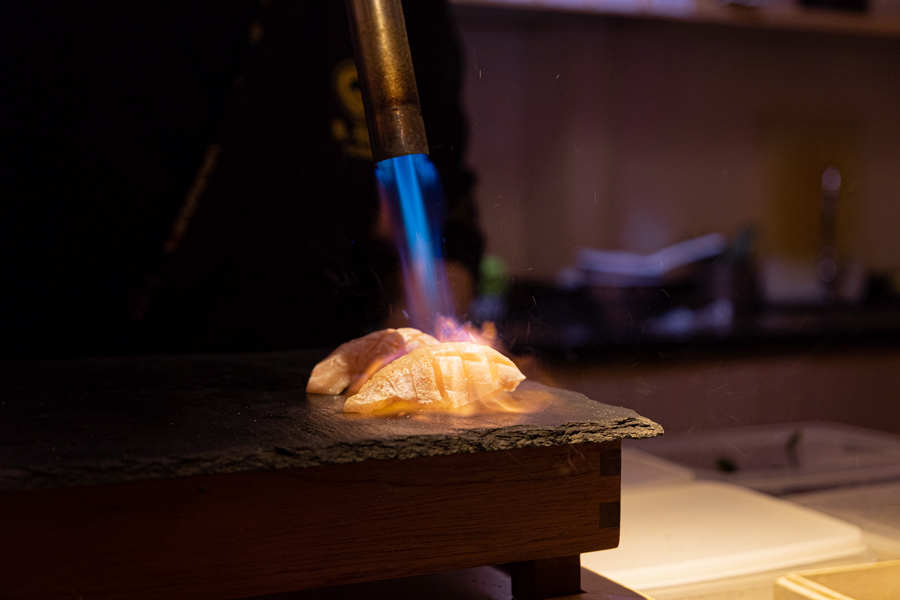 This was a belly cut so it was fatty and rich – quite literally melt-in-your-mouth! Its torched lightly before serving which also added a caramelised flavour.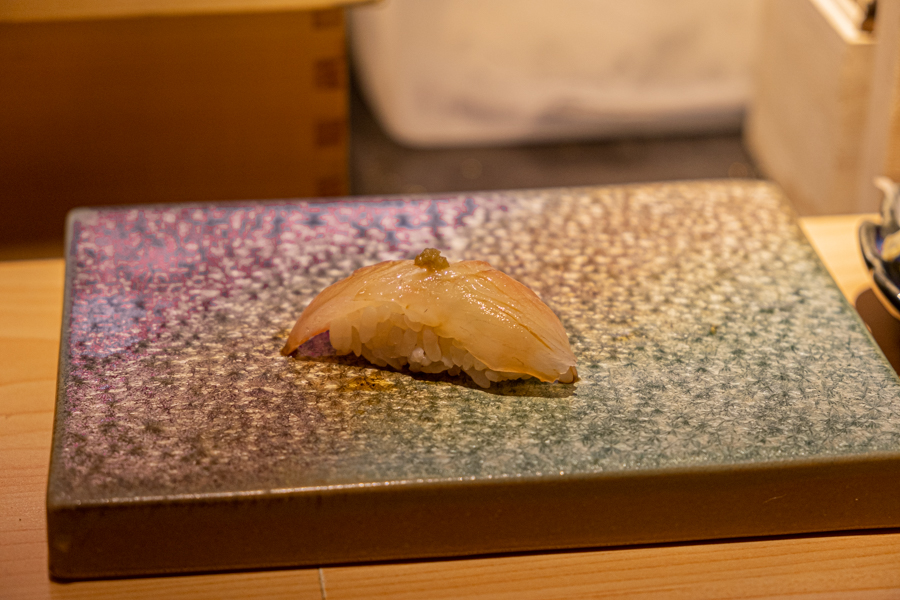 Next was Shima-aji, a striped jack. A popular and well-loved cut, this was served with yuzu kosho for a slight peppery kick. 
This was followed by the trio of tuna: Akami, Chutoro and Ootoro.
The lean cuts were flavourful without being fishy, but our favourite was the Ootoro with perfect fat striations and clean fatty flavour. 
Shokoji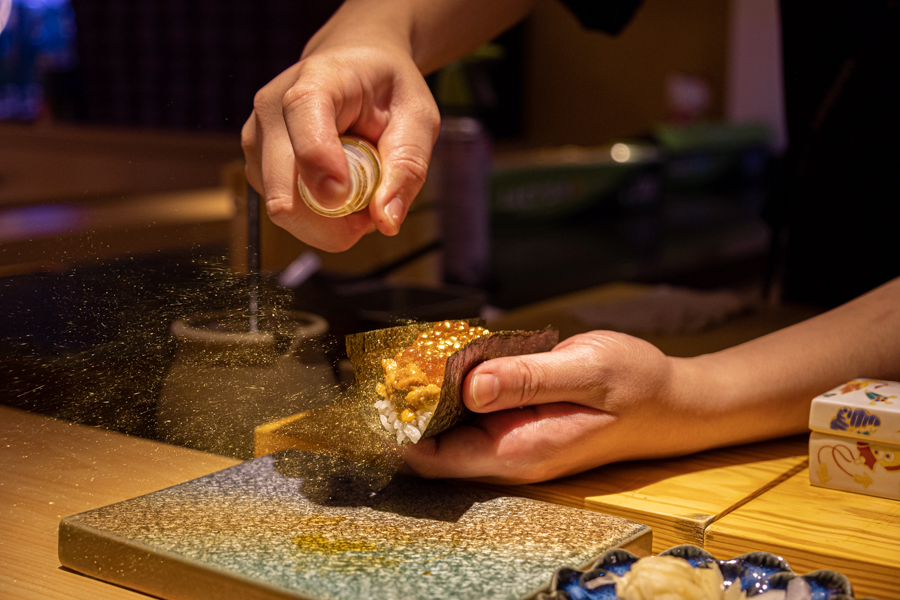 The star of the menu is the Uni & Ikura handroll, served with a spritz of edible gold dust.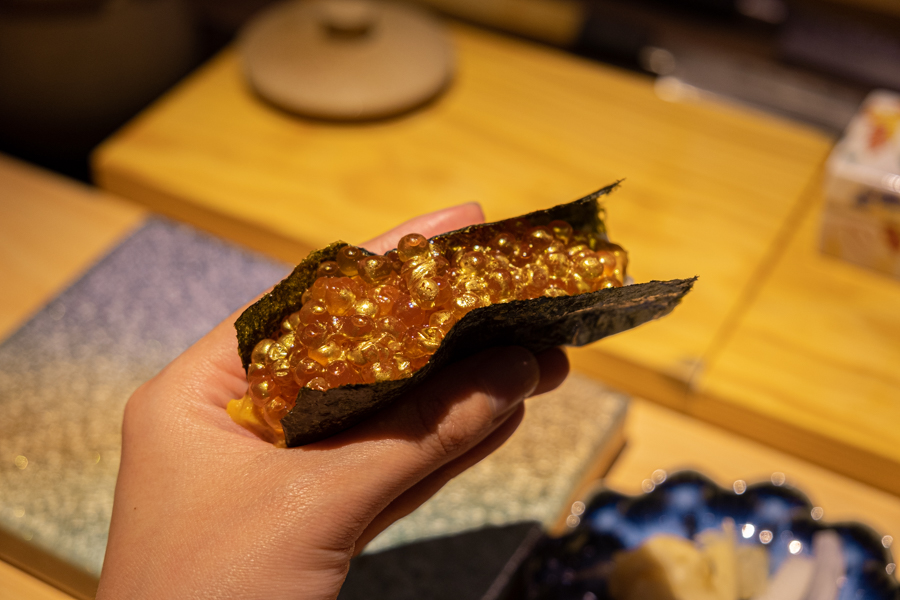 Aesthetics aside, the ingredients were fresh and had a pleasant unami. The saltiness of the ikura mixed with the creamy uni and warm rice was a perfect combination. 
Soup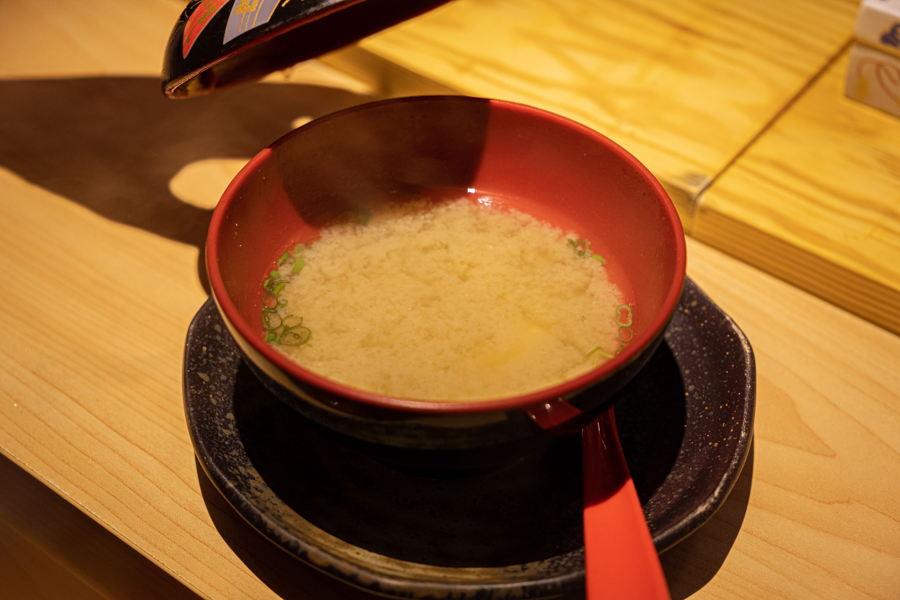 The last savoury course was a simple fish soup. It was warming but very flavourful, complete with tender fish pieces. 
Dessert
The dessert was a cheesecake and Hokkaido sea salt ice cream between crackers. The ice cream was surprisingly good and not too sweet! 
Omakase In Golden Mile
Despite the rather unglamorous location, G Izakaya delivered a comfortable and premium omakase experience. The ingredients are fresh and well-prepared with some unforgettable bites! Their 1-for-1 deal is a real steal for the quality of the seafood they provide and is a must try. 
The staff informed us that they are fully booked till August so put in your reservations soon! 

G Izakaya
6001 Beach Rd, #01-52A/B GOLDEN MILE TOWER, Singapore 199589
*Turn right from the main entrance
Closed Monday. Tues-Sun, 11.30am-2pm, 5.30pm-10.30pm
*Follow MiddleClass.sg on Facebook, Instagram, TikTok, and Telegram for more food, travel, and trending stories