Located in Tanjong Katong alongside other spots like Little Rogue Coffee and Oven & Fried Chicken is Supernova, a cafe by the people behind Atlas Coffeehouse.
Supernova Cafe in Tanjong Katong
Unlike their other cafes which include Apollo in Serangoon Gardens, Neptune in East Coast, Lunar Coffee Brewers in the CBD, and Colombus in Upper Thomson, Supernova felt more refined and elegant in terms of interior.
Greeted by a bar counter and an entire shelf of wines decorated with warm lighting, it almost felt like a drinking establishment one would visit after a long day's work.
A quick look around and we noticed how there weren't any ceiling lights installed, and the cafe mainly relies on the warm wall lamps installed. We can already imagine how beautiful the place would look at night. Probably calls for a bottle of wine with your friends.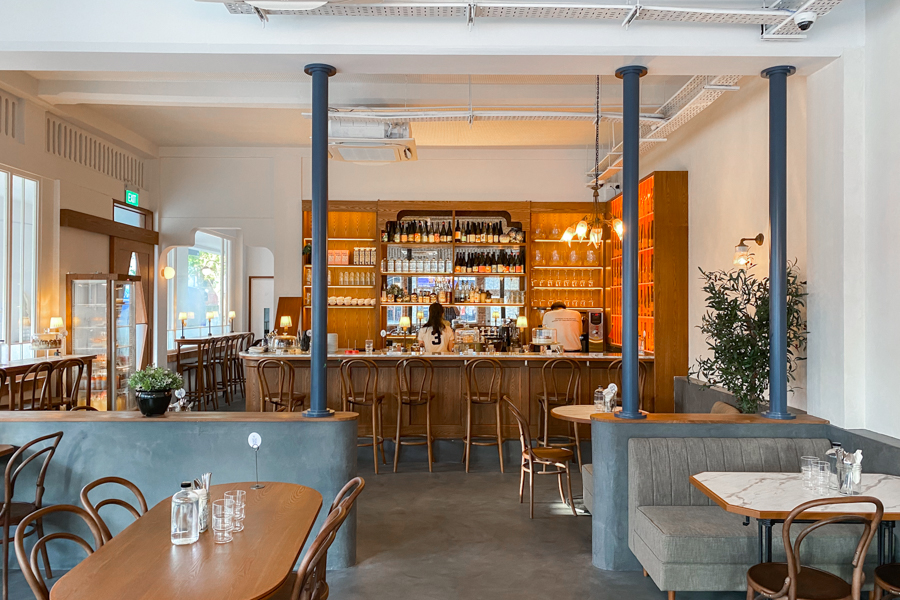 Thankfully, during the day, the place is drenched in natural light.
We also loved how there were hooks at each table for you to hang your bags – a lovely detail taken into consideration for their patrons.
Menu at Supernova
During the day, Supernova serves brunch from as early as 8am. At night, you can pair sharing plates and other items with their selection of natural wines.
Some items you would find in the morning include Chorizo, Egg, Avo ($20.9), Steak Hash ($26.9), and Grilled Cheese & Pumpkin Soup ($18.5). For lunch, they have items like Shoyu Butter & Garlic Rigatoni ($18), Mala Chicken Burger ($22.5), and Eggs in Meurette ($24).
At night, dig into a range of starters such as Honey Butter Coin Hash ($14.5), Tofu Hummus ($13.4), and Garlic Confit Focaccia ($10.9). They also have Okonomiyaki & Mains like pasta and burgers.
Baked Eggs #1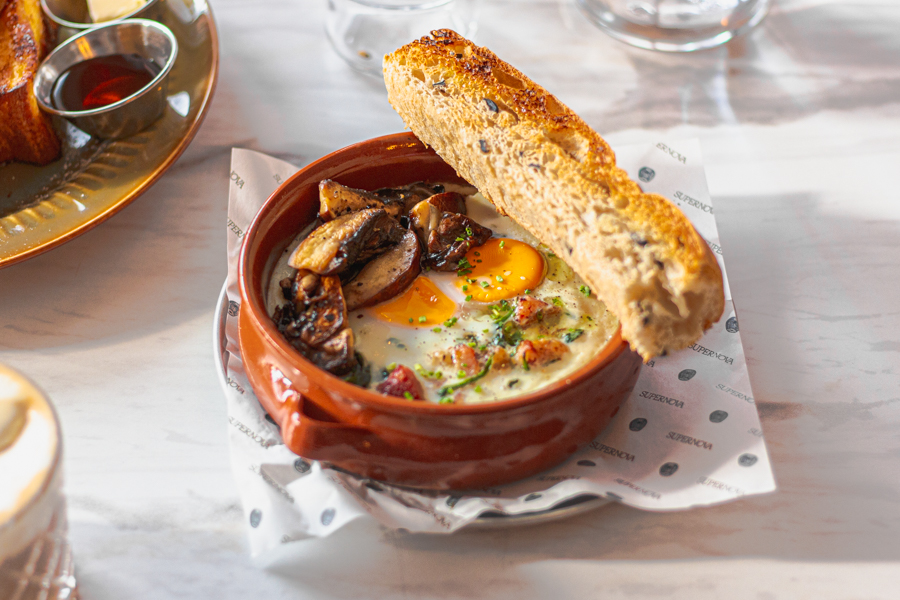 Our 8am visit led us to choose Baked Eggs #1 ($24.5), which seemed like an appropriate breakfast menu item.
Inside, there were bits of bacon, truffle portobello, spinach, cauliflower mash, and organic eggs.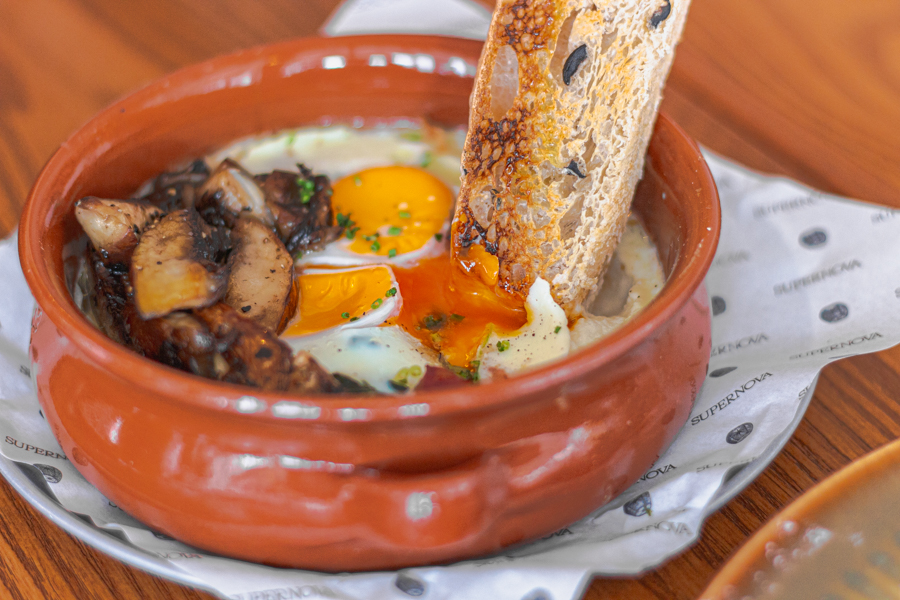 While baked eggs are usually runny and watery, the one served at Supernova was fluffy, almost cloud-like, perhaps due to the cauliflower mash. We loved how every ingredient played its role, not overpowering the overall dish in any way. The subtle truffle fragrance from the portobello, along with the saltiness of the bacon made this feel like a familiar breakfast yet somehow elevated the entire experience all at the same time.
The focaccia bread served together with the Baked Eggs was also perfectly toasted. Make sure to dip it in and get all that egg yolk goodness.
Passionfruit French Toast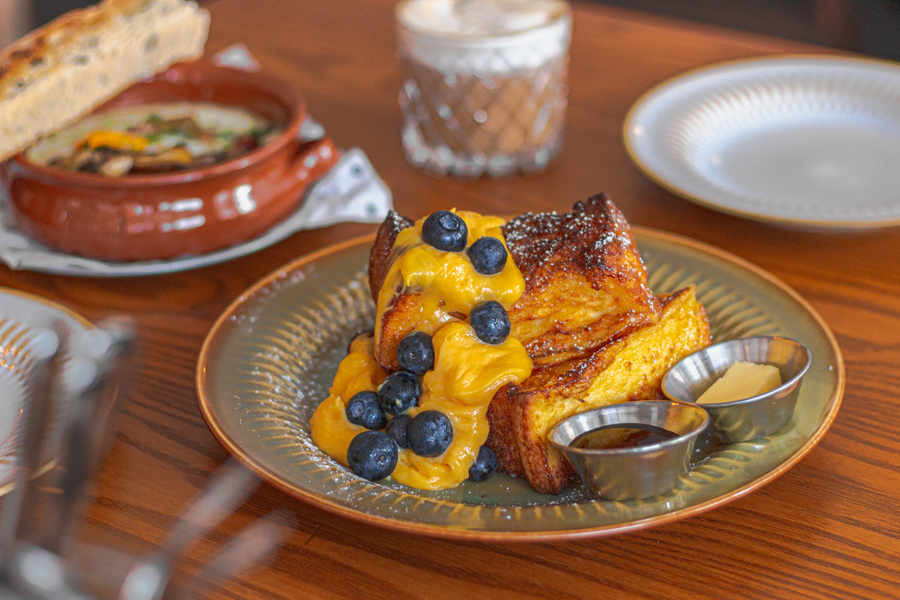 While social media was buzzing with amazing reviews of their Fried Chicken French Toast, it just didn't seem like something to enjoy at 8am. We opted for the Passionfruit French Toast ($20.9) instead, which came with passionfruit curd and blueberries.
While the French toast was less fluffy than we would like, the passionfruit curd was a nice balance of sweet and tangy flavours. We did expect something more for the blueberries, instead of just being sprinkled over the dish.
Einspanner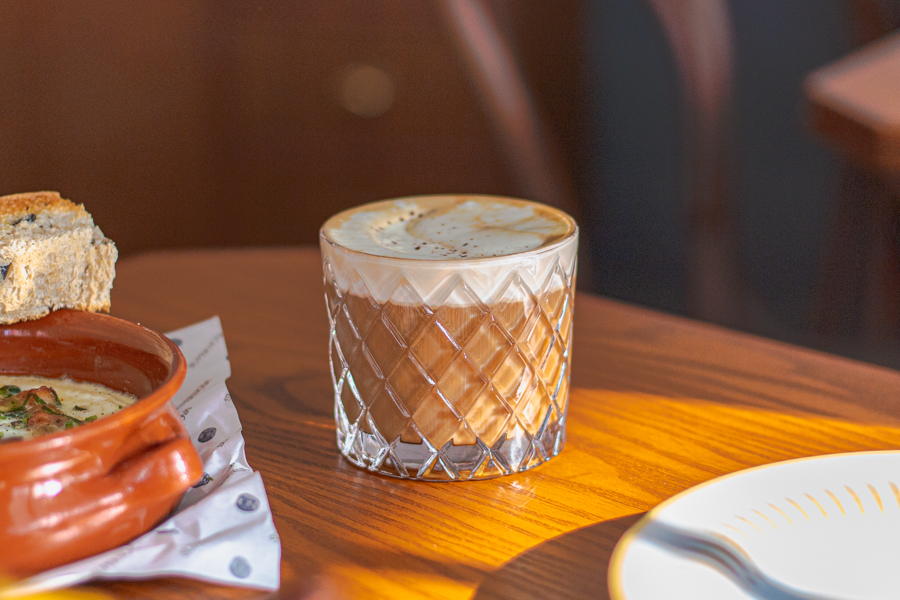 For coffee, Supernova has two blends: Mr. Cuddles, a bold & comforting blend, and Mr. Brightside, a juicy & adventurous blend. We opted for Mr. Cuddles.
Interestingly, the Einspanner ($7.5) here is only available hot.
The foam was slightly salted, and the drink reminded us of salted caramel popcorn for some reason. The foam also seemed to be similar to the one used for their milkstache foam drinks.
Cafes in Tanjong Katong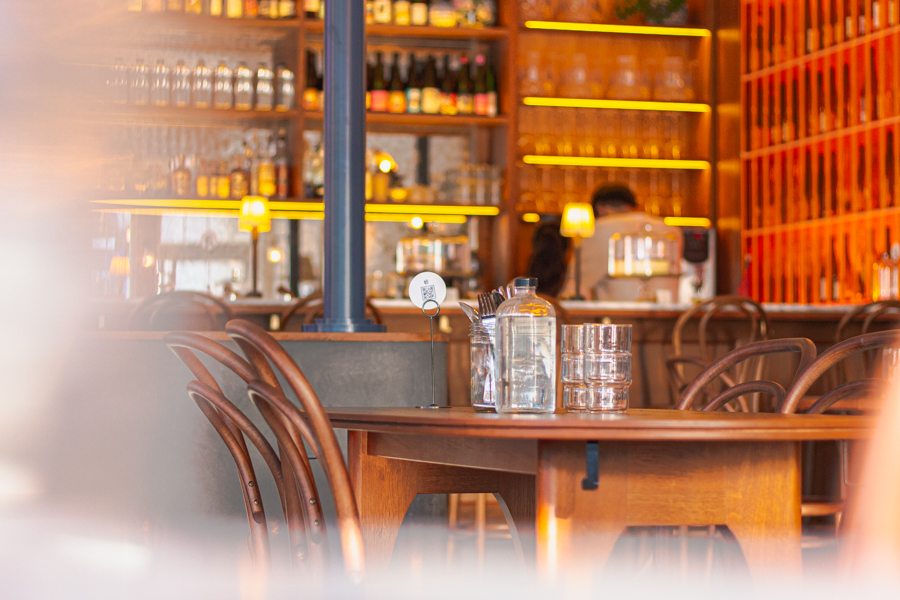 Supernova definitely hits all the marks interior-wise. Pair that with delicious food and drinks, and you got yourself a returning customer. We'll probably find a day to visit at night to soak in the vibes and check out some of their other menu offerings. But other than that, Supernova is off to a promising start.
Supernova
266 Tanjong Katong Rd, Singapore 437053
Tues-Sat, 8pm-10pm, Sun, 8am-7pm. Closed on Mondays.
*This is an independent review by MiddleClass.sg
*Follow MiddleClass.sg on Facebook, Instagram, and Telegram for more food, travel, and trending stories!