While considered a relatively challenging dish to many, grilled intestines such as Gopchang, Makchang and Daechang are a delicacy in South Korea, with the dish being accompanied by soju most often. Located right in the heart of Seoul, surrounded by large company buildings is Dadong Hwangso Makchang, a gem in the city selling grilled Makchang!
Grilled Makchang in the CBD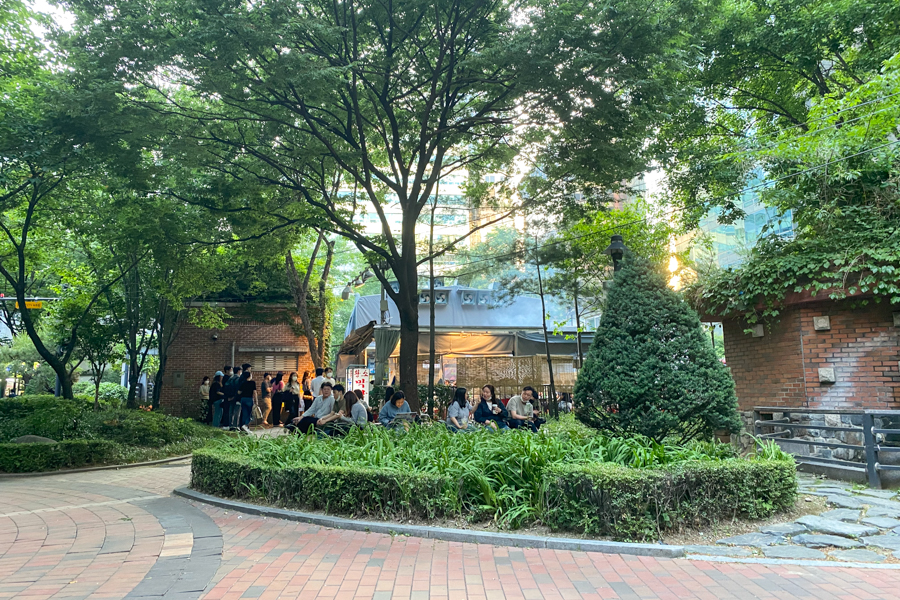 Dadong Hwangso Makchang is located between Jonggak Station and Euljiro 1-ga Station, an area filled with office buildings. However, Dadong Hwangso Makchang managed to find itself a spot within a small park, which gives off a nice contrast to its surroundings.
You can only imagine how many office workers come here for a quick meal and a shot of soju to wash the day's work.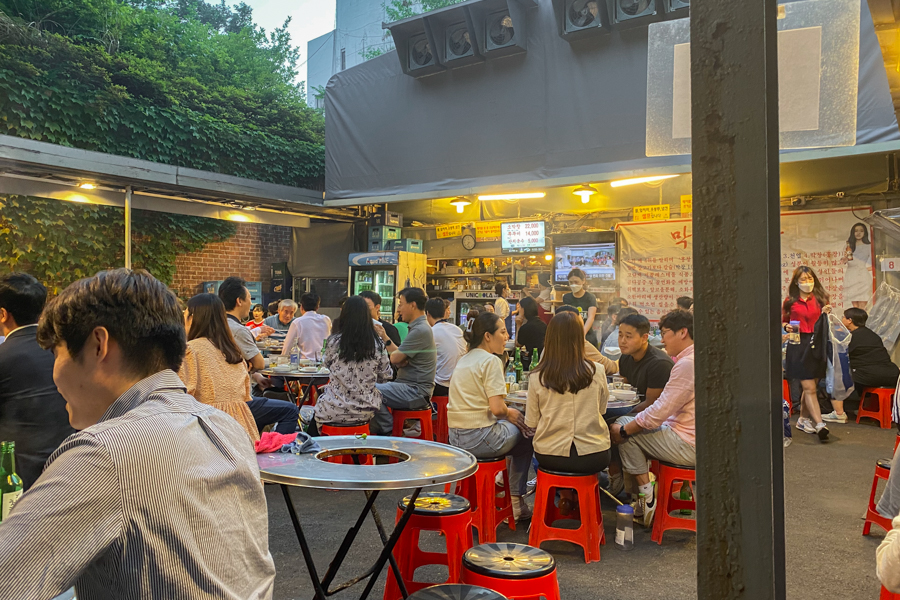 The spot is relatively popular amongst locals, and we had to queue for nearly an hour before getting a seat. Local chatters, clinking of soju glasses, and that constant whiff of delicious grilled food – this felt as authentic as Korea can get.
Menu at Dadong Hwangso Makchang
Dadong Hwangso sells So-Makchang (22,000won for 200g), which is basically the abomasum, or the final stomach of a cow in layman terms. This is different from dwaeji-makchang, which is the rectum of a pig.
So, if you want to try Makchang, we highly recommend going for the beef/cow version – and trust us, there's a difference.
Apart from Makchang, the restaurant also sells marinated webfoot octopus.
Once you're seated, a bowl of beansprout soup is served alongside items like cucumber sticks, green peppers, sauces, and kimchi. Make sure to place your order when the table setting is being done, or you'll find it difficult to get the staff's attention later on.
The huge hole in the center of the table is where the charcoal goes. No elaborate technology here, simply a metal grill over the charcoal.
You'll find the Makchang here to be chewy and clean, with no unpleasant odor accompanying. Dip it into the ssamjang provided or simply eat it on its own. Our favourite method was to pair it with one slice of grilled garlic and ssamjang.
We also ordered a bowl of Janchi Guksu (5,000won) which was a simple bowl of noodles with anchovy-based broth, seaweed strips, and a tap of red pepper powder. It had a clean taste and is something we would reach out for after too many shots of soju.
Experience Local Life
Dadong Hwangso Makchang (다동 황소막창) is a great place to immerse yourself in local culture and try a different kind of Korean cuisine besides the usual fare.
Dadong Hwangso Makchang (다동 황소막창)
51-2, Da-dong, Jung-gu, Seoul
서울특별시 중구 을지로3길 49
Mon-Fri, 5pm-11pm, Last Order 10pm
Nearest Subway: Euljiro 1-ga Station (Line 2), Exit 2
*This is an independent review by MiddleClass.sg
*Follow MiddleClass.sg on Facebook, Instagram, and Telegram for more food, travel, and trending stories!