Blue Bottle Coffee outlet is a familiar brand to many, with the brand opening multiple outlets in Korea and Japan. However, it's always nice to see coffee chains opening at unique places or adopting interesting interiors. Blue Bottle Coffee Kanda Manseibashi in Tokyo is one of those.
Unique Blue Bottle Coffee in Tokyo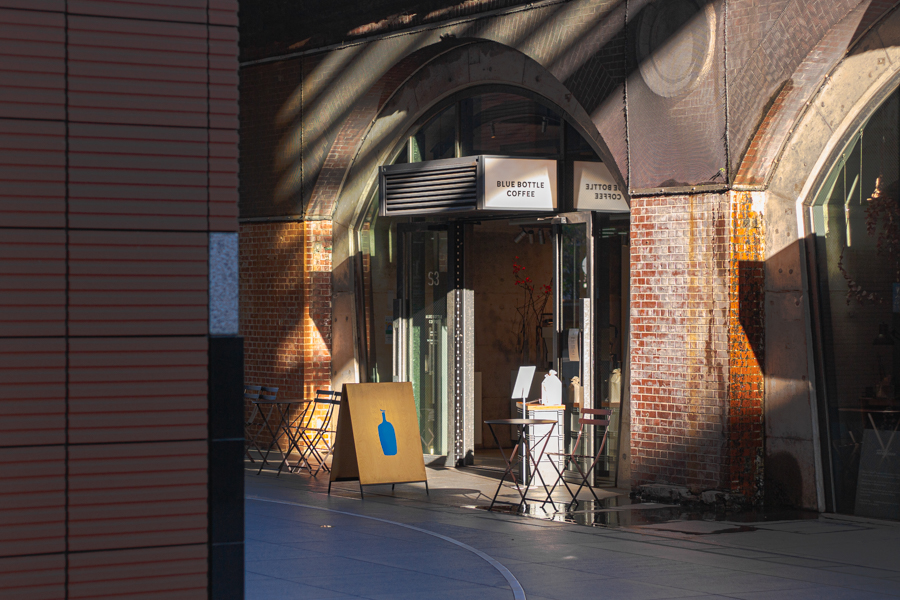 Located in a former train station converted into a shopping center, right next to Akihabara station, Blue Bottle Coffee Kanda Manseibashi is one of, if not, the smallest Blue Bottle outlet in Japan.
The shopping center is known as mAAch ecute Kanda Manseibashi, which utilizes the red brick arches of the previous Manseibashi train station to create a trendy shopping hub. Now, the trains pass through the railways that are still in use, adding a unique vibe to the entire shopping center.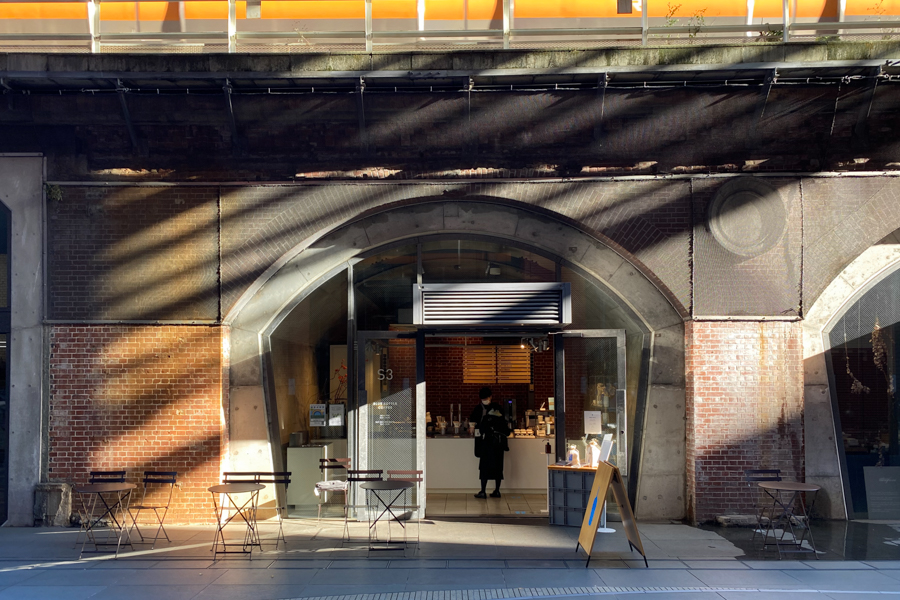 Branded as a takeout outlet, there's not much seating at this outlet, but you can still find a few tables outside the cafe. Here, you can enjoy a cup of coffee while listening to the trains pass by every few minutes. In winter, blankets were available for use.
The interior of the cafe basically consists of an ordering counter displaying some of their bakes and goods for sale. There's also a separate shelf for items such as cups, mugs, tumblers, and beans.
Don't be intimated from ordering as they have an entire English menu available, and the barista knows basic English to make recommendations.
Blue Bottle Coffee Japan Menu
The menu here has a nice balance of coffee to non-coffee drinks, with familiar items such as Americano (JPY 540), Latte (JPY 615), Gibraltar (JPY 572), and various single origin/blend drips.
They also have the Iced New Orleans (JPY 594) which is brewed with roasted chicory and blended with milk and organic cane sugar.
For non-coffee options, pick between items like Coffee Cherry Fizz (JPY 648), Lemonade (JPY 648), Apple Juice (JPY 540), and more. There's also a small kids' menu consisting of a Babyccino (JPY 356) and Kids' Hot Chocolate (JP 378).
There are also quite a few pastry options like the Maple Pecan Blondie (JPY 324), Chocolate Chip Cookie (JPY 345), and Seasonal Poundcake (JPY 464).
We opted for an Iced Latte (JPY 615) in their usual house blend, which turned out to be a creamy and nutty treat. We also paired this with their Liege Waffle (JPY 583) which had a nice crispy exterior and fluffy interior. It paired well with the coffee with just a pinch of sweetness.
Cafe Near Akihabara
If you're planning on exploring the anime hub, mAAch ecute Kanda Manseibashi is a nice stop to add before or after your trip to Akihabara. Despite being a short walk away from Akihabara, you'll be able to feel a completely different vibe at the ex-Manseibashi railway station.
Blue Bottle Coffee Kanda Manseibashi (ブルーボトルコーヒー 神田万世橋カフェ)
Japan, 〒101-0041 Tokyo, Chiyoda City, Kanda Sudacho, 1 Chome−25−4
Mon-Fri, 8am-7pm, Sat-Sun, 9am-7:30pm
Nearest Station: Akihabara
*This is an independent review by MiddleClass.SG
*Follow MiddleClass.sg on Facebook, Instagram, and Telegram for more food, travel, and trending stories