You'll be surprised to know that aside from traditional Korean food, Korea has a colourful selection of Western food options! With everything from Italian to French, there's something to satisfy your cravings. SamSamSam (쌤쌤쌤) is one of these eateries, conveniently located only a few minutes walk from Teddy Beurre House in Sinyongsan, Seoul. 
American-French Bistro Fusion
The restaurant's name is derived from Uncle Sam, a phrase synonymous with America. Inspired by the vibrancy of San Francisco, the entire store is packed to the brim with American-inspired decor.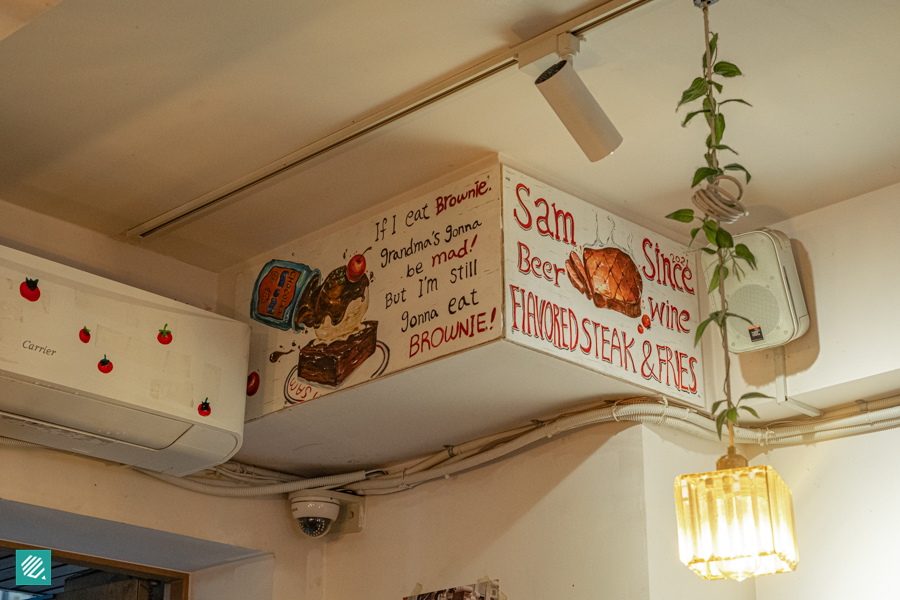 You can find American flags, vintage street signs on the wall, and even a line of Heinz ketchup bottles. In the center sits the slim open-air kitchen where you can watch chefs prepare your dishes. 
The restaurant is quite small, which was both cozy and a little too squeezy for comfort. Nevertheless, it adds to the atmosphere. 
Sam Sam Sam Seoul Menu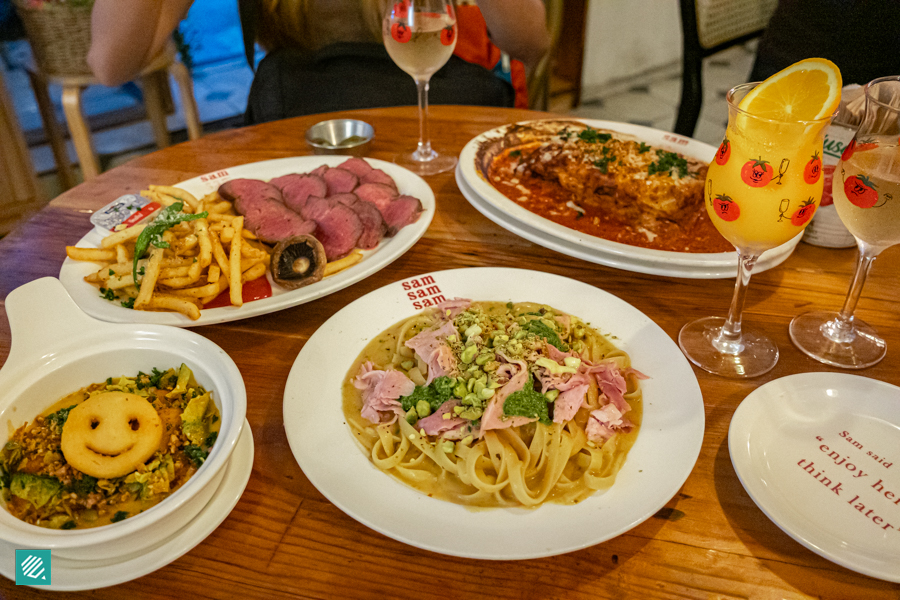 The menu is simple and only has 10 dishes in total, showcasing comforting American-Italian dishes. 
Their signature is the California St Lasagna (19,000won), a hearty San Franciso-style lasagna. Other dishes include the Hello Auntie Shrimp Oil Pasta (21,000won), Octopus Risotto (21,000won) and Pistachio Gorgonzola Pasta (21,000won). 
There's only 1 dessert – the I Hate Chocolate (9,000 won), a rich chocolate brownie. You can enjoy your meal with a glass from their extensive wine list ranging from red, whites to sparkling! 
Sweet Pumpkin Cheese Gnocchi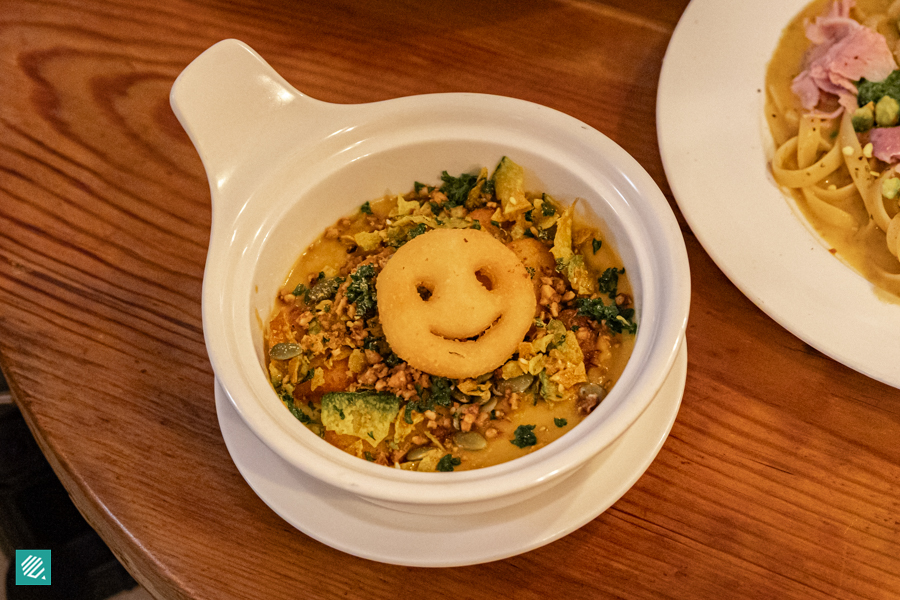 The Sweet Pumpkin Cheese Gnocchi (9,000won) was served with a smiley hashbrown. It featured cheese-stuffed pumpkin gnocchi in a thick, creamy pumpkin soup. 
Despite the cute garnish, the flavour of the dish confused us slightly. The soup had an unrecognizable salty-sweet flavour that did not taste much of pumpkin. We also wish the gnocchi could be chewier, as ours was on the mushier side. 
California St Lasagna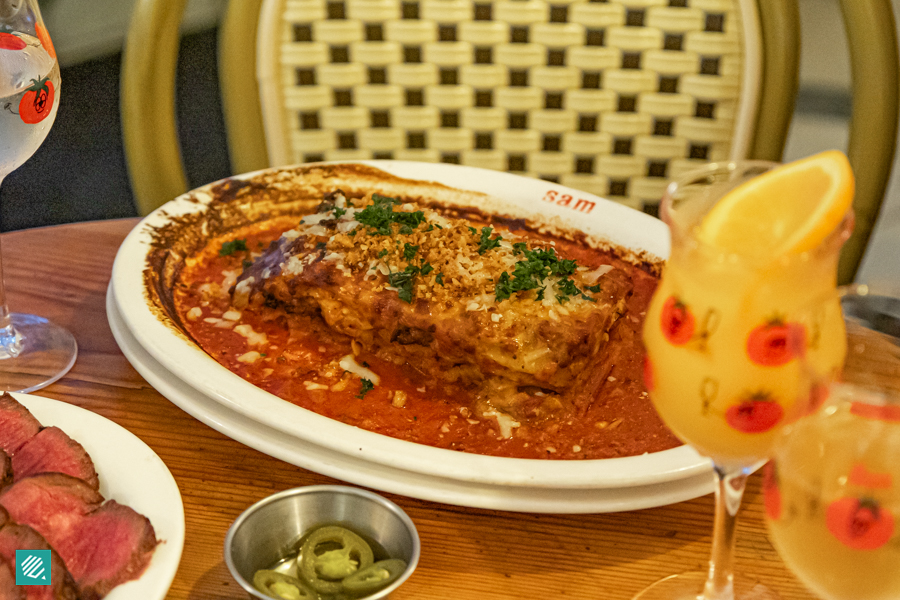 The signature California St Lasagna (19,000won) was the most memorable dish. Our favourite part of this was the sauce! It was well-balanced with savoury and tangy, plus a strong umami. The pasta was layered with potatoes, meat and cheese, making it very satisfying. 
Jamon Beurre Pasta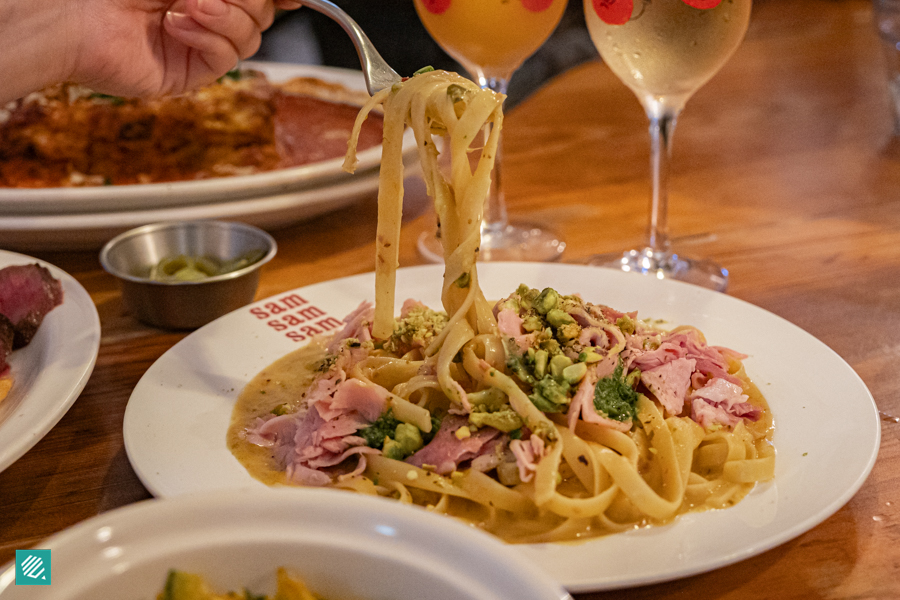 A take on the classic French ham and butter sandwich, the Jamon Beurre Pasta (19,000won) was garnished with ham and butter slices. The sauce was creamy, rich and savoury, coating each strand of pasta. It also wasn't too cloying which we enjoyed!
Sam House Steak with Fries
Another must-order is the Sam House Steak with Fries (34,000won). It was cooked to a perfect medium rare and very tender, complemented by an addictive miso butter sauce. The accompanying fries were also crispy and well-seasoned! 
Western Food In Seoul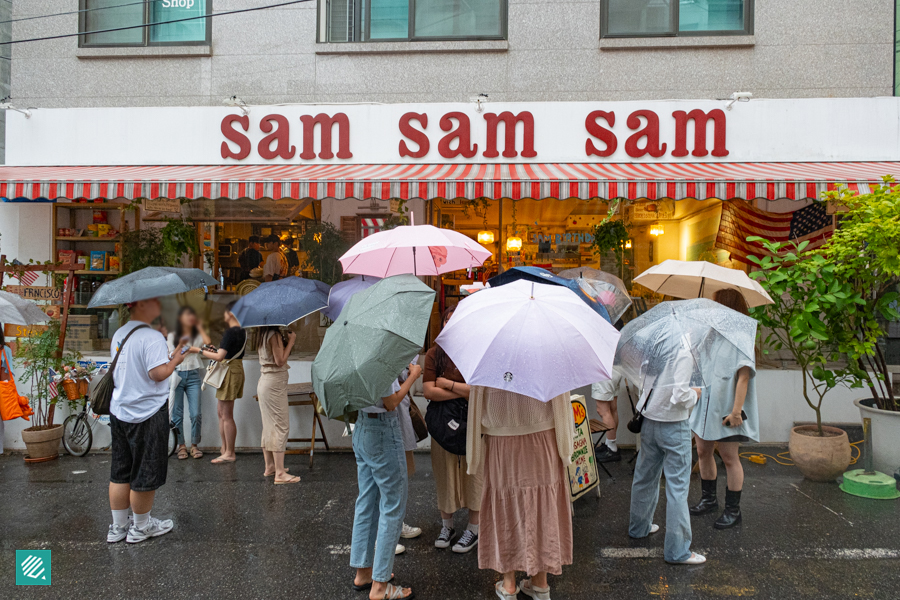 With its maximalist interior and hearty food, SamSamSam is definitely worth the visit and a slot on your Korea foodie list. The queues can get quite long before opening, so get there early! It's also located within Yongsan, a stylish area dotted with restaurants, cafes and even shopping spots which we recommend exploring.
Sam Sam Sam 쌤쌤쌤
서울 용산구 한강대로50길 25 1층
Yongsan-gu, Hangangno-dong, Hangang-daero 50-gil, 25 1층
Nearest MRT: Shinyongsan (Line 4) or Samgakji (Line 6), within walking distance
Mon-Fri: 11.30am-3pm, 5.30pm-10pm
Sat, Sun: 11.30am-10pm 
*This article is based on a media-tasting event, but all opinions expressed about the food are entirely our own.
*Follow MiddleClass.sg on Facebook, Instagram, TikTok, and Telegram for more food, travel, and trending stories